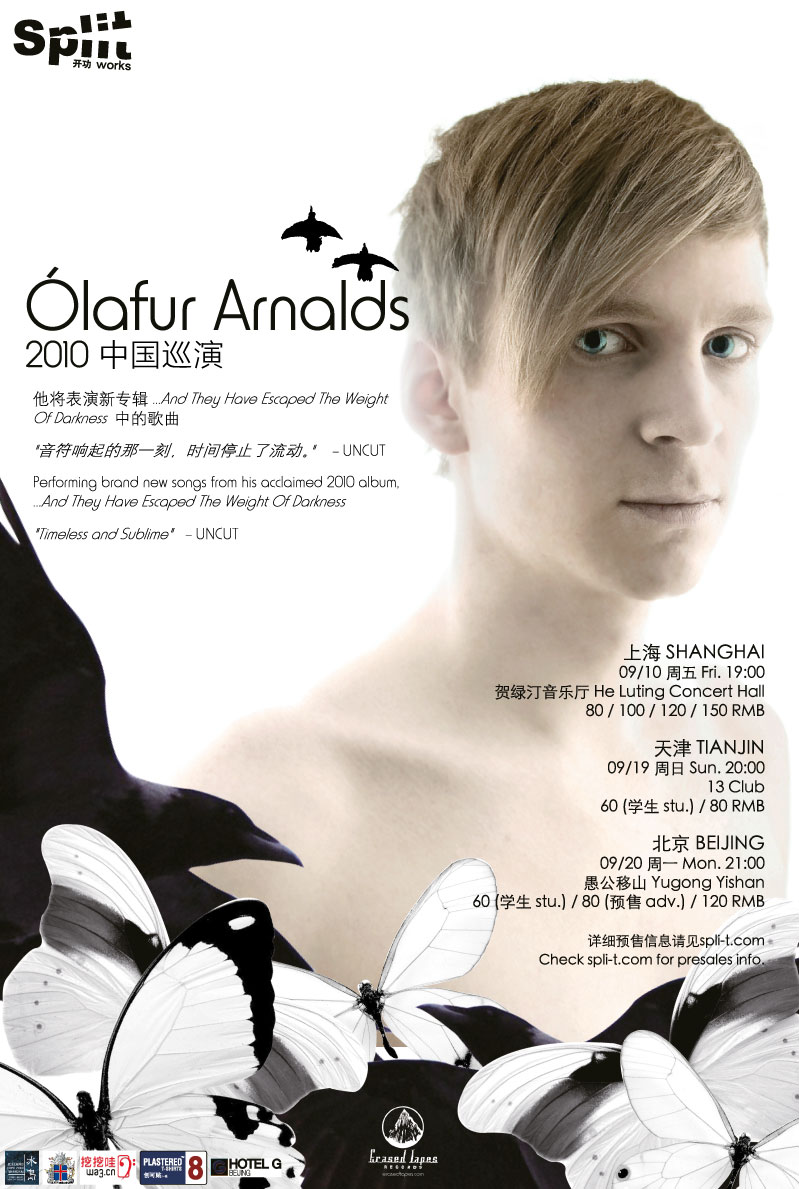 Olafur Arnalds China Tour in Shanghai and Beijing
Event Photos (Click to Enlarge)
What the critics are saying about Ólafur Arnalds' latest album, …And They Have Escaped The Weight Of Darkness:
"Timeless and sublime" – UNCUT
"Hotwired to the soul. Will reduce you to wordless tears." – The Quietus
"Keep an eye on Arnalds. He will only increase in importance." – Filter
Iceland's neo-classical whizkid Ólafur Arnalds first came out this way as part of Split Works' JUE | Music + Art festival last March, playing to packed houses all over China. In each city Óli visited, fans queued up to meet him and snap his picture. It was clear that his rich, absorbing sonic landscapes had touched a nerve with Chinese fans. Óli was delighted (and so were we!).
For those of you who caught Ólafur's live performance back in March, this tour marks a distinct departure from the first: a setlist of brand new material, more intimate and peaceful venues, and a multimedia experience with video artwork designed specifically for Ólafur's new compositions by Esteban Diacono, the same artist who created Ólafur's wildly successful video for the song Ljósið.
Since his first visit to China, Óli's star has continued to rise at a rapid pace. His second full-length album,…And They Have Escaped The Weight Of Darkness, was released in April of this year.
This collection was received with critical acclaim (see above!) and continues his mission, in his own words, to "bring my classical influence to the people who don't usually listen to this kind of music…open people's minds."  He has been wildly successful in this regard, luring a generation of pop and rock fans into the beguiling world of electronic chamber music.
Don't miss the opportunity to experience this captivating performance!
About Ólafur Arnalds:
Ólafur Arnalds, the 23-year-old prodigy from Iceland, boasts a musical background that is as eclectic as his work.  Although this young artist kicked off his musical career as the drummer for a hardcore band, his recent compositions have featured more delicate harmonies which call to mind the work of Bach and Schubert.  Arnalds has successfully fused the modern ambience of alternative genres to a more classical foundation.  By blending chamber music and piano with subtle electronics, Ólafur has created a sound that is both wholly unique and completely captivating.
International recognition of Arnalds' musical ability has skyrocketed since the release of his debut album Eulogy for Evolution in 2007.  His follow-up EP Variations on Static was delivered the following year, which saw a greater exploration of the crossover between traditional and contemporary genres.  Although Ólafur still maintained the classical basis evident in his debut album, Variations… further featured crackling electronics and the dead voice of a machine.  2008 also found Arnalds selling out London's famed Barbican Hall, which in turn won him the opportunity to open for Sigur Ros across their entire European tour.  Ólafur fully embraced his widening fanbase in April 2009, when he recorded and released a song once a day for seven days to create the Found Songs collection.  Each song was made instantly available to over 300,000 fans for free on both Twitter and the official Erased Tapes website.  In December 2009, Arnalds released his contemporary dance score Dyad 1909 which was commissioned by award-winning choreographer Wayne McGregor. The dance piece premiered at the Sadler's Wells theatre in October 2009, becoming part of an unpredictable and much talked about 5-nights of live music, dance and visuals.
Ólafur Arnalds September 2010 Tour Dates
Shanghai – Friday, September 10
@ He Luting Concert Hall
Door time: 7 pm
Concert will start promptly at 7:30 pm
Address: 20 Fenyang Lu near Huaihai Zhong Lu
Price: 80 / 100 / 120 /150 RMB (check out the seating chart on www.spli-t.com )
Shanghai – Saturday, September 11
@ Expo grounds, Europe Square outdoor stage
Performance time: 5 pm
Expo Entrance #7
Price: Free with Expo Ticket
Tianjin – Sunday, September 19
@ 13 Club
Door time: 8 pm
Address: 3/F, 58 Ziyou Lu, Hebei district
Price: 80 RMB (Door) / 60 RMB (Student)
Beijing – Monday, September 20
@ Yugong Yishan
Door time: 9 pm
Address: 3-2 Zhangzizhong Lu, Gulou, Dongcheng District
Price: 120 RMB (Door) / 80 RMB (Presale) / 60 RMB (Student)