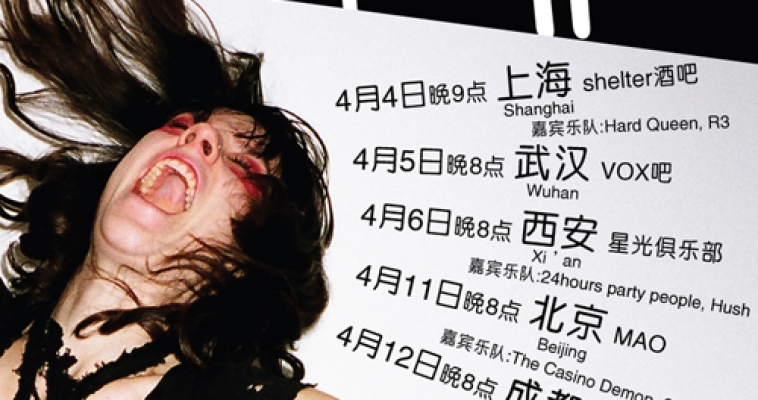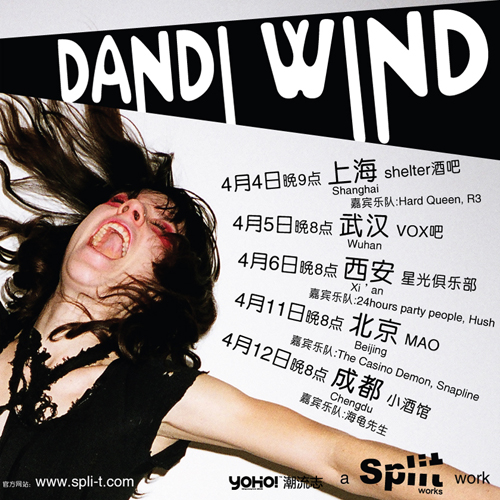 "They look and sound like Kate Bush, Peaches and Vitalic put through a titty bar blender…I haven't once seen a performance where they didn't put the other bands on the bill to shame.
Filthy arthouse new-wave rave." –NME
Spring's up and Split Works have got some end of winter insanity for you.
First up, Dandi Wind.  Over the last 3 years this dynamic duo have traversed the world, here trashing venues at SXSW, there overselling London's world renowned Fabric, from the tropical heat of Mexico City to the arctic wilds of their native Canada, sharing stages with the likes of The Klaxons, The Presets, The Horrors and Simian Mobile Disco.  Now they are bringing their very own blend of gothic glam disco, demented costumes and mad antics to a stage near you.  Shanghai, Wuhan, Xi'an, Chengdu, Beijing, Taipei, Hong Kong, Nagoya, Osaka and Tokyo will all bear testament to a pair of artists who will excite, energize and alarm in equal measures.
This is real music by real musicians.  Come and have your eyes peeled wide, wide open!
Dates
April 4: SHANGHAI @ Windows, 9pm, Tickets: 50 RMB
Guest artists: Hard Queen, R3
April 5: WUHAN @ Vox, 8pm, Tickets: 30 RMB
Address: VOX Bar #118 Lumo Road, Hongshan Area, Wuchang
Guest Band: TBD
Website: http://www.myspace.com/voxbar
April 6, XI'AN @  Star Club (Xingguang Julebu), 8pm, Tickets: 30 RMB
Guest Band: 24 hours party people, Hush
Address: 5F Block C, ShengShi Mall, opposite West Gate of South district of Politics and Law College. NW Chang'an University Campus.
April 11, BEIJING @ MAO, 8pm, Tickets: 50 RMB
Guest Band: Casino Demon
Address:No.111 Drumtower Avenue, East Dongcheng District
Website: www.maolive.com
April 12, CHENGDU @ Little Bar, 8pm, Tickets: 30 RMB
Guest Band: TBD
Address: Little Bar (Fangqin Shop), No.87/5, Fangqin Street
Website: http://www.littlebar.com.cn/