At long last.
An overdue return to China for one of music's most enigmatic and influential groups. This May 2019, post-punk legends The Jesus and Mary Chain come to China.
Few bands have had such a huge effect on musical culture. Their attitude alone – dressed in black, angry with the world, playing short sets drenched in feedback – set the benchmark in the post-Sex-Pistols London music scene. Their seminal debut album Psychocandy would go on to change the course of popular music, channeling the sneering angst and noise distortion of the live shows into hypnotic sweet melodies layered with dark lyrics that would beguile and bewilder.
Released into the world in 1983, The Jesus and Mary Chain became the darlings of British press, and they proceeded to seize the post-punk crown in the mid-80's. With strong Velvet Underground influences, and a despondent but melodic wall of noise, they went on to become the inspiration for many critically acclaimed bands, such as My Bloody Valentine in the early 90's.
The band formed in East Kilbride, a wasteland on the outskirts of Glasgow, Scotland, around the writing partnership of the Reid brothers, William and Jim. They soon moved to London and their "win or die trying" attitude and thrashing guitar sound built them a cult following. In stark contrast to their adrenaline- fueled 15 minute live shows, that often ended in violence and riot, the slow throbbing noise pop Psychocandy album spawned such classics as "Just Like Honey" and "Some Candy Talking."
The 1994 album Stoned & Dethroned saw "Sometimes Always," featuring Hope Sandoval from Mazzy Star, and gave the band a commercial hit. A succession of well documented break ups, fueled by brotherly love and internal tensions followed, as William took up residence in Los Angeles and Jim returned to the UK. The brothers came together in 2007 to perform at Coachella Music Festival, to be joined on stage by Scarlett Johansson, for the "Just Like Honey" hit.
2017 saw the release of their first post-reunion album, Damage & Joy, a minor miracle of a record. It's a re-energized JAMC, sardonic dark humour intact, with a hazy, magical live experience built over 30 years of their remarkable story.
We can't wait. May 2019. Details below.
Split Works Presents: The Jesus and Mary Chain 2019 China Tour
【SHANGHAI】 SOLDOUT
Date and Time: Wednesday, 22 May, 8pm (DOOR)
Venue: VAS LIVE 瓦肆现场
Address: 3/F, 19 Wanhangdu Hou Lu, near Changning Lu
万航渡后路19号3楼, 近长宁路
Tickets: ¥398 (Presale) / ¥480 RMB (Door)
Pre-sale Link: https://yoopay.cn/event/JAMC9102china
【SHANGHAI】 SOLDOUT
Date and Time: Thursday, 23 May, 8pm (DOOR)
Venue: VAS LIVE 瓦肆现场
Address: 3/F, 19 Wanhangdu Hou Lu, near Changning Lu
万航渡后路19号3楼, 近长宁路
Tickets: ¥398 (Presale) / ¥480 RMB (Door)
【SHENZHEN】SOLDOUT
Date and Time: Monday, 27 MaY, 8pm (DOOR)
Venue: HOU LIVE
Address: B112a, KK ONE Shopping Center, 9289 Binhe DaDao, Futian District, Shenzhen
深圳市福田区滨河大道9289号KK ONE购物中心负一层B112a
Tickets: ¥338 (Presale) / ¥430 (Door) 
* Please note
– There will be no door tickets if all pre-sale tickets sell out. Please get your tickets in advance to avoid disappointment.
– Tickets once sold cannot be refunded!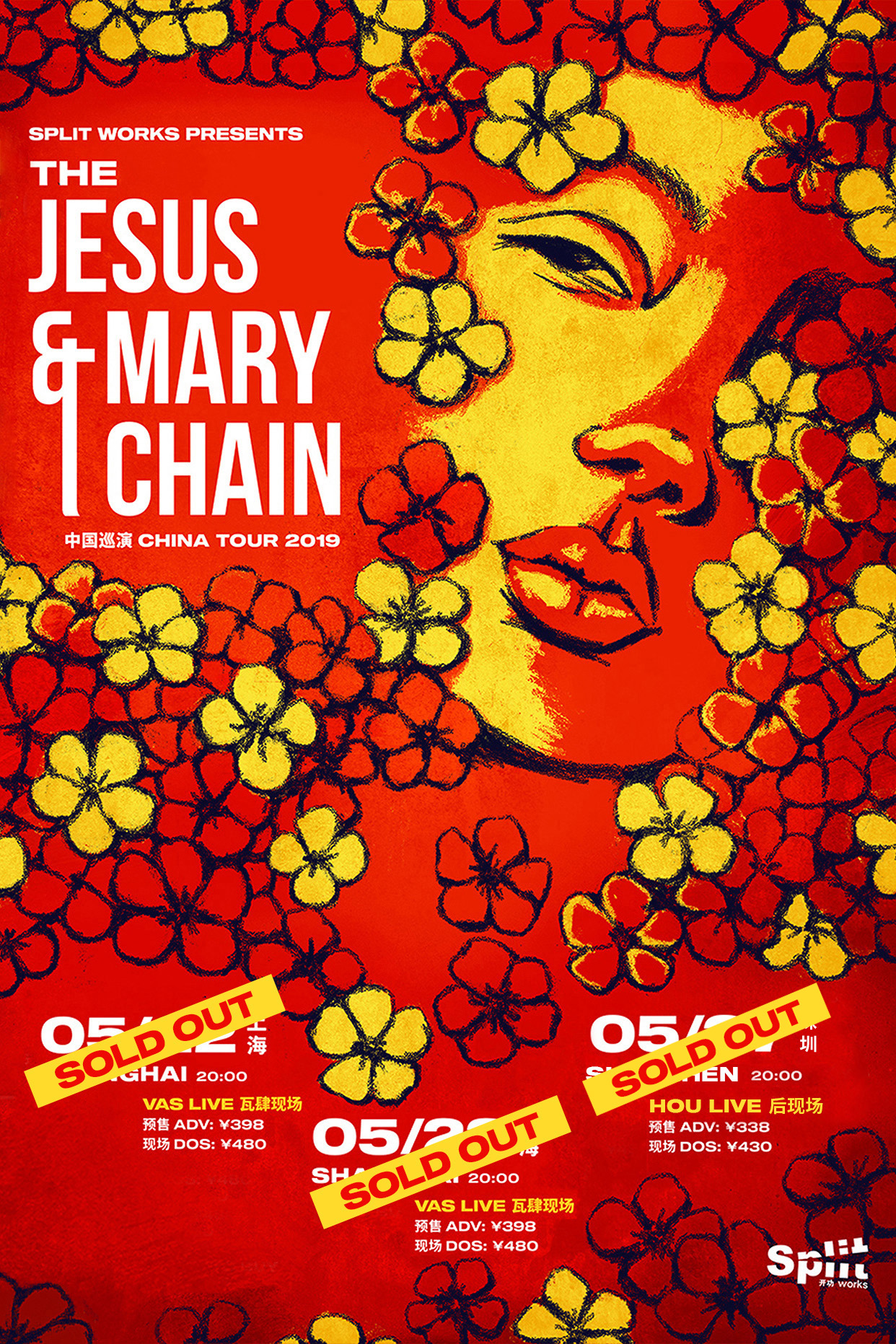 Links:
Split Works official website:www.spli-t.com
JAMC Official Website: thejesusandmarychain.uk.com
About Split Works:
Split Works has been rocking in the free (ish) world since 2006. Working with inspirational artists from across the globe, the good people at Split Works HQ have been a key contributor to the continued rise of China's music scene. Split Works has launched five music festivals and promoted over 400 tours to 30 Chinese cities, always striving to stay true to a familiar refrain: the music has to be special, every single time. From Godspeed You! Black Emperor to Sonic Youth, from Thee Oh Sees to Mac Demarco and Cloud Nothings, from Black Rabbit to JUE and Wooozy to Concrete & Grass. We love music, we love China and we love you.