One of the catchiest, breeziest bands you'll hear.
Cero play chic, sophisticated Japanese "city pop" with a touch of funk, soul and RnB.
This Tokyo-based 'Contemporary Exotic Orchestra' is a warm daydream, with lovely understated guitar lines, catchy vocal harmonies that ebb and swell, and a backbeat that shapeshifts between polyrhythms and quirky time signatures.
A glorious addition to Japan's tendency of throwing up some of music's most surprising oddities, cero are hard to pin down stylistically: drifting incestuously across genres. To our ears, they're somewhere next to the slow-burn of Grizzly Bear and the smoldering haze of Japanese reggae legends Fishmans. Add to that, a generous doze of danceable groove.
After a long-overdue China debut at Concrete & Grass 2017, they're back for a two-city China tour.  Sat October 20 at Hangzhou's MAO Livehouse. Sunday the 21st in Shanghai's LOFAS.
Cero are the trio of Shohei Takagi (vocals / flute)
Yu Arauchi (keys) and TsubasaHashimoto (guitar) with a rotating cast of performers and instrumentalists fleshing out the "orchestra" when playing live.
They formed in 2004, and in the years since have explored "nocturnal indie-pop, intricate jazz-pop and, on the 2015 album Obscure Ride that served as their breakthrough into the mainstream, laid-back funk." The single 'Summer Soul' was championed by the massively popular boy band SMAP and cero smashed the "indie" glass ceiling into wider attention.
Success for cero, though, only meant more experimentation and not less. For 2018's Poly Life Multi Soul, they've constructed topsy-turvy songs loaded up with polyrhythms and other musical techniques originating from around the globe.
They're on a hot streak, and the latest incarnation of their live show is a joyous, danceable feast. Cero back in China. Two nights of Summer souls in autumn hues.
【HANGZHOU】
Date and Time: Saturday, 20 October, 8:30pm
Venue: MAO Livehouse
Address: 3F Shangcheng 1157, 77 St. Zhongshan Rd (上城区中山南路77号尚城1157·利星三楼)
Tickets: 160 RMB (Presale) / 200 RMB (Door)
* Pre-sales end at 2pm, Oct.20, 2018
【SHANGHAI】
Date and Time: Sunday, 21 October, 8:30pm
Venue: LOFAS
Address: B1-09, 230 Ruiping Lu, near Kaibin Lu (瑞平路230号保利时光里B1-09)
Tickets: 180 RMB (Presale) / 220 RMB (Door)
* Pre-sales end at 2pm, Oct 21, 2018
NOTICE:  Tickets once sold cannot be refunded!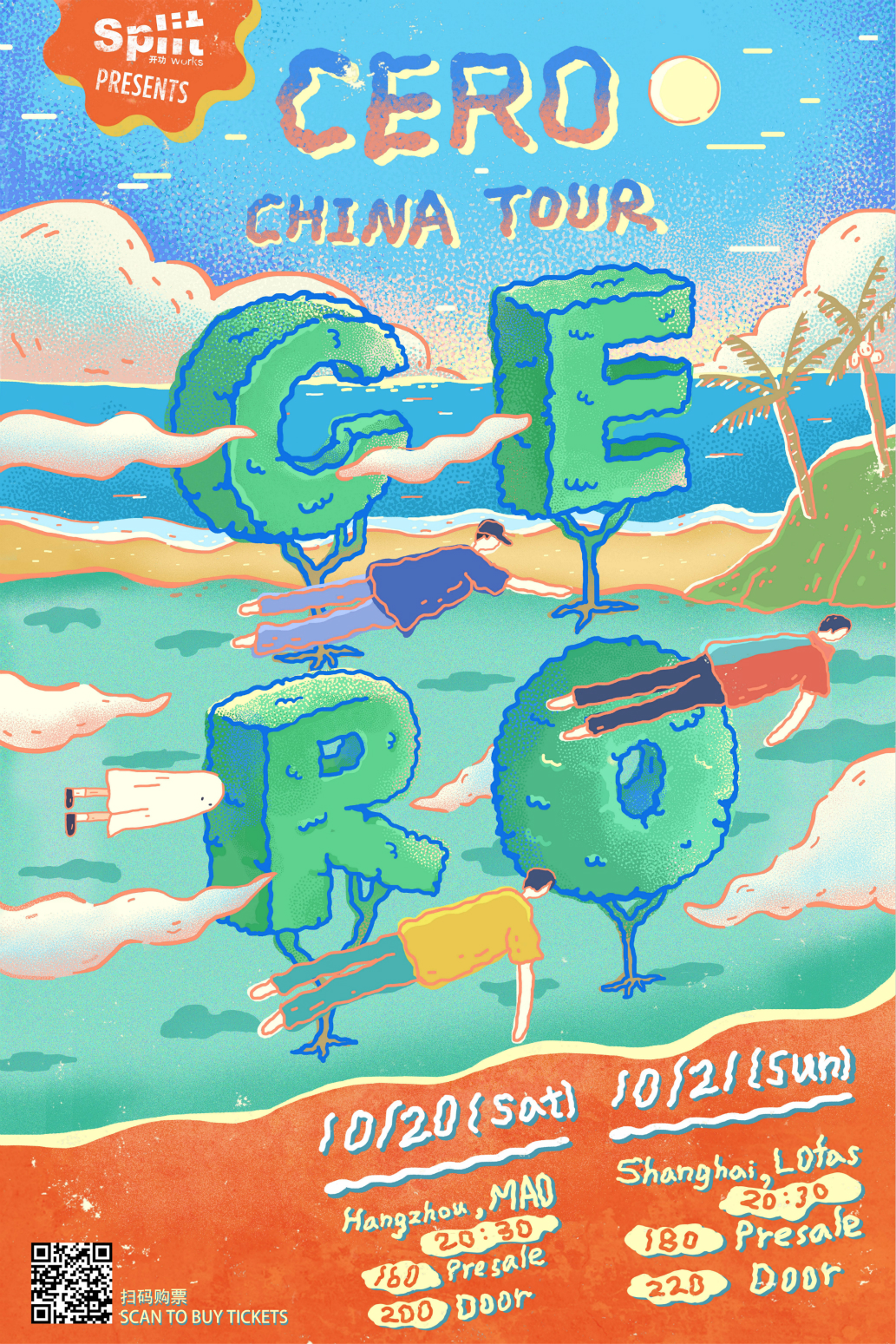 Links:
Split Works official website:www.spli-t.com
cero Official Website: www.cero-web.jp