Come Together.
2018's Republic of 'Grass is now a full Concrete Reality, created for wide exploration, deep discovery and pure enjoyment.
The full(ish) lineup – 50+ artists, 5 stages, 2 days – is out below, and regular advance tickets are on sale pretty much everywhere! 
You can see (and hear) our epic headliners from far, far away but we encourage you to dig in a little further, to uncover our many hidden treasures and strange pleasures.
Why not take a Slowdive into the waters of Loft Beach? There's a Oneohtrix Point Neverchance of your fun being Stolen by some Cancer Bats, because we're Watching You From Afar in the Garden of some Jillionaire American Authors watching a Chinese Footballgame. Swim out a little further! The light is fantastic in the DaYGLo, the Goooose don't bite, and you can pass the time until the Sunset Rollercoaster starts up…
Okay, okay, we'll stop now. Here's the lineup:
A shoegaze miracle: wondrous, cosmic, reverb-drenched haze from a genre's true pioneers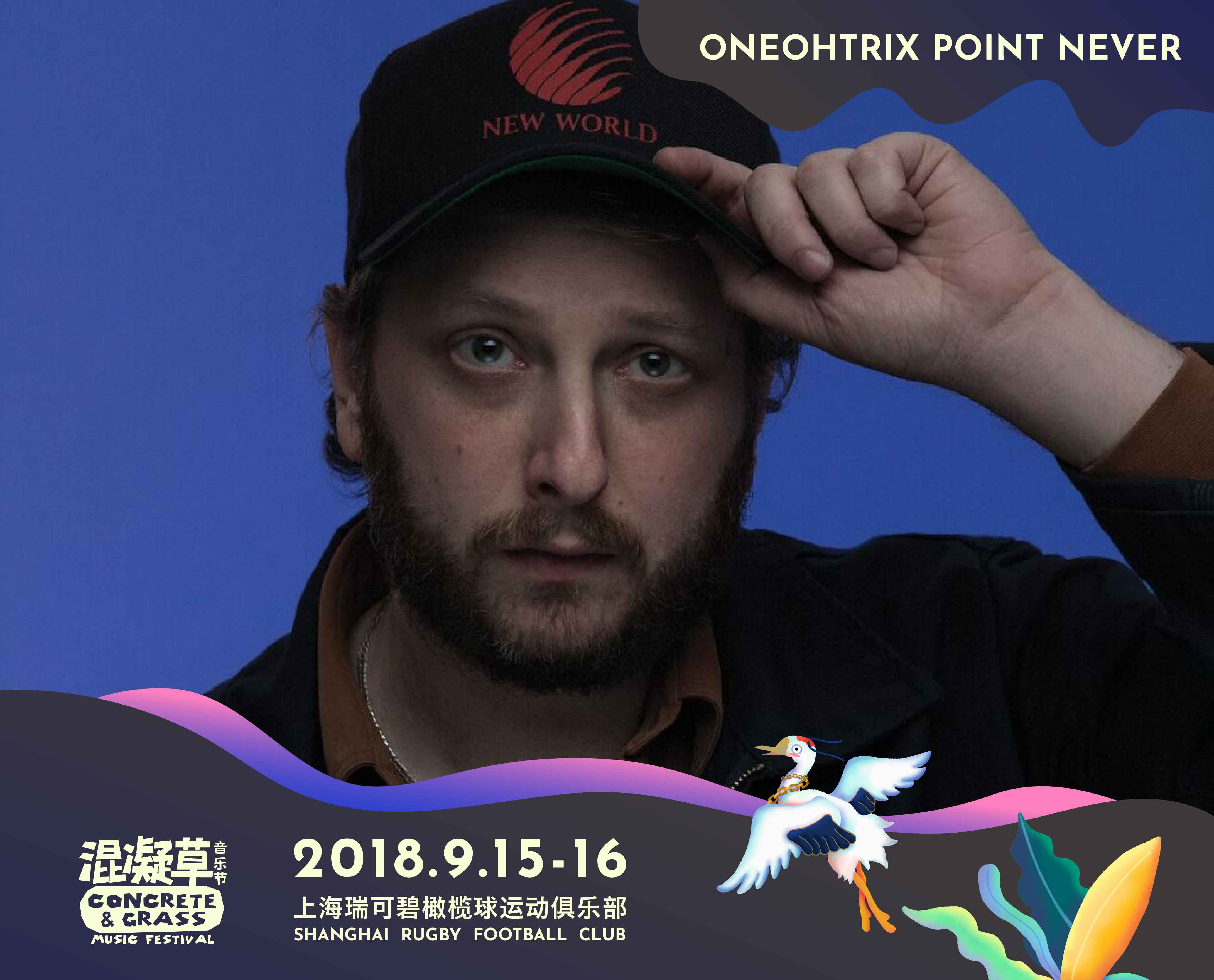 Mutant rhythms and dark experiments: step into the lab of electronic music's new evil genius
All together now: This is gonna be the best day of my lii-iife, my li-i-i-i-i-i-ife!
Witty stories, cozy rhythms and adorable songs from a colourful, versatile songwriter
Sacred, free-form psychedelic sitar rock of vast universes and strawberry fields forever
Gamer kid, rising rapper, Internet sensation: the festival's wildest party, right here.
A perpetually intriguing duo of punk jesters with many a catchy musical trick up their sleeves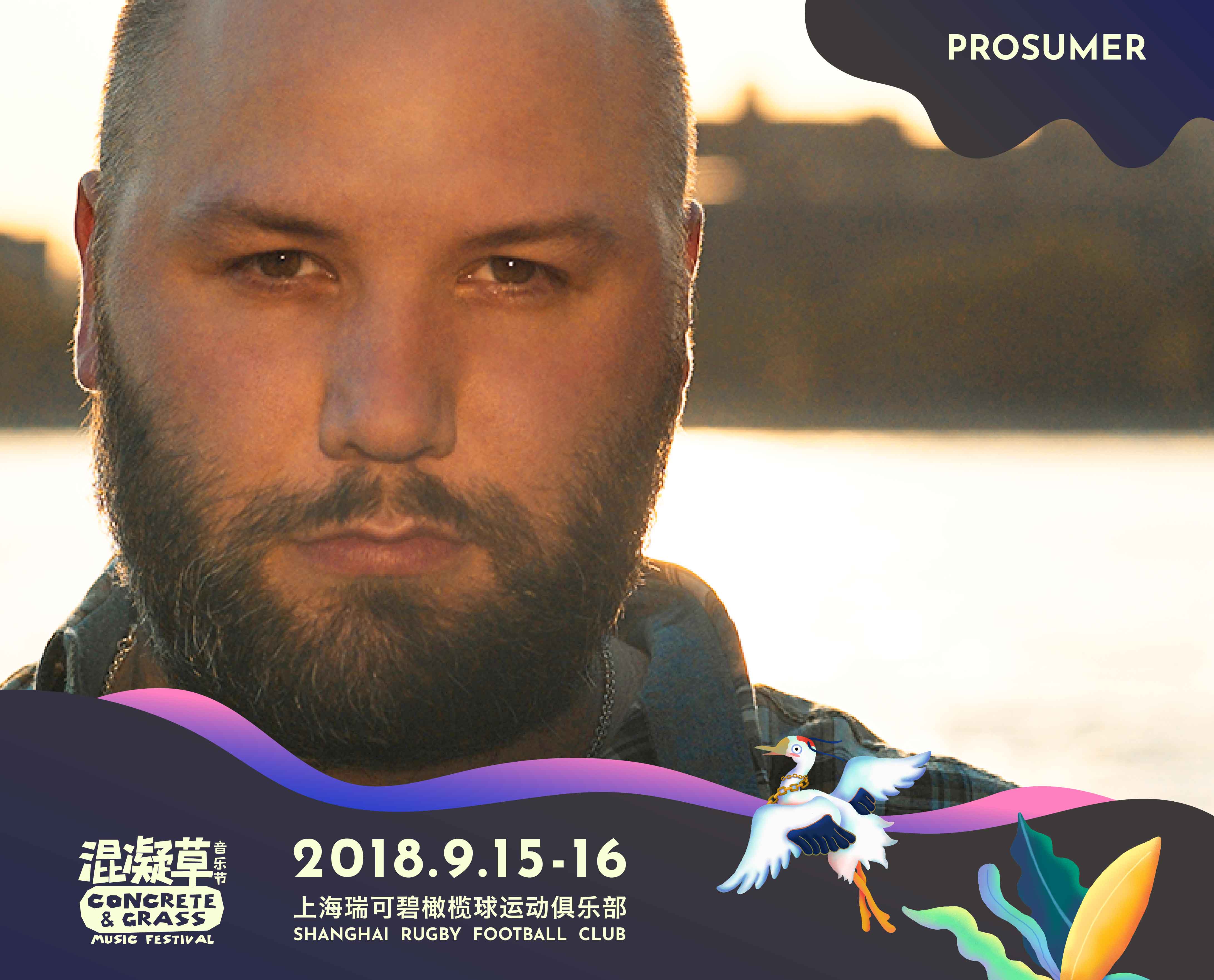 A guardian of house music's storied history, and one its most important producers
Infectious, vibrant and meticulous techno from one of Tel Aviv's most trusted selectors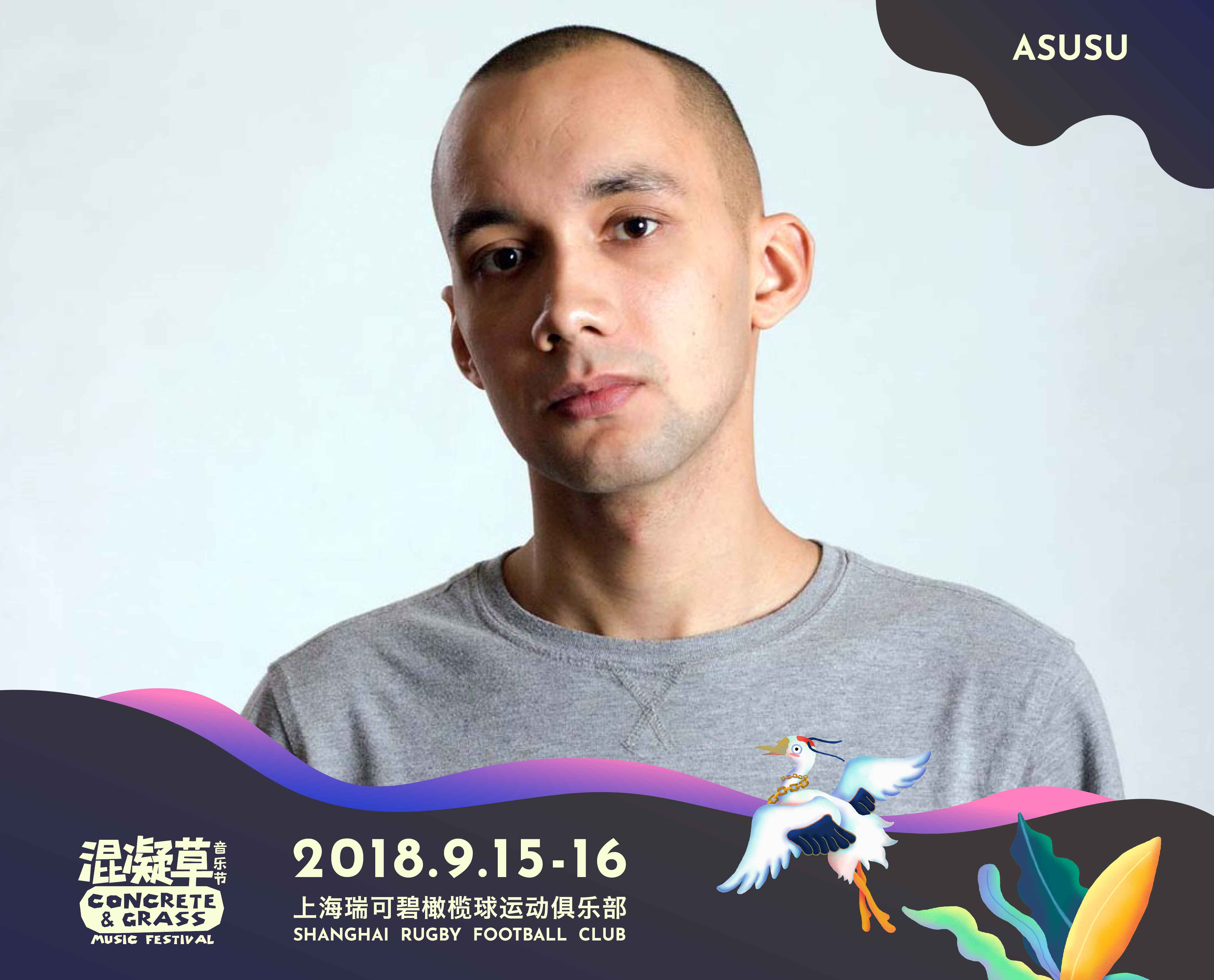 Supernaturally radiant post-dubstep beats with a wild, imaginative heart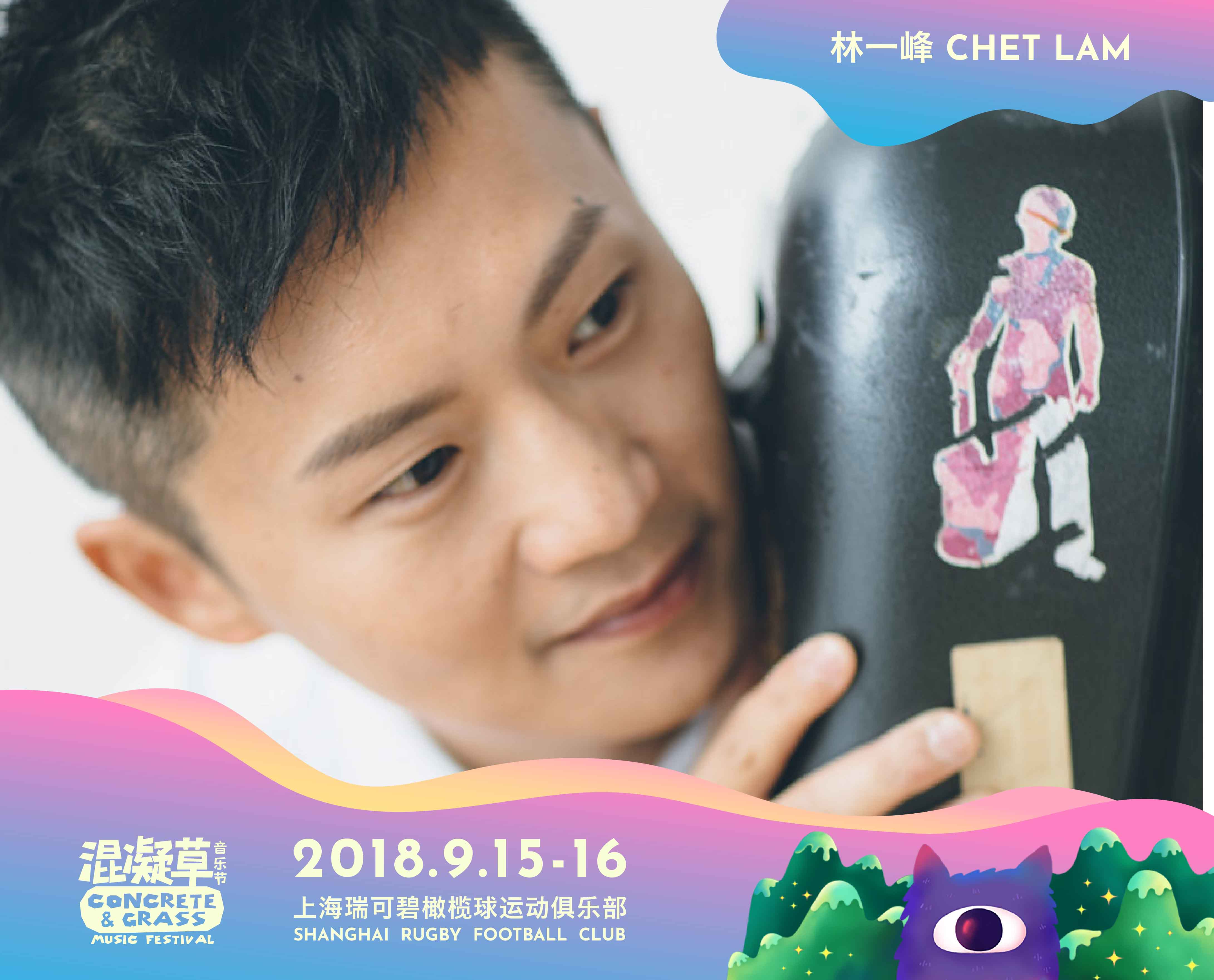 Intimate, delicate urban folk that ponders life, love and better tomorrows
Gorgeous, melancholy folk rock that's both biting satire and bittersweet nostalgia
A beguiling mix of Chinese opera, folk and jazz-heavy grooves that's both timeless and timely
+ more to come!
Wait, MORE? TO COME?
It wouldn't be Concrete & Grass without a few surprises now, would it? Stay Tune(d) – we've got a few more exciting announcements coming up over the next week!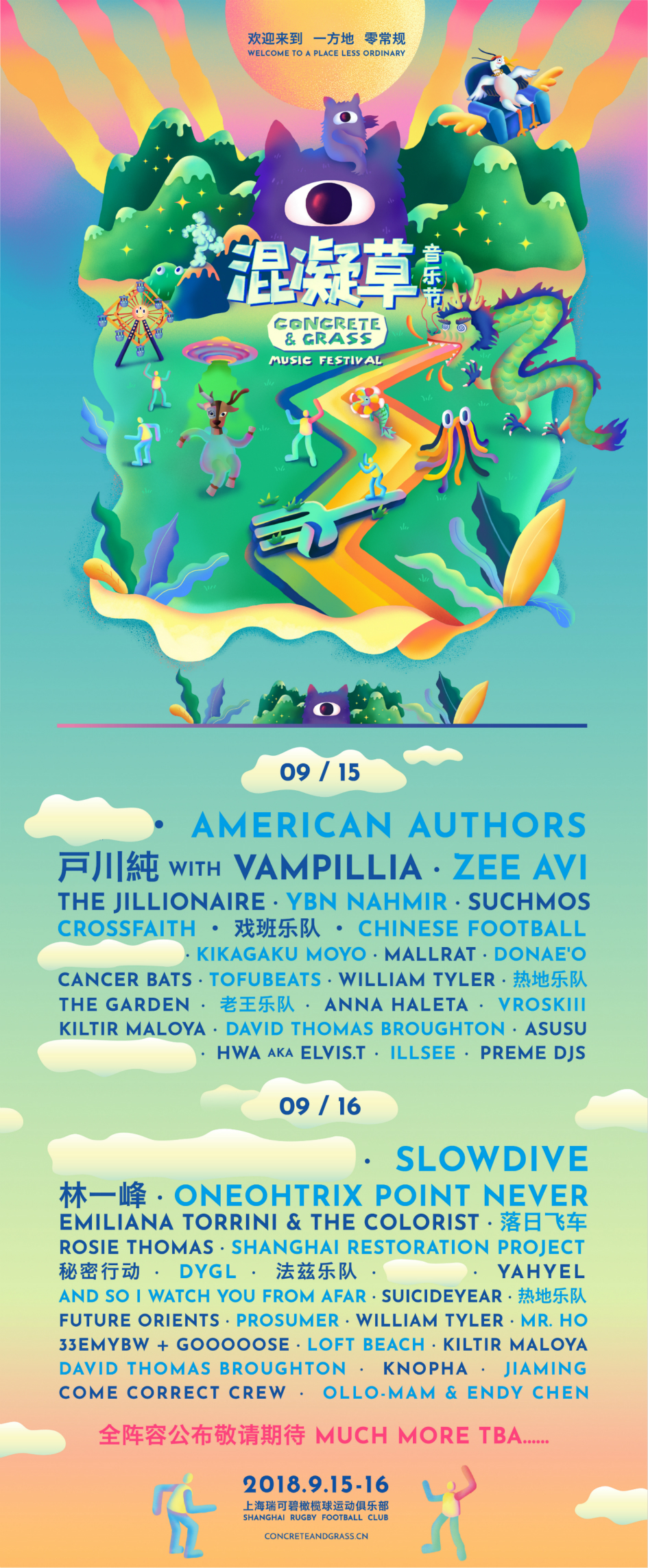 Concrete & Grass 2018
2018.9.15-16 | 15-16 Sep | Sat & Sun
Venue:Shanghai Rugby Football Club
Address : 2700 ZhangyangBei Road, near Wuzhou Avenue
Metro station: Wuzhou Avenue五洲大道 (Line 6, Exit 1)
OFFICIAL TICKETING PLATFORMS
OFFICIAL WEBSITE ║DAMAI║YOOPAY║247Tickets║SMARTTICKET
Whenever(日本語可)
チケットの予約、お問い合わせは
こちらへ(日本語可)Wheneverチケット専用メールアドレスsh_ticket@mediamanbu.com
Limited PREMIUM & STUDENT PASSES are ONLY available on Damai.cn
**Boycott huangniu! Buy only from official sources!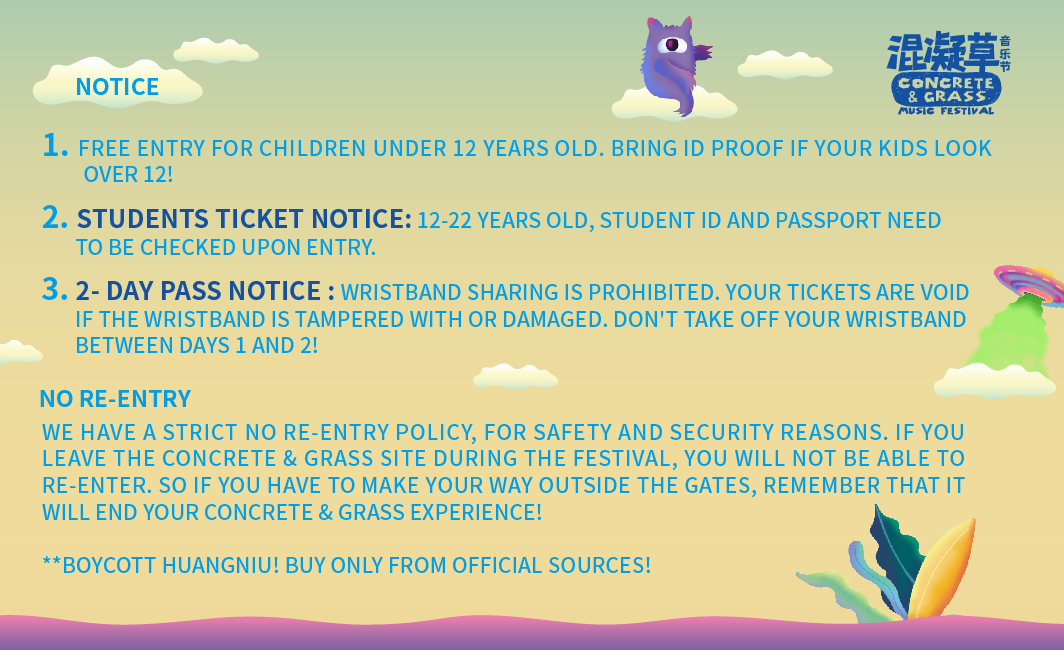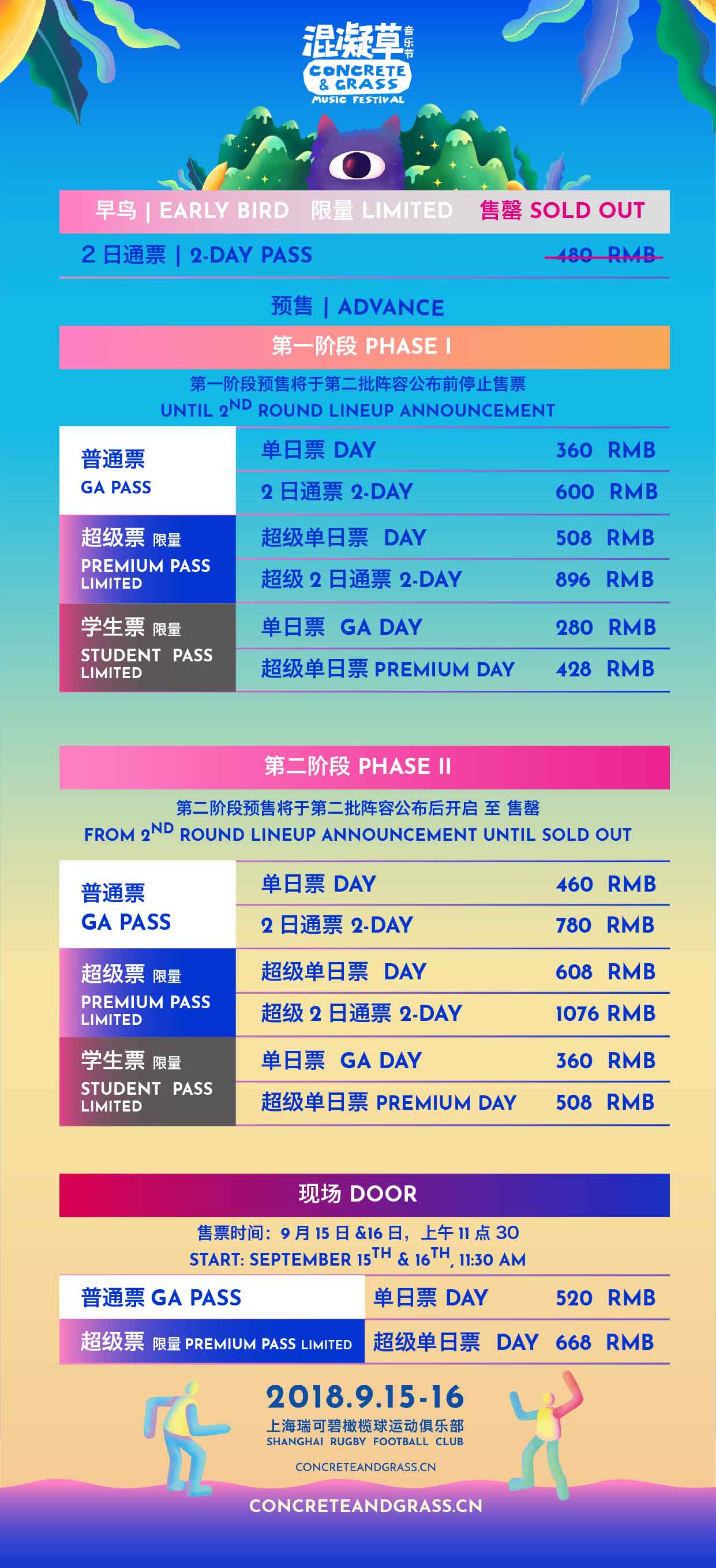 About Split Works:
Split Works has been rocking in the free (ish) world since 2006. Working with inspirational artists from across the globe, the good people at Split Works HQ have been a key contributor to the continued rise of China's music scene.
Split Works has launched five music festivals and promoted over 400 tours to 30 Chinese cities, always striving to stay true to a familiar refrain: the music has to be special, every single time. From Godspeed You! Black Emperor to Sonic Youth, from Thee Oh Sees to Mac Demarco and Shabazz Palaces, from Black Rabbit to JUE and Wooozy to Concrete & Grass, we love music, we love China and we love you.