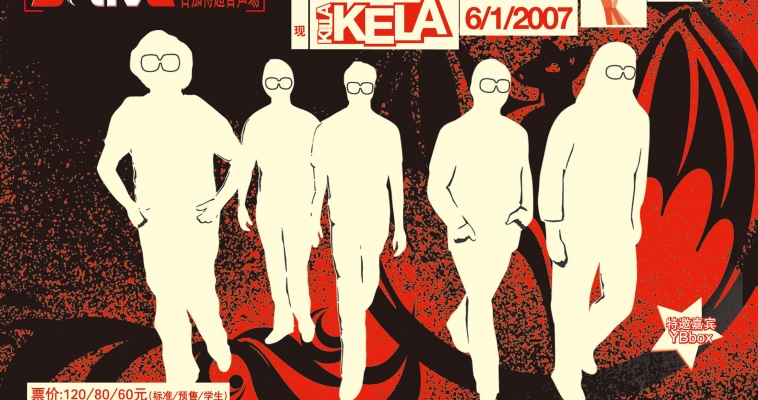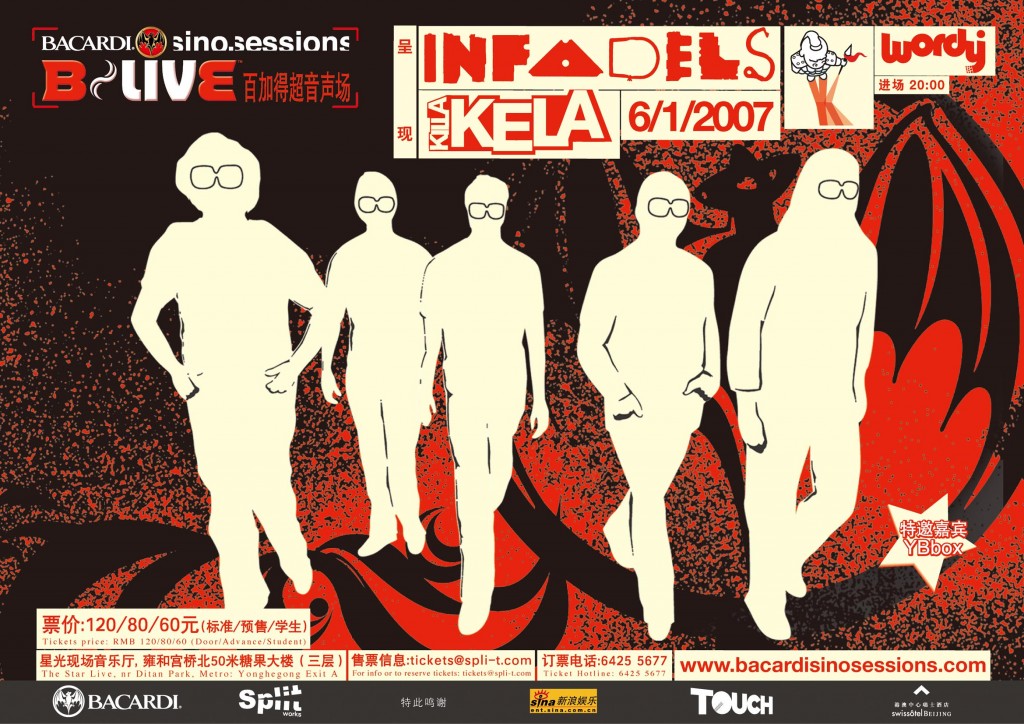 We are happy to announce that the Infadels have agreed to come out to China on the 1st and 2nd of June, playing in Beijing and then Shanghai. But why stop there? Joining them at the top of the bill is Killa Kela rated on Wikipedia (no less) as one of the world's best beat boxers.  On stage with his 4 crew, this will be a show that China will remember for years to come.  Do not miss this…
Infadels (www.infadels.co.uk ) are a five-piece that have enjoyed massive critical success for their debut album, We Are Not the Infadels.  They've shared stages with Faithless, the Prodigy and the Scissor Sisters, so we're in good company recommending this band to you.  Get Jagger67 and Love Like Semtex on your stereo, NOW.
Killa Kela has taken the art of beatboxing to a new and truly special place.  His multi-vocal skill forms the basis of one the most progressive and exciting live shows coming out of the UK. It weaves in and out of live instrumentation, DJing, singing and rapping (courtesy of his Spit Kingdom co-horts), it's a spellbinding experience.
And as if that wasn't enough, we are adding some very special guests to the bill. Courtesy of our friends at Wieden + Kennedy Shanghai, a trio of China's best beatboxers known as YBbox, made up of Herry (桂晶), Muzzle (林虎), and Leo (姜林虎), will be joining us all the way from YanBian, a small town near the North Korean border.
We are committed to keeping our bills a mix of Chinese and International artists and we are really excited about the possibilities here.  Want to see how YanBian and London compare on the beatboxing front?  Come and see the show…
Supporting in Shanghai we have the Banana Monkeys, a three-man modern rockabilly crew with a liking for Iggy Pop.
And starting it off in Beijing we have invited MC Young Kin and DJ Wordy to give us some of their riddims and word for Kela.
Look out China, the Bacardi Sino Sessions are full steam ahead, get on for the ride!