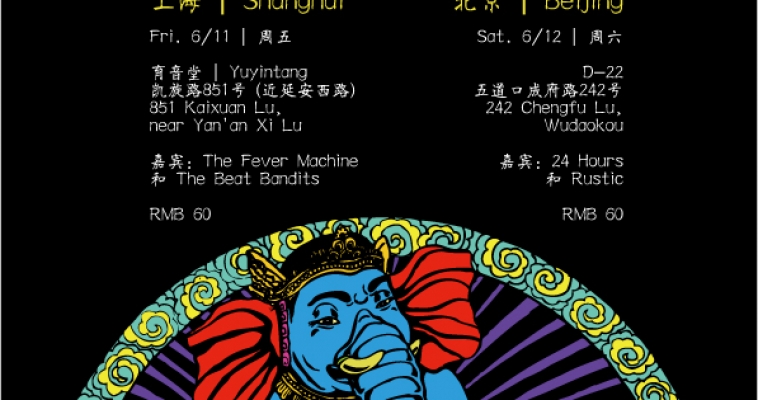 King Khan & BBQ Show China Tour in Hong Kong, Shanghai and Beijing
Event Photos (Click to Enlarge)
Two guys. One smashing snare, bass drum and tambourine with his bare feet, molesting his guitar and singing like a possessed angel. The other spinning and howling like a freak while belting it out on his guitar like a savage.
The Montreal duo of King Khan (aka Blacksnake) and BBQ (aka "one-man-disaster" Mark Sultan) play anarchic, throw-back garage rock evocative of The Velvet Underground, 13th Floor Elevators, Black Flag, The Falcons, Sam Cooke, The Users, The Sonics, The Cramps, Bo, Jerry Lee, The Gonn…Their sound is all of this and more, but all their own.
The live show? A mess. Love songs, punkers, improvised riot-starters, dance-floor shakers, sing-along stompers, wild rockers – you name it. They always drench the crowd in raw energy, and they're always the last ones dancing and drinking at the bar. They've toured the US, Europe, Australia and South America. They are international antiheroes and ambassadors.
BBQ first met King Khan when they played together in Montreal band The Spaceshits, which disbanded in 1999. Sultan started a new band (Les Sexareenos) before going solo in 2002, playing gigs as a one-man band under the name BBQ. Blacksnake, meanwhile, had formed King Khan & His Shrines, and the two former bandmates met up and began writing songs together at Blacksnake's home in Germany, venturing out to play the occasional show in Germany and Spain, with Blacksnake now billed as King Khan.
A debut album by the duo, The King Khan & BBQ Show, was released in the United States on Goner Records and in Europe by Hazelwood Records in 2004. An international tour followed, with a second album, What's for Dinner?, appearing on In the Red Records in 2006. A third album, Invisible Girl, emerged three years later in 2009, also on In the Red Records.
They are an awesomely surreal site to behold; a stunning garage rock machine of the highest calibre, playing incredible original hits that never end. Youngsters and oldsters alike sing along incessantly and let their freak-flags fly in joyous solidarity when The King Khan & BBQ Show hit the stage. Give into their spell and live forever.
The King Khan & BBQ Show China Tour Dates:
Hong Kong – Wednesday – June 9
Presented by
@ Grappa's Cellar
Jardine House, 1 Connaught Place, Central
Support acts TBA
HKD 150
Shanghai — Friday – June 11
@ Yuyintang
851 Kaixuan Lu (near Yan'an Xi Lu)
With The Fever Machine and The Beat Bandits
RMB 60
Beijing – Saturday – June 12
@ D-22
242 Chengfu Lu, Wudaokou
RMB 60