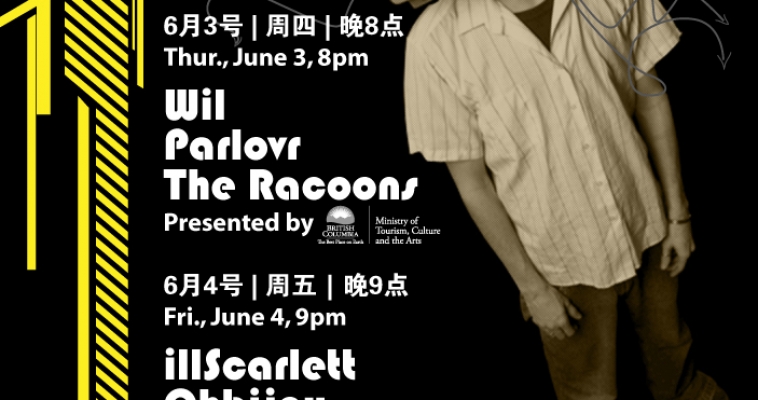 click here to view some event photos from the amazingly talented tobyn ross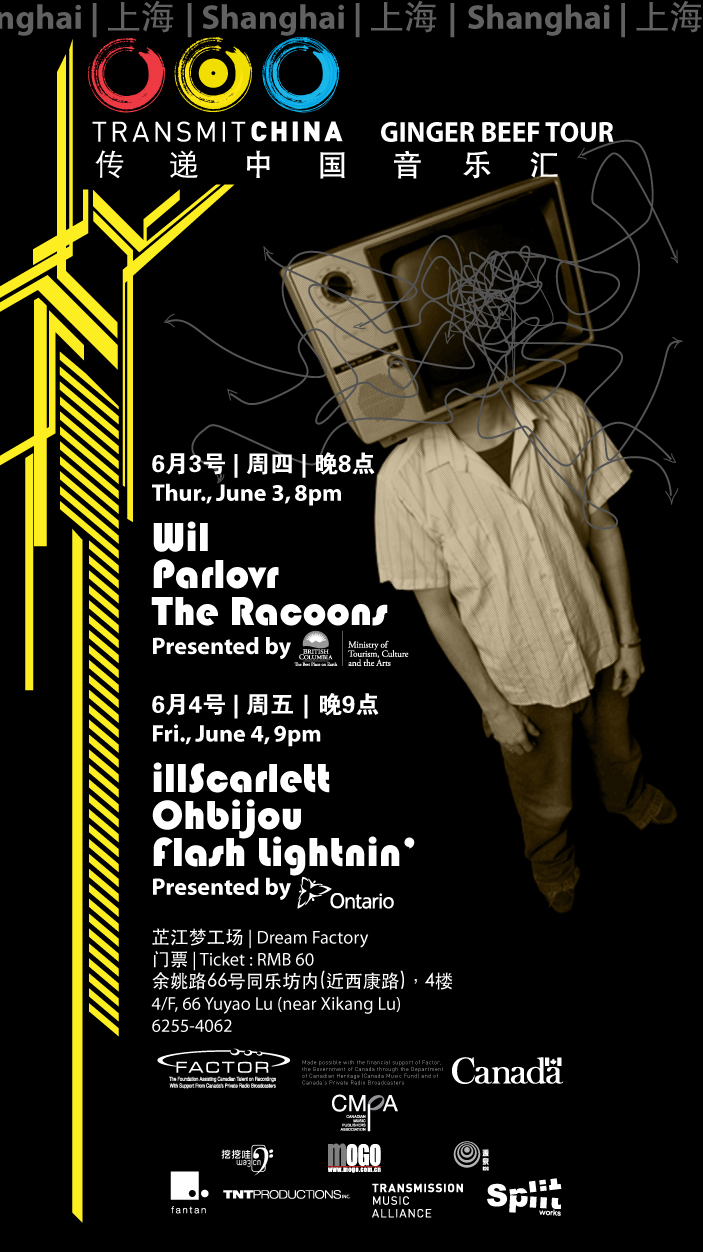 Here's the deal: Split Works and the Fan Tan Group are co-hosting a music industry, tech and media conference in June. It's called transmitCHINA and it's going down at the River South Art Center in Shanghai.
Live music is the bread and butter of what we do, so of course we're also planning a live showcase as a complement to the conference.
The transmitCHINA Showcase = 6 rising stars of Canada's alternative music scene. Everything from new wave to reggae to power rock. They're being brought over to with major support from FACTOR, the Province of Ontario, and the Province of British Columbia.
And since they're coming all the way to Shanghai to show us their stuff, we figured we might as well take them to 6 other Chinese cities too – Hong Kong, Guangzhou, Beijing, Wuhan, Tianjin and Changsha.
The bands will be joined by local support acts at each stop along the tour. Scroll down to see the full Showcase schedule.
And here's some info about those visiting bands:
Parlovr (it's pronounced "Parlour.")
These dudes have toured with the likes of Franz Ferdinand and Arctic Monkeys, and Spin magazine named them 1 of "5 Montreal Bands to Watch" in 2009.
Raw and reverb-soaked, screams and whispers; sing-alongs and spacey instrumentals; warm and crisp, shimmering leads; short pop jabs and extended epics. You get the idea, right? It's quirky, it's catchy, and while it's full of familiar throwbacks to '60s pop, '80s post-punk, and '90s garage, it's also refreshing.
The Racoons (that's right: only 1 'c')
These Vancouver-based indie-poppers were quickly snapped up by the same guy who manages Tegan & Sara, and are preparing to record their first full-length album this summer.
Pit-stops on their rise to fame have included touring with Detroit rockers The Von Bondies, and – OMG – having their song "Room to Operate" featured on an episode of MTV's The Hills (Season 5, Episode 12. The scene where Spencer and Heidi are arguing about babysitting. Not that we watch The Hills.)
CHARTattack said it best:
"Best. Acoustic. Guitar. Player. Ever. No joke — this man is gifted."
illScarlett (Please don't confuse them with Good Charlotte.)
Warped Tour mainstays illScarlett are an Ontario four-piece who make reggae/dub-infused rock. They have shared the stage with a who's-who of pop-punk, from Blink 182 to Weezer to Fall Out Boy. Their most notable influences are Sublime and No Doubt. They even worked with Matthew Wilder, producer of No Doubt's Tragic Kingdom on their 2007 album, All Day With It.
Ohbijou (for fans of Joanna Newsom and Mazzy Star)
This Toronto-sextet make lush, string-heavy music led by vocals from band leader Casey Mecija and incorporating mandolin, bell lyre, banjo, piano, cello and more. The BBC's Paul Bennun called Ohbijou's music "gorgeous…folk music that swings."
The band has inked deals with Bella Union in Europe (also home to Fleet Foxes, Midlake, Andrew Bird, etc.) and Last Gang Records in North America (New Pornographers, Metric, Crystal Castles, etc.).
Flash Lightnin' insist that you chug some bourbon and dance to their "bad-ass sludge boogie."
The Toronto power rockers wear their influence of 70's ZZ Top and Rolling Stones like a well-worn Nudie Suit, with rhinestone crests of Jack White and the Black Keys.
How many other bands do you know versatile enough to open for Priestess, Metric and Broken Social Scene?
transmitCHINA Ginger Beef Schedule:
City
Date
Bands
Venue
Price
Time
Address
Guangzhou
Sat., May 29

illScarlett
Ohbijou
Flash Lightnin'
Wil
Parlovr
The Racoons

Yangcheng Creative Industry Zone Live House
Free
7 pm
309 Huangpu Ave. (Middle)

(Metro Line 5, Keyun Rd. Station, Exit B)

139 0305 6396

Changsha
Sun., May 30

Opening Act:

4698 Club
RMB 40
8 pm
3/F, Fuxin Center

163 Cai-e Rd. (Middle)

138 0847 9728

Changsha
Mon, May 31

illScarlett
Ohbijou
Flash Lightnin'

Opening Act:

4698 Club
RMB 40
8 pm
3/F, Fuxin Center

163 Cai-e Rd., (Middle)

138 0847 9728

Wuhan
Mon., May 31
VOX
RMB 40
8 pm
118 Lumo Rd., Guoguang Tower Bldg. B

Luxiang, Wuchang

027 5076 1020

Wuhan
Tue., June 1

illScarlett
Ohbijou
Flash Lightnin'

VOX
RMB 40
8 pm
118 Lumo Rd., Guoguang Tower Bldg. B

Luxiang, Wuchang

027 5076 1020

Beijing
Tue., June 1
Yugong Yishan
RMB 50
8 pm
West Courtyard, former site of Duan Qirui Government

3-2 Zhangzizhong Rd., Gulou

Dongcheng district

010 6404 2711

Beijing
Wed., June 2

illScarlett
Ohbijou
Flash Lightnin'

Yugong Yishan
RMB 50
8 pm
West Courtyard, former site of Duan Qirui Government

3-2 Zhangzizhong Rd., Gulou

Dongcheng district

010 6404 2711

Tianjin
Wed., June 2
13 Club
RMB 40
8 pm
3/F, 58 Ziyou Rd., Hebei district

136 1208 7080

Tianjin
Thur., June 3

illScarlett
Ohbijou
Flash Lightnin'

13 Club
RMB 40
8 pm
3/F, 58 Ziyou Rd., Hebei district

136 1208 7080

Shanghai
Thur., June 3

Opening Act:

Dream Factory
RMB 60
8 pm
4/F, 66 Yuyao Rd.,  (near Xikang Lu)

021 6255 4062

Shanghai
Fri., June 4

illScarlett
Ohbijou
Flash Lightnin'

Opening Act:

Dream Factory
RMB 60
9 pm
4/F, 66 Yuyao Rd.,  (near Xikang Lu)

021 6255 4062

Hong Kong
Sat., June 5

illScarlett
Ohbijou
Flash Lightnin'
Wil
Parlovr
The Racoons

ROCKSCHOOL
HKD 100
8 pm
2/F,  The Phoenix,

21-25 Luard Rd., Wan Chai

852 2510  7339