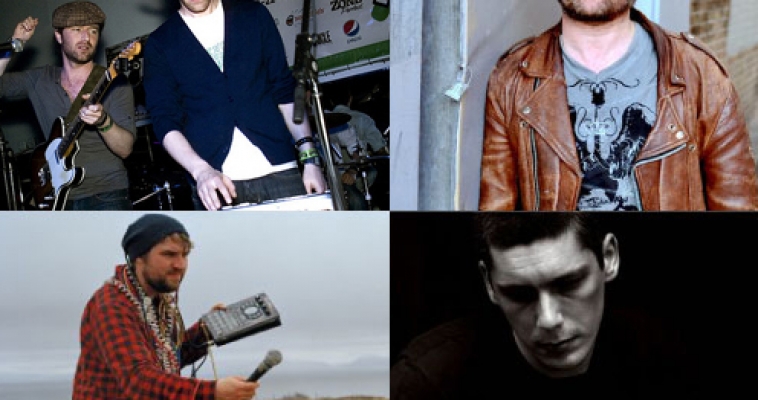 How the people of one small Scots fishing village launched their own record label
and became a global phenomenon.  – The Guardian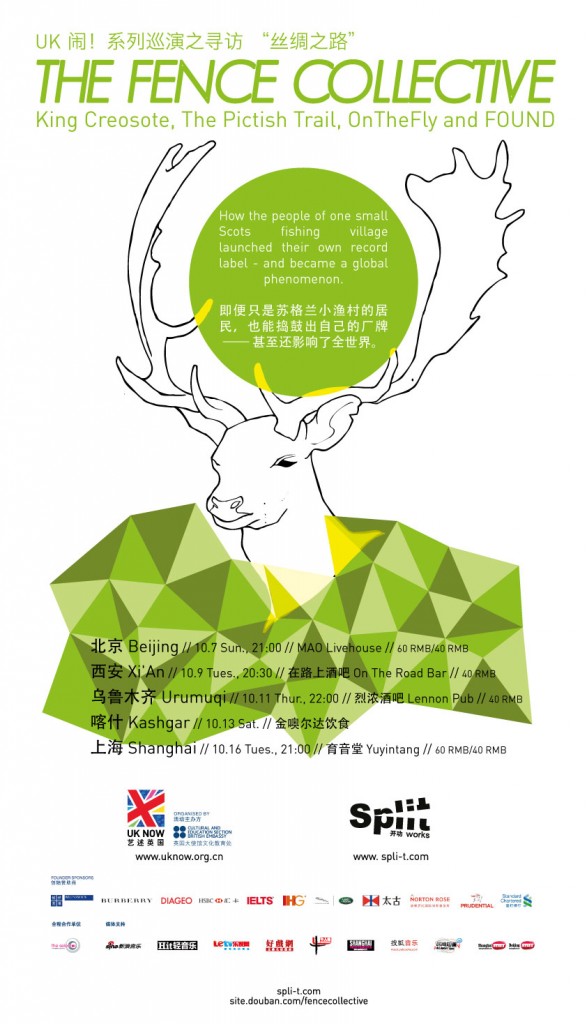 SCHEDULE:
Beijing
Oct 7, Sunday, 9pm
MAO Livehouse
No.111 Gu Lou Dong Da Jie, Dongcheng District
60RMB(Door)/40RMB(Student)
Xi'an
Oct 9, Tuesday, 8:30pm
On The Road Bar
Juhuayuan Yinmachi, Dongdajie, Beilin District
40RMB(Door)
Urumuqi
Oct 11, Thursday, 10pm
Lennon Pub
NO.127 Xinming Rd., Tianshan District
40RMB(Door)
Kashgar
Oct 13, Saturday,8pm
Renmin West Rd., opposite the Institute of Economics & Trade
Free
Shanghai
Oct 16, Tuesday, 9pm
Yuyintang
NO.851 Kaixuan Rd., Changning District
60RMB(Door)/40RMB(Student)
Support: The Horde
————————————————————————————————
The men with beards are coming. Fence, a self-described collective of "musicians, artists, craftsfolk, chancers, and slackers" based out of Fife, Scotland, make their way to China for the very first time in October 2012. This loosely-knit group, comprised on this tour of label laoban/singer-songwriter King Creosote, schizo-popsters FOUND, lo-fi balladeer The Pictish Trail (aka Johnny Lynch) and drummer/producer/sole beardless representative OnTheFly. The Collective comes to China under the auspices of leading promoters Split Works, working together with the British Council and UK Now, as part of Split Works' UK Now Concert Series.
Fence Records and The Fence Collective subscribe to a fierce DIY, lo-fi, analog ethos, with most members living and recording out of remote locations in the east of Scotland. The label's output is reserved exclusively for members the Collective – a loose-knit amalgam of singer-songwriters, musicians, bands and electronic artists, who collaborate with one another on record, as well as on stage. Although their music isn't strictly 'folk' in the traditional sense, the Collective's tendency to hand-down and share songs with one another is very much in the folk spirit.
This time in China, The Fence Collective will be touring along the ancient Silk Road trade route, stopping in the northern route's origin city of Xi'an before proceeding along the historical footsteps of Marco Polo to Urumqi and Kashgar. Along the way, they will commune with local musicians playing traditional instruments in modern formations and arrangements. A laid-back touring ethos will result in always creative, sometime hilarious combinations along the way that simply cannot be missed.
UK Now is the biggest ever festival of British arts and creative industries held in China. Hundreds of world-class events will run across 17 Chinese cities between April and November 2012, including exhibitions and concerts, and representing all the art forms. With a rich artistic heritage that continues to inspire today, the UK is home to a unique and thriving community of contemporary artists breaking ground in every art form.
Founded in 2006, Split Works is China's first concert promotions agency dedicated to bringing independent overseas artists to China and Greater Asia. In 2009, they launched JUE | Music + Art, a three-week urban arts festival celebrating the best of Beijing and Shanghai's creative communities. In 2011, they launched the Black Rabbit Music Festival, China's biggest music festival.
More:
http://www.fencerecords.com
http://www.uknow.org.cn