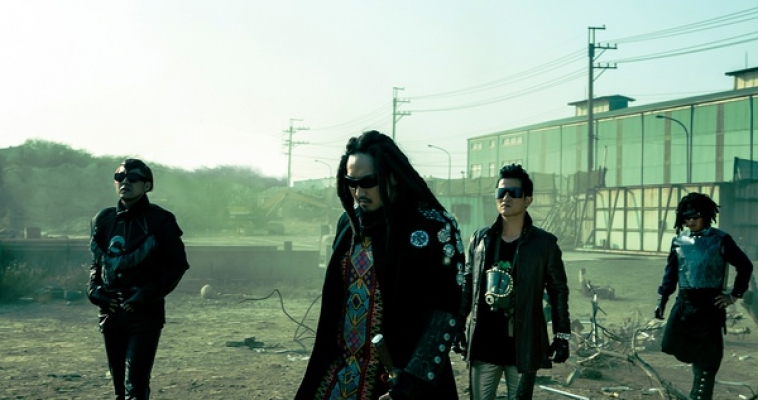 Matzka are a Golden Melody (Chinese Grammy award)-winning reggae band from Taidong, Taiwan. Composed of lead singer Matzka, drummer Atuhuy, guitarist Sakinu and bassist Alisin, they are members of the Paiwan and Puyuma Taiwanese Aboriginal tribes. Combining the traditional tribal music of their youth with the contemporary reggae, hip-hop, folk, rock and even heavy metal, Matzka create an equally modern and traditional, completely unique "Taiwanese Reggae" sound.
In 2010, Matzka released their first, self-titled album which quickly began making waves in the region. The band won the 2011 Golden Melody (Chinese Grammy equivalent) award for Best Rock Artist, and opened for Guns 'n Roses in their 2009 tour of Taiwan (really). 2012 saw the band release their sophomore effort 089 in which they experiment with even more genres and rhythm patterns layered over their signature catchy humorous lyrics. Live, the band creates an unforgettable impression as infectious energy rolls off the band and engulfs the audience in a tidal wave of musical joy.
On the occasion of their first performances in Mainland China, Split Works is honored to welcome Matzka to take the stage in Beijing and Shanghai for JUE | Music + Art 2013.
Show Information:
【Beijing】
Date: Friday March 15, 2013
Time: 8:00 PM
Location: Mako Live House
Address: No. 36 Guangqumen Waidajie (600m east of the Shuangjing Carrefour)
Tickets: 100 RMB (Presale) / 150 RMB (Door)
【Shanghai】
Date: Sunday March 17, 2013
Time: 8:00 PM
Location: Mao Livehouse Shanghai
Address: 3/F, No. 308 Chongqing Nan Lu, nr. Jianguo Zhong Lu
Tickets: 100 RMB (Presale) / 150 RMB (Door)
Ticket Information: www.juefestival.com
————————————————————————————————————————————–
What is JUE | Music + Art Festival?
觉 / JUE (pronounced joo-eh) –verb: to sense; to awaken. JUE | Music + Art is an annual open-source arts and music festival in both Shanghai and Beijing, presented by Split Works. Now in its fifth year, JUE is all about celebrating the best of the local creative communities in these two great cities and inviting artists from around the world to showcase their talent in China. JUE is a collaborative, open-source affair. Each individual event organizer is entitled to set their own entrance fee and to keep 100% of the proceeds. JUE is growing tremendously year-on-year. The 2012 festival drew over 39,000 attendees to 88 events! But we always strive to maintain a strong sense of community, an intimate vibe, and a top-tier selection of artists and events.
http://www.matzka.com.tw/
http://www.juefestival.com