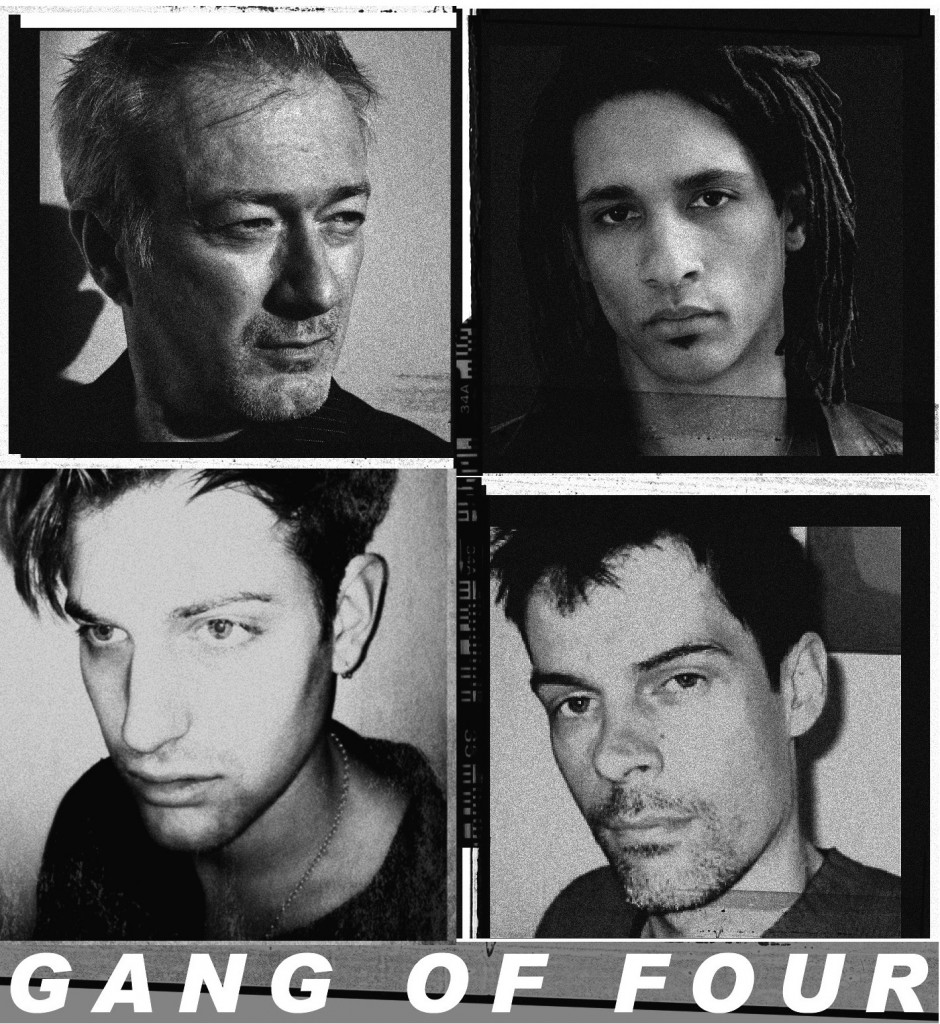 One of the music world's most important and radical bands shares the stage with the inheritors of their extraordinary spirit: This March, Split Works is honored to present seminal post-punk outfit Gang of Four's first-ever shows in Mainland China. At the same time, we welcome back JUE | Music + Art Festival veterans AV Okubo, who will take the stage with their heroes for a listening party before the official release of their second album, produced by none other than Gang of Four's founder and legendary guitarist Andy Gill.
Since Gang of Four first shockingly original and shockingly brilliant 1978 debut single Damaged Goods and 1979 debut album Entertainment!—ranked by Rolling Stone magazine as recently as 2003 among its best albums of all time—the band has  continued to produce incendiary, exhilarating and influential music. You can hear Gang of Four's impact in bands as established as REM and the Red Hot Chili Peppers, both early associates of Gang of Four, U2 and INXS, and in successive waves of post-punk revivals across the world. Franz Ferdinand, the Kaiser Chiefs, the Futureheads, Bloc Party and more all owe a huge and acknowledged debt to Gang of Four.
AV Okubo are the sons and daughters of steel factory works in the belching industrial Central Chinese city of Wuhan. Colloquially known as one of the country's "Three Furnaces," Wuhan lies in the manufacturing heart of China. All members of AV Okubo were born of the post-1980s generation and play music that is post-punk dragged through a pop culture paper shredder of Hong Kong kung-fu flicks, performance art, and syrupy Taiwanese pop. Hailed as one of the Mainland's best live rock acts ever since their formation in 2006 a typical AV Okubo show will include frontman Lu Di shouting invectives through a loudspeaker to the wildly gyrating audience whilst bassist Zuo Yi, guitarist Tan Chao and drummer Hu Juan keep the beat without batting a collective eyelash. Antics aside, they've attracted a considerable amount of talent around them as well: their first album was produced by Martin Atkins, their second by Andy Gill and in between the band has played with the likes of Ratatat, These Are Powers and Battles, toured Australia and Southeast Asia, and terrorized South by Southwest.
This spring Gang of Four, with a line-up of Andy Gill (guitar), Gaoler (vocals), Mark Heaney (drums) and Thomas McNeice (bass), takes the stage in Beijing and Shanghai with AV Okubo for an extraordinary night of music. Special thanks to Chinese record label Maybe Mars, who played an essential role in putting together these very special shows.
Show Information:
【Beijing】
Date: Wednesday March 20, 2013
Time: 8PM
Location: Yugong Yishan
Address: 3-2 Zhangzizhong Lu
Tickets: 180 RMB (Presale) / 220 RMB (Door)
【Shanghai】
Date: Thursday March 21, 2013
Time: 8PM
Location: MAO Livehouse
Address: 308 Chongqing Nan Lu, nr. Jianguo Zhong Lu
Tickets: 180 RMB (Presale) / 220 RMB (Door)
——————————————————————————————————————————–
About JUE | Music + Art Festival:
觉 / JUE (pronounced joo-eh) –verb: to sense; to awaken. JUE | Music + Art is an annual open-source arts and music festival in both Shanghai and Beijing, presented by Split Works. Now in its fifth year, JUE is all about celebrating the best of the local creative communities in these two great cities and inviting artists from around the world to showcase their talent in China. JUE is a collaborative, open-source affair. Each individual event organizer is entitled to set their own entrance fee and to keep 100% of the proceeds. JUE is growing tremendously year-on-year. The 2012 festival drew over 39,000 attendees to 88 events! But we always strive to maintain a strong sense of community, an intimate vibe, and a top-tier selection of artists and events.
Links: