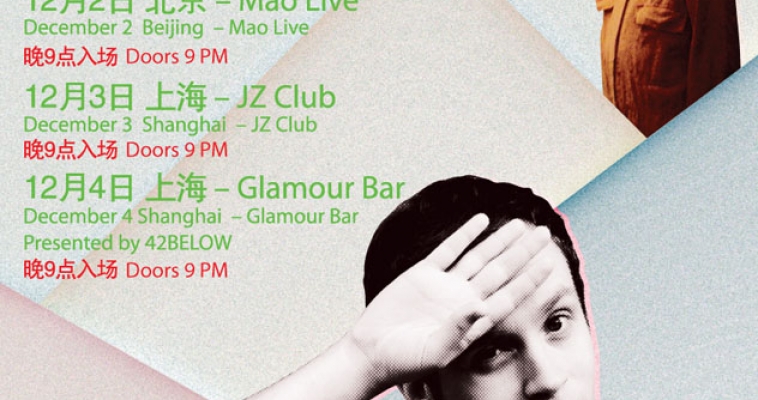 Split Works are proud to present indie music Godhead, Jens Lekman, live in Beijing and Shanghai this December. Darling of Pitchfork (who don't give darling status lightly), we predict that Jens will win China over the same way as he has all other corners of the globe.
"I think the idea that the world has become smaller because of communication technology is just bullshit…  it's just as beautiful and glorious as it always was."
Since winning international attention and a passionate fanbase with his 2003 album EP and file share success story Maple Leaves, Jens has become the leading light of the indie set for his beautifully crafted pop songs and reluctant hipster style. His latest album, 2007's Night Falls Over Kortedala, named for the "depressing suburban hell" he loves to call home, provides the best showcase yet of his blend of 50s camp, heavy sampling and entrancing lyrics.
On his China tour Jens will be joined by long time collaborator and sample master Viktor Sjöberg. Continuing the trend that has seen him go from touring with an all female band dressed in white  to headlining New York's CMJ Music Marathon as a singing DJ, Jens will be mixing it up during his three China gigs. Support comes from Arrows Made of Desire at Beijing's Mao Live, while in Shanghai Jens will jazz it up at JZ before bringing his China chapter to a close at the Glamour Bar.
Enabling Jens and Viktor's China tour to take place are our esteemed partners. The Embassy of Sweden in China is supporting these talented ambassadors of Swedish creativity throughout their China tour. Special thanks must go to 42BELOW Vodka who are creating their own space in China's nascent music industry through their support of luminaries like Jens。
Beijing
December 2nd
21:00
Mao Live
Supported by Arrows Made of Desire

RMB50 presale/RMB60 on the door

Shanghai
December 3rd
21:00
JZ Club
Ticket Price: RMB60
December 4th
21:00
Glamour Bar
Presented by 42BELOW

Ticket Price: RMB100 + 1 free drink