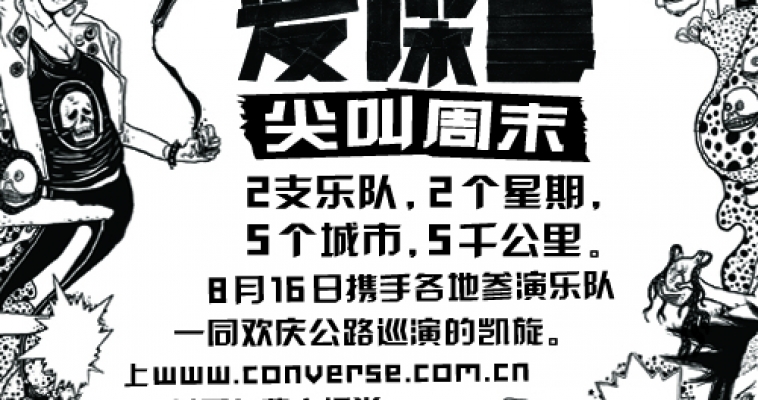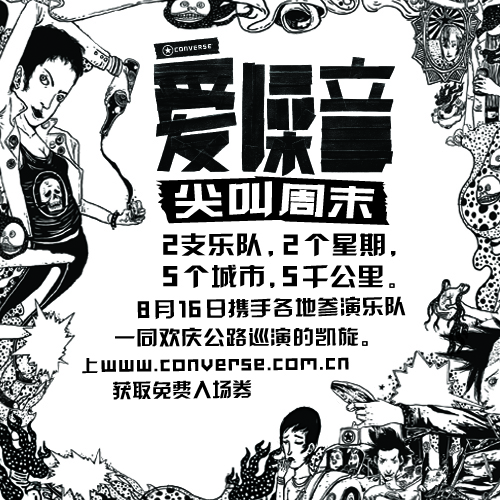 2 bands. 1 bus. 5 cities. 5000km—-Converse is gonna rock china by a real roadtrip concert
Converse is going on a road trip this summer with 2 of Beijing's best underground bands, hitting the road like never before in China.  Through 5 cities and thousands of kilometers, PK14 and Queen Sea Big Shark will traverse the country by customized tour bus, and play shows with the local bands they meet along the way.
In the spirit of a road trip in the classical sense, the band will be living on the bus for the majority of their time during tour.
Converse is sending these two bands out to chart new Chinese territory in the time-honored musical rite of passage. Taking it on the road. Taking the long way and experiencing the unexpected. For them, this roadtrip is about the journey, but the music is the destination.
Detailed  schedule:
7/31 8:00pm  Nanjing  JIDI 77 music bar
Address:no.129 HanZhong rd.
Support Band:Angry Jerks
Ticket Price:30RMB
8/2 8:00pm Hangzhou The Old Captain Bar
Address:no.178 ShuGuang rd.
Support band:Self Party
Ticket price:30RMB
8/6 8:00pm Changsha 4698
Address:3rd floor Yu Xing Center no.163 Cai E Middle Rd.
Support Band:48V
Ticket Price:30RMB
8/7 8:00pm Wuhan VOX
Address:no. 118 Lu Mo rd. Cao Jia Wan bus station WuChang area, Guo Guang Mansion right next to China EVERBRIGHT Bank
Support band:HuaLun
Ticket Price:30RMB
8/9 8:00pm Xi'an Moonkey
Address:Nan men avenue,west north corner, west of Merchandise Bank
Support band:Echo Rush
Ticket Price:30RMB