————————————————————-SH———————————————————–
Minimalist lo-fi duo the Dyne will make their Shanghai debut on Sat, Apr 20 at Uptown Records at a showcase that doubles as both a RSD bash and the official release party for their new seven-inch on Genjing Records, Swim. Fly Roots.
And if a free film screening is more your style, head over to 390 for the Wooozy Community Film Special: Last Shop Standing screening at 2pm.
 ►  Apr 20,2pm, 390 Live, No. 390 Panyu Rd. (nr. Fahuazhen Rd.), FREE

Starting at 2pm, Shanghai folks can look forward to merchandise tables with vinyl, clothing, food, tasty beverages and other good stuff from a variety of local creative firms, labels and vendors. Performances by the Dyne, Pairs, Himdong, Reykjavictim and Goooose will begin at 3:30pm.
Concert-goers will also receive a complimentary copy of Swim. Fly Roots, a localized RSD shirt and other fun stuff. If you enjoy DIY cassette tapes (or if you're pining away for a throwback to the more innocent middle school mixtape days of old), local label and Uptown Records ally SVBCVLT will be releasing a pair of limited edition tapes.
►  Uptown Records, Apr.20, 2pm, 50RMB (includes free vinyl)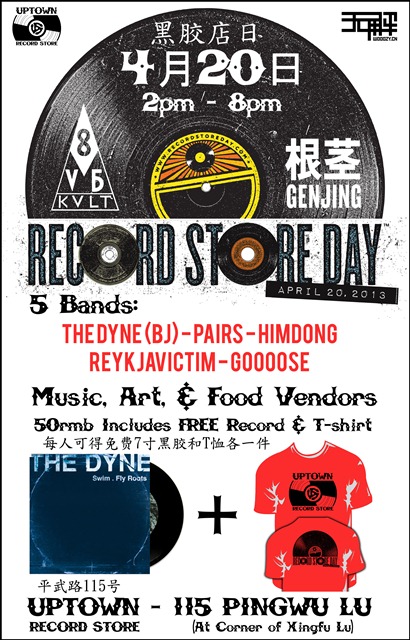 ————————————————————-BJ———————————————————–
BEIJING: FILM SCREENING AND PARTY AT XP
Genjing and Wooozy are throwing a party in the capital city with a screening of this year's official Record Store Day film Last Shop Standing alongside performances by the newly-minted Genjing outfit Streets Kill Strange Animals, experimental American transplants Alpine Decline and Lilisay, the cool new trip hop side project from post-punk duo IDH's Xiao Yu. Attendees can also look forward to drink specials (cheap and strong), contests (free stuff), vinyl giveaways and merchandise distribution from other creative folks, including local retailers, record shops and creative firms.
►  XP, Southwest Corner of Di'anmen Intersection (behind the chestnut stand), Apr.20, 8pm, 50RMB
8pm ~ 9pm: screening the documentary movie "Last Shop Standing"
Q&A with local record store owners and labels
Distro tables from local record stores and record labels.
10pm – performances
Bands:Streets Kill Strange Animals, Alpine Delcine, Lilisay