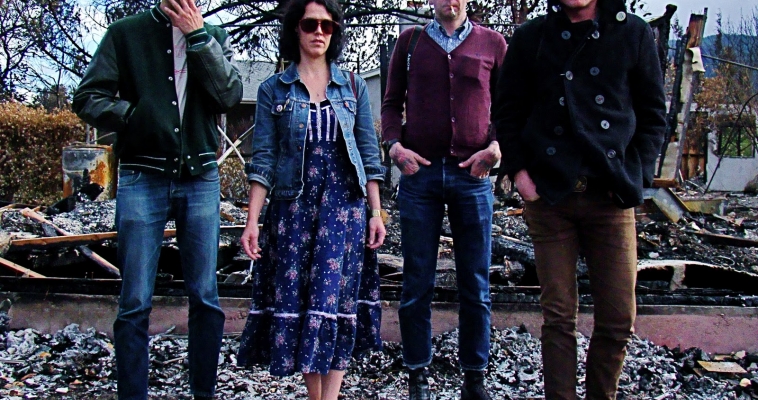 "With unspeakable chemistry and an instinctual bond that borders on telepathic, the band has taken its wildly cacophonous and setlist-free live show to must-see status, turning music venues populated by arm-folding spectators into anarchic  riot scenes."
– Pitchfork
With a riot-sparking, battering-ram live set that recalls something between the early days of punk rock and unadulterated chaos, San Francisco's Thee Oh Sees are ready to conquer the Far East under the auspices of Scorched, a boutique Asia-based booking agency working out of the Split Works offices. What started out as singer, songwriter and guitarist John Dwyer's side project for his experimental instrumental arrangements with a name that changed every week has morphed into a complete band, where Dwyer and fellow bandmates Brigid Dawson (keyboards, tambourine), Petey Dammit (bass), Mike Shoun (drums) and Lars Finberg (also drums) play a ferocious incarnation of heavy psychedelic garage pop that can veer towards either ambitious experimentation or perfectly crafted pop confections.
Equally well-known for their prodigious output, Thee Oh Sees took a relative break in 2012, releasing only one album, September's Putrifiers II. Tireless tourers, Thee Oh Sees spent the summer festival- and continent-hopping with dates at Primavera Sound in Spain, Chicago's Pitchfork Music Festival, Outside Lands in San Francisco and All Tomorrow's Parties in New York. Maddeningly prolific and musically restless, the past 3 years have seen the band release albums that run the gamut from 2010's raucous Warm Slime to 2011's schizophrenic EPs Castlemania and Carrion Crawler/The Dream to this year's Putrifiers II, which is being hailed as "their best [album] yet" (the Guardian), "a more complete, elaborate picture of this band's many capabilities and strengths" (Pitchfork), and full of a "paradoxically coherent choppiness" (Consequence of Sound).
In Dwyer's own words, "You have to leave a mark somehow." With the experience of 15 LPs, 8 EPs, 11 7" records and 5 appearances at All Tomorrow's Parties under their belt, Thee Oh Sees are ready to careen headfirst into touring Asia for the first time. We have no doubt that they will leave their mark long before they leave here.
THEE OH SEES CHINA TOUR DATES
【Beijing】
Date: Thursday, February 21st, 2013
Door Time: 21:00
Venue: MAO Livehouse
Address: No.111 Gulou Dong Dajie, Dongcheng District
Support: The Planets
Price: 60RMB (Student) / 80RMB (Doors)
【Shanghai】
Date: Friday, February 22nd, 2013
Door Time: 21:00
Venue: 390 Live
Address: 390 Panyu Rd.,near Fahuazheng Rd., Changning District
Support: Pairs & S.V.R.O.
Price: 60RMB (Student) / 80RMB (Doors)