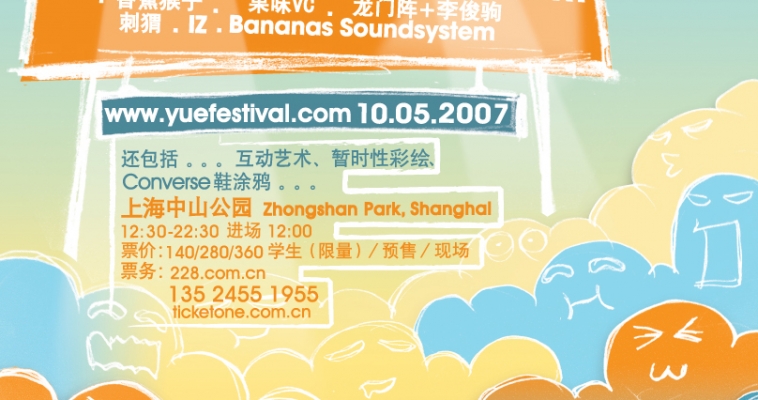 Faithless at Zhongshan Park in Shanghai
Beijing 2-day mini Yue Festival, The Star Live near Ditan Park
10/02/2007 20:00 Talib Kweli + Ozomatli + DJ V-Nutz; 100/140/180  student/advance/door
10/03/2007 20:00 Faithless + DJ Youdai; 160/280/360  student/advance/door
Shanghai Yue Festival, Zhongshan Park, Changning District
10/05/2007 12:00-22:30 Faithless, Talib Kweli, Ozomatli; 140/280/360 student/advance/door
Split Works is proud to finalise one of the most exciting music line-ups that Shanghai has ever seen.  We can confirm that on Friday 5th October, Zhongshan Park will host a stellar line up that will include the hip-hop Latin funk of Ozomatli, the sclerotic rhyme of one of the US's foremost rappers, Talib Kweli, alongside some of the most exciting Chinese music around.  It will all be rounded off by arguably the biggest band in dance music ever, the stadium phenomenon that are Faithless…
Shanghai will be the final date in a gruelling world tour for Faithless, who have played to over ¼ million people in the last six months. Having previously DJ-d in Shanghai, Sister Bliss told Shanghai Talk she is looking forward to getting on stage with their full live act.
Talib Kweli will be coming to China on the back of his sixth studio album, Eardrum.  Approaching legendary status in the hip hop community, he has come a long way since Blackstar, the group he shared with Mos Def.
Kweli will be joined by the double Grammy winning "best live act in the world" (TimeOut Magazine) Ozomatli.  This 9 piece from Los Angeles create sheer happiness from a combination of hip-hop, Latin, funk and soul.  If you haven't seen Ozo live, then you cannot miss this opportunity.
Supporting Faithless in Beijing is local electronic music pioneer DJ Youdai who, legend has it, was the first DJ to spin a Faithless tune in China. In Shanghai the local line-up is as announced before with one addition – IZ, all the way from Xinjiang. Super VC and Hedgehog from Beijing will join local heroes, Banana Monkey and Bananas Soundsystem.
In Shanghai there is other entertainment away from the main stage – for those in need of a spark you can visit our creative market, and for those who want to keep dancing, the new Bacardi B-Live space will host a selection of MCs and DJs throughout the day.
Our Beijing 'mini' 2-day festival kicks off the tour, with Ozomatli and Talib Kweli + DJ V-Nutz, playing The Star Live on 2nd October, and Faithless playing the 3rd.  The main festival will take place in Shanghai on Friday 5th October, starting at noon, and finishing at 10.30pm.
Tickets are due on sale in both cities around 15th September, but people should call now and reserve beforehand – these events have limited capacity and will sell out.  Our ticketing staff will call you right back once tickets are officially issued. You can also look out for ticket competitions being run by our key media partners throughout September…
Enabling this landmark event to take place are our esteemed partners.  Bacardi have shown commendable support for live music in China to date and step it up a level this October holiday. Converse are bringing their street-vibe, and ask you to bring your old Converse to be renovated by our team of graffiti and shoe artists. Also to be noted for their commitment to the cause are Roots & Shoots who are advising us on our 'green' facilities for the day, Pudi Boutique Hotel, Zeta Bar for the Beijing afterparty, Luxury Concierge China, and the guys at Neocha.
This October holiday the party is right here in Shanghai! See you in Zhongshan Park …!