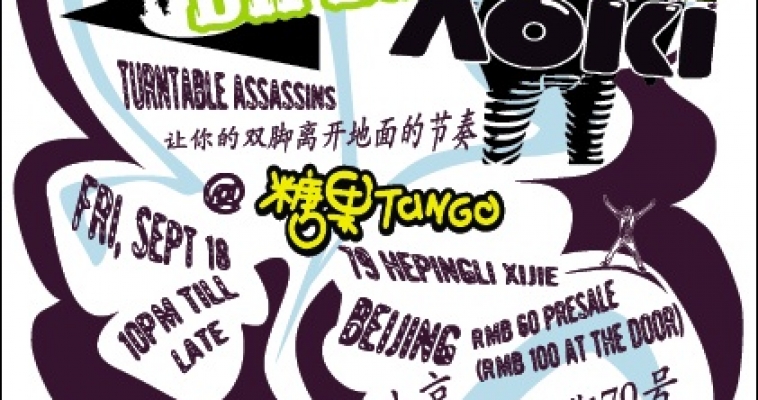 Split Works and Club Tango are delighted to be presenting a killer double-bill: DJs Diplo and Steve Aoki. Two of the biggest names on the electronic music scene, these guys make some of the most innovative and infectious party music on the planet. Performing in China for one night only, the Diplo-Aoki duo will lift you up into a state of turntable-bliss.
About Diplo
Mississipi-born, Florida-bred Diplo is a party DJ who's not afraid to mix it up, injecting bits of breakbeat, crunk and '80s flavor into his sets. Diplo is also credited with importing the Brazilian style of funk carioca or Baile funk to the United States, and popularizing it around the world.  A far cry from actual funk music, it emerged from the slums and Favelas of Rio de Janeiro, Brazil, where popular soul and funk from the U.S. and new electronic music from Germany blended together to produce a distinct bass-heavy sound.
Diplo has worked with artists ranging from Spank Rock to Santigold, and also DJ'd his ex-girlfriend M.I.A.'s Arular tour in 2005.
Starting his own record label, Mad Decent, Diplo has signed on Brazilian Baile Funk group, DJ Blaqstarr, while working on various social relief projects. Diplo's newest album Decent Work for Decent Pay remixes Peter Bjorn and John's "Young Folks", Daft Punk's "Harder Better Faster Stronger" and M.I.A.'s "Paper Planes" elevates these sounds to become modern electro classics.
About Steve Aoki
Pitchfork famously bashed Steve Aoki by describing his sound as "the aural equivalent of mixing toothpaste and orange juice," but it is that unlikely combination that has ignited a fierce following not only in the music blogosphere but among electro-freaks the world over.
An outcast growing up in the buffed and tanned 90's SoCal, Aoki began to entangle himself into the underground music scene in California holding parties in the living room of his UC Santa Barbara apartment, creating his synapse-bending signature sound of experimental electronic beeps mixed with neo-pop from European bands.
Dozens of party-starting remixes later, the Steve Aoki empire includes not only his own clothing label, but his own record label, Dim Mak, with a roster including the likes of Bloc Party, MSTRKRFT, The Klaxons, Boyz Noise and Fake Blood.
Get ready to "shake and pop" to electro-phenoms Diplo and Steve Aoki on Sept. 18.
Lastly, a mighty thanks to our hotel sponsor Hotel G Beijing for its support in bringing Diplo and Steve Aoki to China.
Friday, September 18
@ Club Tango
79 Hepingli Jie (West)
RMB 60 (advance) / RMB 100 (door)
10pm 'til late