RADWIMPS, DIIV, Jai Wolf, ho99o9, Crossfaith, Thurston + Moore;
Tickets on sale basically everywhere!
Right then, here we go.
2017's Republic of 'Grass is now a Concrete Reality, created for wide exploration, deep discovery and pure enjoyment.
The full lineup – 60+artists, 5 stages, 2 days – is out below, and
regular advance tickets are on sale now via Damai, SmartTicket and 24/7 Tickets.
You can see (and hear) our epic headliners from far, far away but we encourage you to dig in a little further, to uncover our many hidden treasures and strange pleasures.
While you're at it, take a leisurely stroll through genres unknown: put Cero, KeroKero and MC Pharaoh on shuffle together. Come for the Great Glaspy, stay for the Glorious Pharmacy. If you're Thurston for Moore, DIIV into some DeathstarrDeathrays. If the Spector of ho99o9 is bringing you downy, take a GacharicSpin on yourCarsick Motorama through some fields of Endless White!
Okay, okay, we'll stop now. Here's the lineup:
Music is Just the Beginning
As 'Grass fans know too well, there's plenty of action beyond the stages.
We have outsider art and freewheeling installations, as well as the gourmet food paradise that is Duck Bites Goose (expect some old friends there!). There'll also be craft cocktails from the dark side, objects of wonder and delight, sports, games, bad puns, Frisbee, ice cream and a few other surprises we've thrown in.
Or in-person at Uptown Records n Beer (永福路131号), Mao Livehouse (重庆南路308号3楼) or the Split Works office (复兴西路100号2A).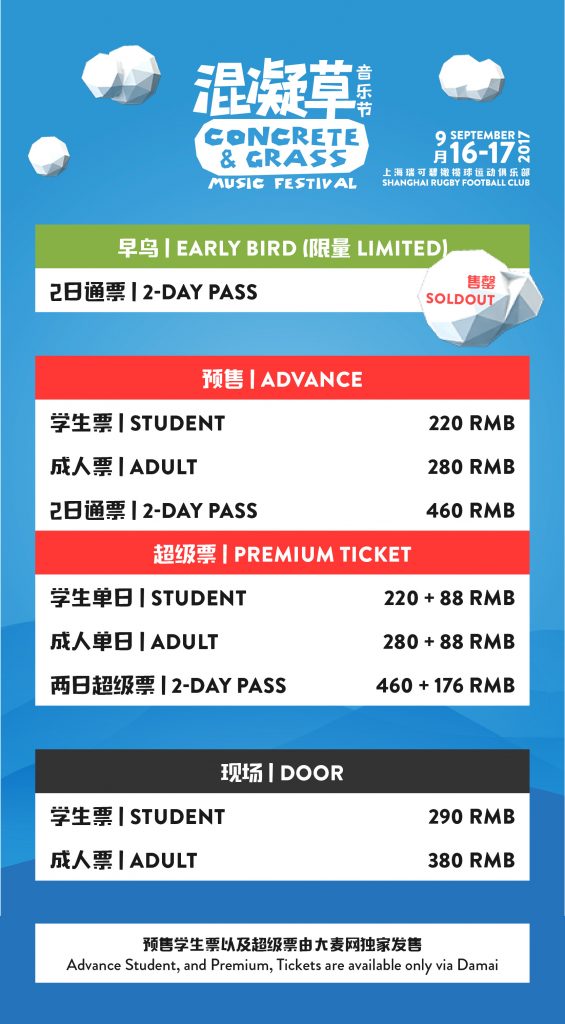 Premium? 
This year, we're offering an 88 RMB/day 'upgrade' to a premium ticket that gets you (in addition to bragging rights):
1/ A commemorative C & G 2017 Premium wristband; *
2/ 1x voucher for special drinks; *
3/ 1x Limited Festival Merchandise;
4/ VIP Festival Entrance;
5/ Access to the Fats Cats club house – including shaded indoor seating, outdoor viewing area, and a VIP bar*;
6/ Indoor restrooms;
7/ Storage for personal items;
8/ Free Wifi;
Premium tickets are limited and first-come-first-served!
*specifics TBC, and subject to change

Advance Tickets:
http://concreteandgrass.cn/en/ticketing/

Concrete & Grass 2017
Date: 16-17 September (Sat& Sun)
Venue: Shanghai Rugby Football Club
Address: 2700 ZhangyangBei Road, near Wuzhou Avenue
(浦东新区张杨北路2700号,近五洲大道)
Metro station:WuzhouAvenue五洲大道 (Line 6, Exit 1)
Follow Concrete & Grass online for news and updates
Official Website: http://concreteandgrass.cn
Weibo/Wechat: ConcreteAndGrass
Facebook/Instagram: TheConcreteKids
Thanks and Support:
NTS' involvement is thanks to the generous support of Arts Council England
UK artist participantion is partly thanks to the generous support of the British Council

About Concrete & Grass:
Concrete & Grassis China's grooviest music festival. It happens in September each year when the weather is warm and frequently perfect.It's Shanghai's own #APlaceLessOrdinary –  chock-full of great bands, weird art, strange creatures and fun distractions. Our venue, the wonderful Shanghai Rugby Football Club, is a lovingly intimate space with lush fields of real grass. We started in 2015 as Echo Park, with Gerard Way, Young Fathers, Swim Deep, Nova Heart and Sound Toy on the bill. 2016 saw Edison Chen, Sekai No Owari, A$ApFerg, The Cribs and Yunggie Ma. 2017's looking pretty ace.
About Split Works:
Split Works has been rocking in the free (ish) world since 2006. Working with inspirational artists from across the globe, the good people at Split Works HQ have been a key contributor to the continued rise of China's music scene.Split Works has launched five music festivals and promoted over 400 tours to 30 Chinese cities, always striving to stay true to a familiar refrain: the music has to be special, every single time. From Godspeed You! Black Emperor to Sonic Youth, from Thee Oh Sees to Mac Demarco and Cloud Nothings, from Black Rabbit to JUE and Wooozy to Concrete & Grass. We love music, we love China and we love you.
About Mai Live:
MaiLive is a live music brand under the Damai Entertainment banner. They organize live performances for some of the biggest Chinese and foreign artists out there: handling production, distribution, and curation for a wide range of cultural events. In 2017 alone, MaiLive has put together shows for artists like Huimei Zhang, Pu Shu, Zhiqian Xue, Bichang Zhou and others.