Nestled in a luxurious, verdant corner of Downtown, the joyous, colourful Jimboomba zone is the festival's cabinet of curiosities. A republic of contentment. A treasure-trove of entertainment less ordinary, and off-the-wall performances. From tongue-in-cheek fun to curious contemplation – Jimboomba, which means paradise on earth –  is guaranteed family-friendly fun.
这里有 | What lies within?
A full-fledged two-day celebration of Ultimate Frisbee, with showcase games, workshops and the proto-Olympic sport of Beer Frisbee. Presented in association with Yikun Sports and the Shanghai Ultimate Players Association!
A sports carnival and little haven for all the Concrete Cubs, a kids zone curated by Awesome Kids Club featuring music workshops, distractions (think sack races), board games and a few other surprises.
A handicrafts market curated by JamMart, with poi-spinning, artisanal objects of delight and wonder, and mysteries from the beyond (exact nature of mysteries TBC)
The Jimboomba Stage itself, featuring special performances and interactive sessions with some of the best 'Grass artists.
Yoga, with guided meditation and flow, for a shot of physical and spiritual enrichment.
You, having the time of your life and catching some well-deserved R&R between all of the music!
我们都是"熊孩子" | We are Cubs
The 'Grass Kids Zone, Curated by Awesome Kids Club.
Concrete& Grass is fun for the whole family! The festival welcomes children of all ages, and dreams to create a relaxed, family-friendly environment in our special We Are Cubs space for the littlest of music lovers, presented this year in partnership with Awesome Kids Club, Coach 23, and Music LAB.
We've got tons of fun activities and performances taking place from 12-7pm on both days of the festival. It's pitched at children and big kids alike to enjoy, and there's plenty for parents to do all in the general vicinity. Concrete & Grass takes place on a beautiful open ground with real grass, and we're making sure the kids have their own little space to run around safely.
手作集市 | Handicrafts Market
Presented by JamMart
The hippest of hippiest goods: JamMart's handicrafts market in Jimboomba will feature hand-crafted bags, camphor-wood furniture, tote bags, temporary tattoos and much, much more! Expect to see poi-spinning and dancing once the sun goes down.
飞盘游戏 | Frisbeee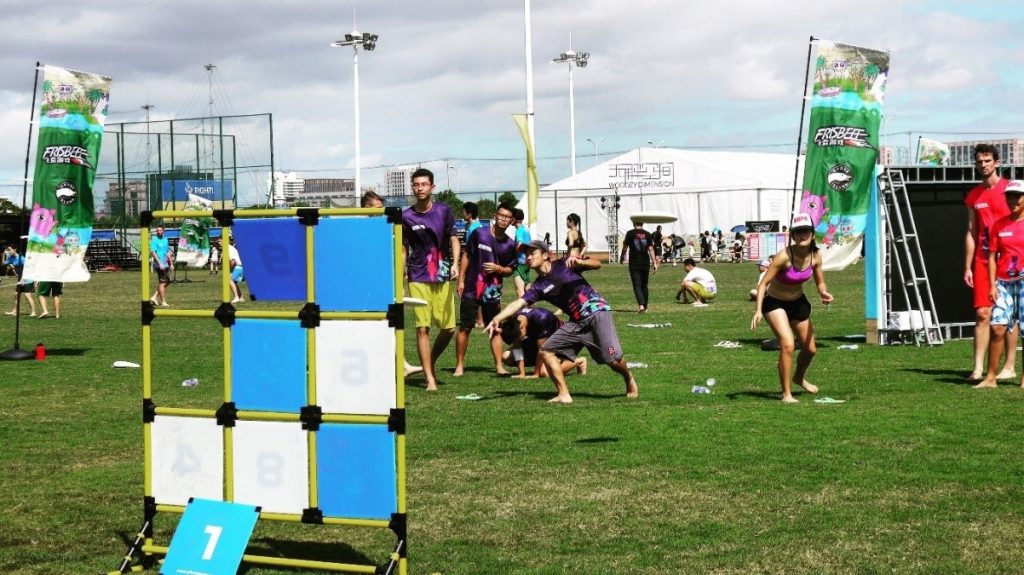 Ultimate Ultimate, presented with Yikun Sports and SUPA.
An annual Concrete & Grass tradition. Work up a sweat, make new friends and be part of an intense game of Ultimate, thanks to a special collaboration between Concrete & Grass and Ningbo's Yikun Sports. At the festival there will be workshops and teaching sessions, Disc-Golf, Beer Frisbee and a special Gnarly Nines Ultimate Frisbee competition on both days! Beginners and veterans alike arewelcome. We'll have folks happy to teach newcomers the ropes. Shout outs to the Shanghai Ultimate Players Association (SUPA) for helping make this happen!
第一日活动表 | Day 1 Schedule (TBC)
13:00- 16:00 
超感九人飞盘全互动 Gnarly Nines!
16:15- 17:00 
手作工坊和示范表演 
Workshops and Demonstrations
17:00- 18:00 
飞盘高尔夫 Disc-Golf 
第二日活动表 | Day 2 Schedule (TBC)
13:00- 15:00 
超感九人飞盘全互动 Gnarly Nines!
15:15- 16:00 
手作工坊和示范表演 
Workshops and Demonstrations
16:15- 17:00 
啤酒飞盘 Beer Games
17:00- 18:00 
飞盘高尔夫 Disc-Golf 
瑜伽 | Yoga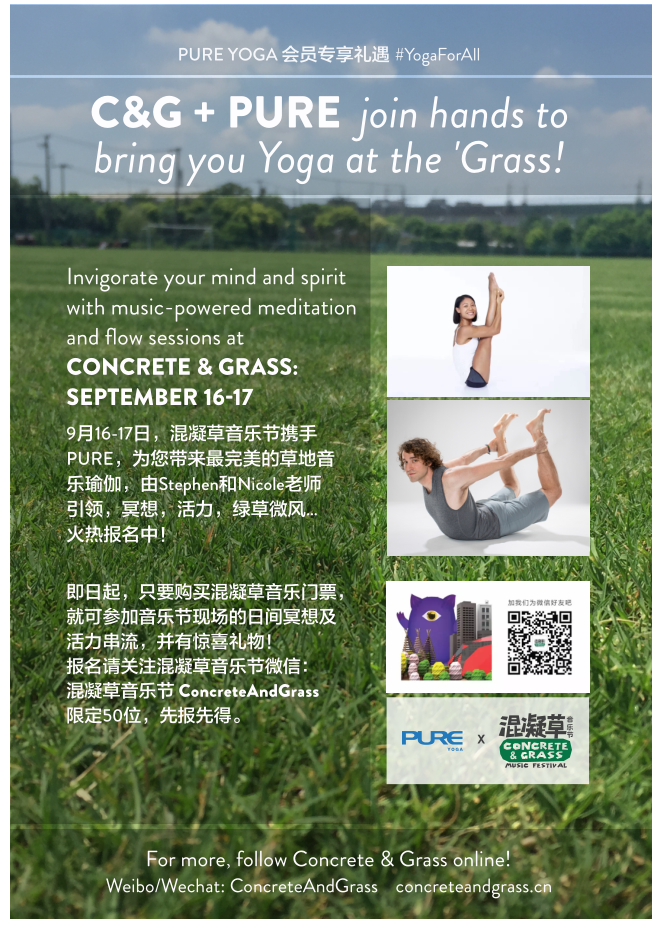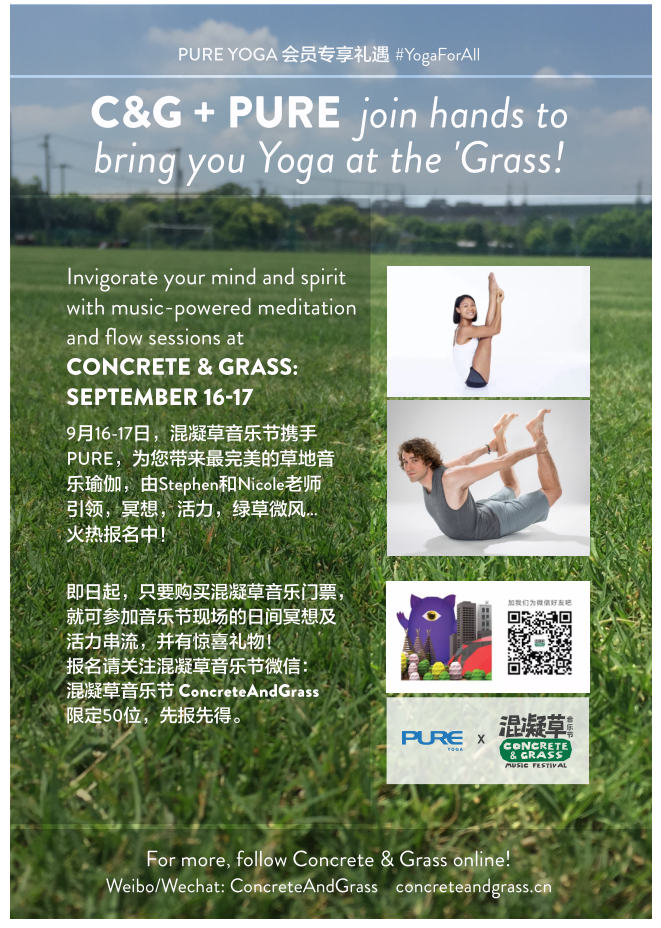 Presented with Pure Yoga
Re-centre and let go. Head on over to Jimboomba early afternoon or early evening for two sessions of guided Yoga on Saturday the 16th, presented in collaboration with Pure Yoga. We'll have both Meditation and Flow sessions – and beginners are welcome!
There's plenty more surprises and discoveries in store at the Jimboomba zone, including a pop-up library (from Penguin Random House), and a whole weekend's worth of programming at the Jimboomba stage. Expect dark lo-fi, harmonica covers and acoustic folk-rock!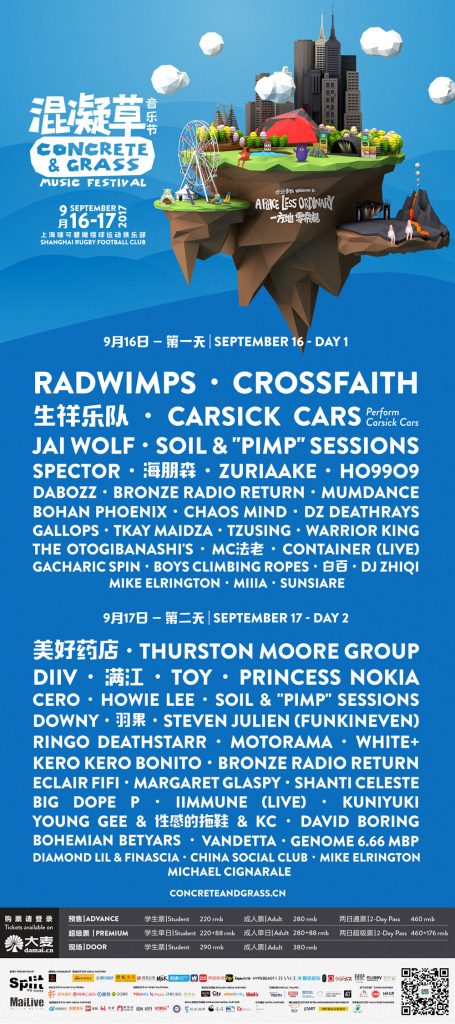 Date: 16-17 September (Sat & Sun)
Venue: Shanghai Rugby Football Club
Address: 2700 ZhangyangBei Road, near Wuzhou Avenue
Metro station: Wuzhou Avenue 五洲大道 (Line 6, Exit 1)
Official Ticketing Platform
concreteandgrass.cn/en/ticketing/
About Concrete & Grass:
Concrete & Grassis China's grooviest music festival. It happens in September each year when the weather is warm and frequently perfect.It's Shanghai's own #APlaceLessOrdinary –  chock-full of great bands, weird art, strange creatures and fun distractions. Our venue, the wonderful Shanghai Rugby Football Club, is a lovingly intimate space with lush fields of real grass. We started in 2015 as Echo Park, with Gerard Way, Young Fathers, Swim Deep, Nova Heart and Sound Toy on the bill. 2016 saw Edison Chen, Sekai No Owari, A$ApFerg, The Cribs and Yunggie Ma. 2017's looking pretty ace.
About Split Works:
Split Works has been rocking in the free (ish) world since 2006. Working with inspirational artists from across the globe, the good people at Split Works HQ have been a key contributor to the continued rise of China's music scene.Split Works has launched five music festivals and promoted over 400 tours to 30 Chinese cities, always striving to stay true to a familiar refrain: the music has to be special, every single time. From Godspeed You! Black Emperor to Sonic Youth, from Thee Oh Sees to Mac Demarco and Cloud Nothings, from Black Rabbit to JUE and Wooozy to Concrete & Grass. We love music, we love China and we love you.
About Mai Live:
MaiLive is a live music brand under the Damai Entertainment banner. They organize live performances for some of the biggest Chinese and foreign artists out there: handling production, distribution, and curation for a wide range of cultural events. In 2017 alone, MaiLive has put together shows for artists like Huimei Zhang, Pu Shu, Zhiqian Xue, Bichang Zhou and others.