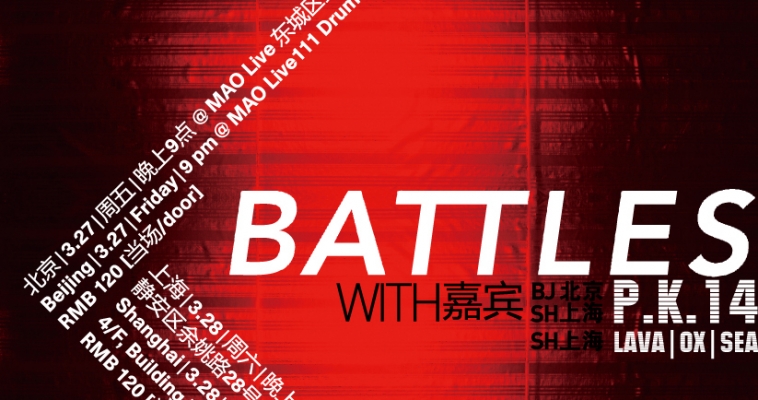 "Battles sound like an army of glam-rock robots gargling sheet metal."
–Tim Jonze, The Guardian
Not ones to be easily defined, New York City four-piece Battles play a blend of math-rock, jazz-fusion, cyber-metal, and other hyphenates. The result is music that Pitchfork calls "thrilling and disorienting." China-based promoters Split Works are bringing this entrancing, propulsive sound to Asia for a series of not-to-be-missed gigs in Singapore (3/18), Kuala Lumpur (3/19), Bangkok (3/21), Taipei (3/25), Hong Kong (3/26), Beijing (3/27) and Shanghai (3/28).
Battles' line-up includes ex-Helmet drummer John Stanier, ex-Don Caballero guitarist Ian Williams, ex-Lynx guitarist Dave Konopka, and Tyondai Braxton (son of avant-garde jazz musician Anthony Braxton) who also plays guitar and keyboard and creates live voice samples. Instead of the conventional band dynamic of individual players waiting for their turn to be showcased, the members of Battles are more analogous to a tangle of brain synapses all firing in time with each other.
Evolving over a trilogy of EPs: EP C, Tras/Fantasy and B EP, Battles cemented their place as experimental rock savants with their first full-length album, 2007's Mirrored. Traversing the globe, Battles won a reputation as one of the most explosive live acts making music today, melding the stripped-down aesthetic of hard rock with the synthetic precision of digitization.
For their Beijing and Shanghai gigs, Battles will be joined by kingpins of the Beijing rock scene P.K.14. Formed in Nanjing in 1997, P.K.14 occupies a space in Chinese music that might be analogous to that of Talking Heads or Television in the New York of the 1970s.
As the only remaining member from P.K.14's original lineup, frontman Yang Haisong is generally considered to be the epitome of the band's aesthetic approach to art and music. As one of China's better-known younger poets, his lyrics, predominantly about China's disaffected urban youth, have been important for the band's style and for the regard with which they are held by their audience. In addition to Yang, the band includes Xu Bo on guitar, Shi Xudong on bass and Jonathan on drums.
P.K.14 have performed extensively in China and abroad, both headlining and
sharing the stage with many notable bands, including The (International) Noise
Conspiracy, Ex-Models, and The Soundtrack of Our Lives. In June 2006, the band was nominated for "Best Band" and "Best Rock Band" at the 6th annual Chinese Music Media Awards (the Chinese Grammy Awards). In July 2006, MTV China featured their video Ta Men (They) as their "Pick of the Week." Most recently,TIME magazine chose P.K.14 as one of Asia's five best bands and one to watch in 2008. Their fourth album, City Weather Sailing (Chengshi Tianqi De Hangxing), was released in July 2008 on Maybe Mars records.
Hailing from Hefei in Anhui province, LAVA|OX|SEA released their first EP, "Media Murdered the Young" in 2006 on Miniless Records. In 2008, LAVA|OX|SEA released a live record recorded at Shanghai's Yuyintang, titled "Beloved, Our Deserted Landscape," which was made available for free online, and was followed up by a second live recording, "Heavy Metal Rock is the Best Music." Ranging from shoegaze to white noise and space rock, the band's style is difficult to classify. What sets them apart is their fondness for futuristic and apocalyptic imagery, and their live performances, which are at once violent and delicate, with an air of paranoia. The band is teaming up with P.K.14's Yang Haisong, who will produce LAVA|OX|SEA's debut studio album, due out in 2009.
Beijing

with P.K.14

Fri. March 27

Doors:9 pm

Tickets: RMB 120

MAO Live

111 Drumtower Avenue, East Dongcheng District

Shanghai

with P.K.14

and LAVA|OX|SEA

Sat. March 28

Doors: 9 pm

Tickets: RMB 120

Dream Factory

4/F, Building B, No. 28 Yuyao Lu