Split Works gives you a night of double delight coming straight from the artistic hubs of Montreal, Canada and Seattle, Washington USA. Just after Mid Autumn's full moon, the stars will align to see these soul darlings and hipster kings perform in Beijing within the intimate confines of new hutong hotspot DDC on September 16. Experience the sonic waves of We Are Wolves and be spiritually awakened by the earnest and unorthodox but right-on beats of THEESatisfaction.
We are Wolves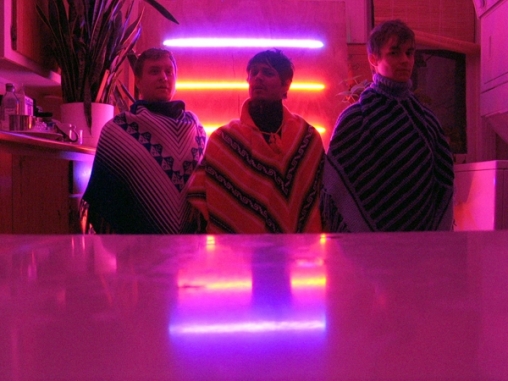 "These guys got style…. you get this new and intricate musical entity that can blow minds worldwide… It's only a matter of time before they take a bite out of rock n' roll as we know it" – Consequenceofsound.net
Since their beginnings with the American label Fat Possum in 2005, We Are Wolves earned serious stripes playing along side the likes of Gorillaz, Bloc Party, and The (International) Noise Conspiracy. The now mythic trio, presents an honest and uncatchable sound; a bit like celestial lightning hitting a sacred mountaintop. Heavily influenced by visual arts, they paint a post-punk landscape, scattered with analog trees. Their primitive approach remains true to their animal of predilection: untamable.
THEESatisfaction
"THEESatisfaction: their music is full of joy, of sensuousness and sensuality, of acid wit and ambitious creativity…. When Cat and Stas speak and sing, you really should listen" – BBC
Stasia Irons and Catherine Harris-White make up THEESatisfaction. The pair live/laugh/love/dance and create in the artistic hub of Seattle, Washington. They write, produce and perform their own material, with an aim to share their positive energy. The duo is proud of their Black American heritage and take every opportunity to empower women around the world. Their honesty and purity shows through in their intonation and listeners won't be standing still once THEESatisfaction step on stage.
THEESatisfaction dropped onto the mainstream music radar in 2011 with their appearance on Shabazz Palaces' Black Up album. Since then, they've been the starlets of those in the melodic know. THEESatisfaction serves up melodies in the form of funk-psychedelic feminista sci-fi epics with the warmth and depth of black jazz and Sunday morning soul, frosted with icy raps that evoke equal parts Elaine Brown, Ursula Rucker and Q-Tip.
We are Wolves + THEESatisfaction Beijing Show information
Date: Tuesday September 16
Time:9pm
Tickets:80RMB
Presale: 80RMB https://yoopay.cn/event/WeAreWolves (first come first serve)
Venue: DUSK DAWN CLUB (DDC)
Address: No.14 Shanlao Hutong, Dongcheng District (山老胡同14号)
Links
Split Works Official Website:www.spli-t.com
We Are Wolves Bandcamp: wearewolves.bandcamp.com
THEESatisfaction Subpop label page: www.subpop.com/artists/theesatisfaction