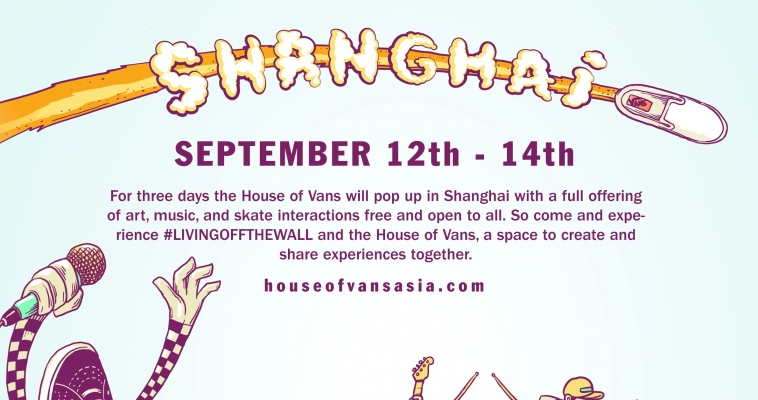 Shanghai, China (September 4, 2014) – Building upon an unwavering commitment to creative expression, Vans – the original action sports and apparel brand is pleased to announce the full line-up of the House of Vans Shanghai: a unique and participative space for all. For the first stop of the tour in Shanghai, the House of Vans will be opening its doors at Central Studios on September 12th -14th, with a full range of music, art, and skateboarding activations: free and open to all!
From September 13th – 14th, Central Studios will be at the musical and creative heart of House of Vans. During the two days, American filmmaker and photographer Angela Boatwright will lead students through a documentary workshop and American photographer Tobin Yelland and Zine Maker Clint Woodside will hold an interactive DIY Zine workshop.  Shanghai-based screen-printing duo Idle Beats, will be also be there giving a full workshop on all steps to creating your own screen-print. For creative individuals eager to be part of the activities, recruitment starts now on a first come first serve basis at www.houseofvansasia.com.
If you are a musician yourself and want to share your music, on Saturday (13 September), the House of Vans will have a full equipment and backline setup for Open Mic performances starting at 17:00.  Musicians only need to bring their guitar, bass, or voice! Simply plug in and rock at the House of Vans.
Of course, House of Vans is known for their cutting edge and groundbreaking support of young, cool music. On Sunday (14 September) House of Vans teams up with their music partner Split Works. Championing the backyard festival atmosphere of the event, Split Works will bring an eclectic mix of both local and international acts to Central Studios. Shanghai rapper reggae crew FAR EAST LION UNDERGROUND starts the flow at 15:00, followed by one of Korea's most intense traditional music rock bands – Jambinai. THEESatisfaction will sing their sensuousness, wit, with a touch of that funk just before the evening ends at Central Studios with high-energy post-punk trio We Are Wolves.
FAR EAST LION UNDERGROUND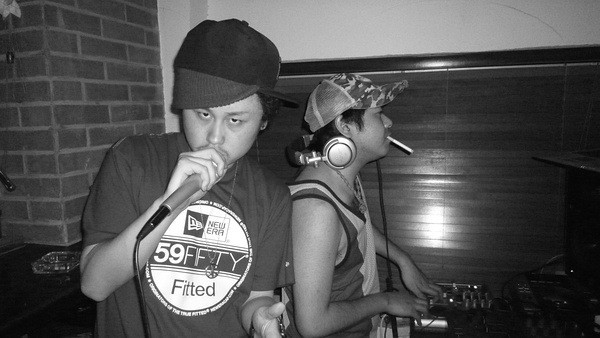 The cats of the Shanghai Underground, known as one of the best reggae-style crews in China, FAR EAST LION UNDERGROUND make crowds move to their beats. Their musical notes pay homage to Chinese melodies cross over the sounds of their rap; reggae melodies and prose like lyrics are amplified, showcasing a masterful combination.
Jambinai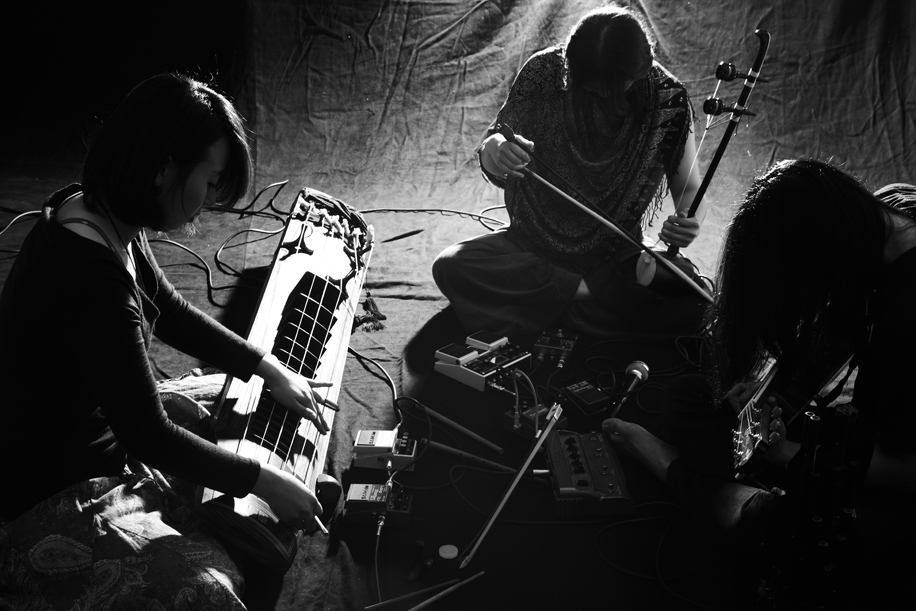 "One of the most unique bands in the (Korean) underground scene …" – Jeju Weekly
Hailing from the Pop Kingdom of South Korea, Jambinai defies everything you might think you know about modern Korean music. A breath of fresh air, this band ushers Korean traditional music into the 21st century. Jambinai's stunning sonic compositions mix mesmerizing sounds from the Korean past with elements of folk, metal, and electronic music.
THEESatisfaction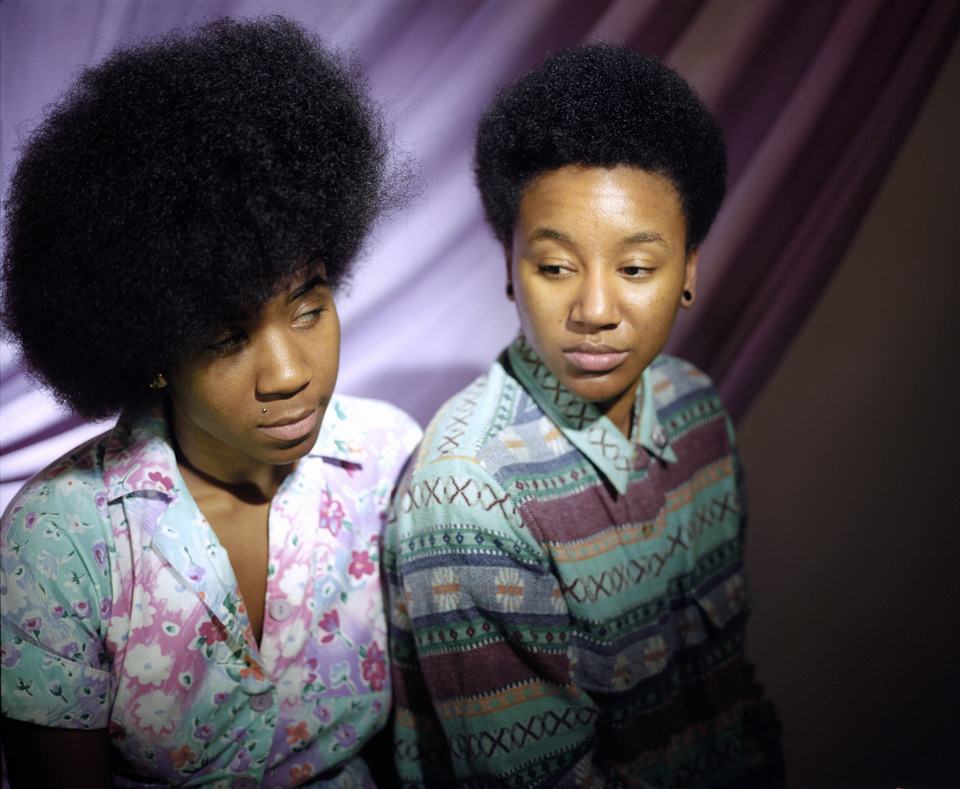 "THEESatisfaction: their music is full of joy, of sensuousness and sensuality, of acid wit and ambitious creativity…. When Cat and Stas speak and sing, you really should listen" – BBC
THEESatisfaction dropped onto the mainstream music radar in 2011 with their appearance on Shabazz Palaces' Black Up album. Since then, they've been the starlets of those in the melodic know. THEESatisfaction serves up melodies in the form of funk-psychedelic feminista sci-fi epics with the warmth and depth of Black Jazz and Sunday morning soul, frosted with icy raps that evoke equal parts Elaine Brown, Ursula Rucker and Q-Tip.
We Are Wolves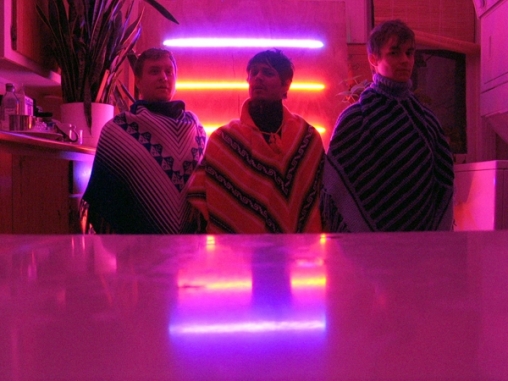 "These guys got style…. you get this new and intricate musical entity that can blow minds worldwide… It's only a matter of time before they take a bite out of rock n' roll as we know it" – Consequenceofsound.net
Since their beginnings with the American label Fat Possum in 2005, We Are Wolves earned serious stripes playing along side the likes of Gorillaz, Bloc Party, and The (International) Noise Conspiracy. The now mythic trio presents an honest and uncatchable sound; a bit like celestial lightning hitting a sacred mountaintop. Heavily influenced by visual arts, they paint a post-punk landscape, scattered with analog trees. Their primitive approach remains true to their animal of preference: untamable.
Proceeds from drink and food purchases at the House of Vans Central Studios will be given to the Library Project Charity.  Stay tuned and check www.houseofvansasia.com for daily updates and news on the line-up.
House of Vans with Split Works
When: September 14, 15:00- 19:45
Where: Central Studios
Address: 1/F, Bldg 1, 751 South Huangpi Road, near Jianguo Dong Road (黄陂南路751号1号楼1楼, 近建国东路)
Price: Free
About Vans
In 1966, the Van Doren Rubber Company opened up for business in California. Within a few years, global skate culture had adopted the Vans shoe as their footwear of choice, and today Vans still represents a look that epitomizes the Southern California lifestyle. With more than 45 years of history and now offering a complete range of footwear, apparel and accessories, Vans has risen to become a worldwide dominant force in the action sports industry.