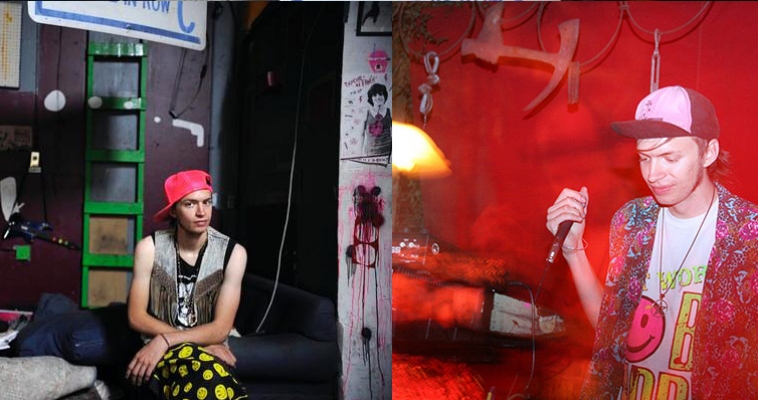 JUE | Music + Art 2014 ✖ LOVE BANG: Pictureplane China Tour
Originally hailing from Denver, Colorado, Pictureplane was a powerful force in making this city's DIY scene one of the most influential in the world. This was thanks in large part to Pictureplane's legendary shows at his former Denver home Rhinoceropolis, his raging club night "Real is a Feeling", and his constant stream of mixtapes and remixes. In 2012 he moved to Brooklyn, NY, and quickly established himself as one of the figureheads of a revitalized electronic/punk scene. He brought a deeply emotive angle to electronic music, described as a synthesis of the human and the machine both in lyrics and sound.
Pictureplane's punk rock-like approach to the production and distribution of his work is democratizing electronic music in the same way the Ramones, Minor Threat, and Black Flag liberated rock music in the 70s and 80s. His appearance in China couldn't be timelier, with the electronic scene here making serious noises.
Links:
Facebook: https://www.facebook.com/pages/Pictureplane/137977589598312
Soundcloud: soundcloud.com/pictureplane
SHOW INFORMATION:
【Shanghai】

Date: Friday March 7th, 2014
Time: 10PM
Venue: Arkham
Location: 1 Wulumuqi Nan Lu, near Hengshan Lu, Xuhui district
Ticket: RMB60 (Presale via SmartShanghai) / RMB100 (Door)
Supports: Misloop, DJ Caution and Heatwolves
【Beijing】

Date: Saturday March 8th, 2014
Time: 10PM
Venue: Dada Bar
Location: 206 Gulou Dong Dajie (below Temple Bar), Dongcheng district
Ticket: RMB50 (Door)
Supports: DJ Caution and Heatwolves
About JUE | Music + Art Festival:
觉 / JUE (pronounced joo-eh) –verb: to sense; to awaken.
JUE | Music + Art is an annual urban festival that embraces the whole of Beijing and Shanghai. Celebrating its 6th year in 2014, JUE is all about showcasing the best of the local creative communities in these two great cities, as well as inviting artists from around the world to share their talent with China. We're all about community, doing everything we can to set an intimate vibe, and to carefully weave every one of our artists and events into a multidisciplinary masterpiece. Dates: 7th – 23rd March.