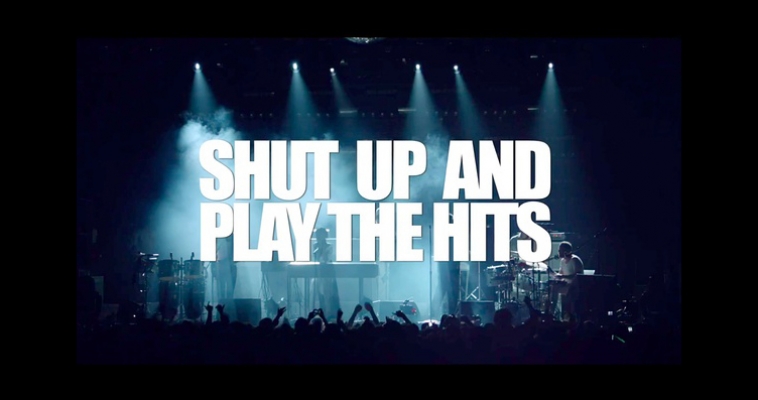 【Shanghai】
March 16, Sunday
2:30PM @ 390 Live
No. 390 Panyu Rd., nr. Fahuazhen Rd., Changning District
FREE
【Beijing】
March 22, Saturday
2:30PM @ XP
Southwest Corner of Di'anmen Intersection (behind the chestnut stand)
FREE
About the film
On April 2nd 2011, LCD Soundsystem played its final show at Madison Square Garden. LCD frontman James Murphy had made the conscious decision to disband one of the most celebrated and influential bands of its generation at the peak of its popularity, ensuring that the band would go out on top with the biggest and most ambitious concert of its career. The instantly sold out, near four-hour extravaganza did just that, moving the thousands in attendance to tears of joy and grief, with New York magazine calling the event "a marvel of pure craft" and TIME magazine lamenting "we may never dance again." Documenting this once in a life time performance and an intimate portrait of James Murphy as he navigates the lead-up to the show, the day after, and the personal and professional ramifications of his decision.
Shut Up and Play the Hits Trailer
[vsw id="http://player.youku.com/player.php/sid/XNDI1NjQ4MDA4/v.swf" source="youku" width="425″ height="344″ autoplay="no"]
About Wooozy Community Films
Wooozy Community Films are a new initiative started by Wooozy.cn, with the first screenings happening in Beijing and Shanghai November 2011. The impetus for these events comes from our knowledge of many groundbreaking music documentaries which music fans in Mainland China have found difficult to access. Therefore, the Wooozy Community Films fill that gap: music documentaries, subtitled in Chinese.
Every a few months, we will hold a screening in the cities. Not just movies, the film screenings will also include post-film discussions, cultural salons, appearances by special industry guests and more. We hope that the screenings will foster a sense of community and camaraderie between music fans in each city.
About Vice:
Vice is an international magazine focused on arts, culture, and news topics. Founded in 1994 in Montreal, Quebec, Canada, in later years the company expanded into VICE Media, with divisions including the magazine, a website, a film production company, a record label, and a publishing imprint. The website has expanded and diversified to include a network of online video channels, including TheCreatorsProject.com, Motherboard.tv and Fightland.com, Noisey.com and Thu.mp.
About JUE | Music + Art Festival:
觉 / JUE (pronounced joo-eh) –verb: to sense; to awaken.
JUE | Music + Art is an annual urban festival that embraces the whole of Beijing and Shanghai. Celebrating its 6th year in 2014, JUE is all about showcasing the best of the local creative communities in these two great cities, as well as inviting artists from around the world to share their talent with China. We're all about community, doing everything we can to set an intimate vibe, and to carefully weave every one of our artists and events into a multidisciplinary masterpiece. Dates: 7th – 23rd March.