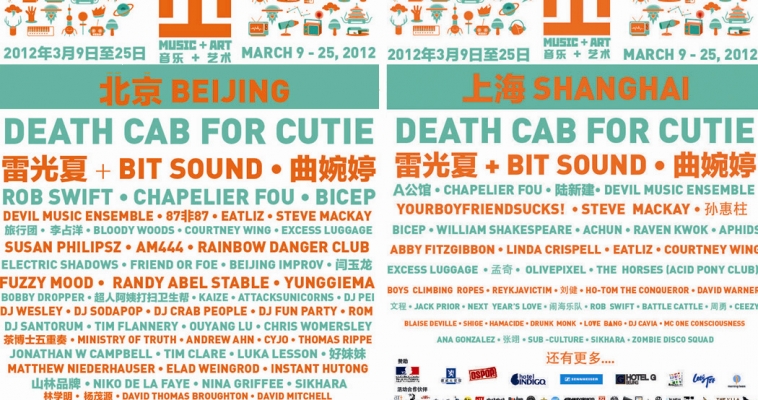 More Acts Confirmed for JUE | Music + Art 2012!
JUE | Music + Art is an annual citywide arts and music festival in both Shanghai and Beijing, presented by Split Works. Now in its fourth year, JUE is all about celebrating the best of the local creative communities in these two great cities, and inviting artists from around the world to showcase their
talent in China. JUE events are held at a variety of locations throughout Beijing and Shanghai over
a three-week period. Performance art, film, spoken word, street art, workshops, photography exhibitions, live music, madness… all of these things and more fall under the creative umbrella that is JUE.
This year, headlining musical acts for JUE include-Death Cab for Cutie and Summer Lei (雷光夏).
With over 50 individual events in Beijing alone over the two-week period comprising the festival,
JUE | Music + Art events range from acclaimed international and up-and-coming local musical
performances, cutting-edge art exhibits, film screenings, children's workshops, green initiatives
and much more.
Check back after Valentine's Day for a full lineup; in the meantime, check out who we'll ALSO bring
3/9/2012
WHALE! The Official JUE | Music + Art Opening Party
Beijing
3/10/2012
Warm Up To JUE Market
Beijing
3/10/2012
Workshop: Make Your Own Sound Synthesizer
Shanghai
3/10/2012
Beijing Improv BIG Bilingual Show
Beijing
3/10/2012
Sub-Culture TV: Season 1
Shanghai
3/14/2012
Courtney Wing
Shanghai
3/14/2012
JUE TASTE: Creative Infusions Competition
Presented by City Weekend
Shanghai
3/16/2012
Qu Wanting
Shanghai
3/16/2012
Steve Mackay (the Stooges)
Beijing
3/17/2012
Qu Wanting
Beijing
3/18/2012
Courtney Wing
Beijing
3/19/2012
Steve Mackay
Shanghai
3/20/2012
Beyond Bibimbap: Creative Korean Cuisine
Beijing
3/21/2012
Dada Night Market
Shanghai
3/24/2012
87fei87: TAXEEE TAPES EDITIONS
Beijing
3/24/2012
JUE Hear + See with Devil Music Ensemble
Shanghai
3/24/2012
Shanghai Style First Anniversary Party
Shanghai
3/25/2012
JUE Hear + See with Devil Music Ensemble + Eatliz
Beijing
But wait! We're still not done! For information on even more exciting JUE | Music + Art 2012 events, check out our Website.

ospop. Proudly Presents the JUE : NEXT GEN Photography Competition
JUE : NEXT GEN is a photography competition that is open to enthusiastic hobby, amateur and professional photographers from all over China. First started by JUE | Music + Art Festival in 2011, this year's competition is sponsored by ospop., China's first workwear fashion clothing brand. The theme of this year's JUE : NEXT GEN is "Work," inspired by ospop.'s rugged aesthetic and their commitment to displaying the beauty of work — austere, diligent, proud and creative — in their product and brand. If you can recognize the beauty of work all around you, show it off in the competition! Our panel of expert judges will select 15 finalists, who will have their entries displayed in Shanghai's Central Studios from March 9 – 23. On March 23, 2012, we'll announce the winner, runner-up and people's choice award at Central Studios during the JUE : NEXT GEN closing party.
Special thank you to New Star Graphic Studio, the printing sponsor of JUE : NEXT GEN presented by ospop..
Be Part of the Warm Up to JUE : Arts + Music Market!
We ask ourselves: what else can kick off the festivities better than an arts & crafts bonanza? So here inBeijing, we will be having a Warm Up To JUE Market on March 10th (Saturday). The market will take place in Yuanfen~Flow, a cool space located in Beijing's unique art headquarters 798.  If you are interested in selling market/fair products such as arts & crafts, delectable edibles, captivating displays/exhibits or more, we would love to have YOU as a participating vendor! We'll be serenaded by international and local musical acts throughout the day, and surrounded by screenings, exhibits and art installations.
A limited number of booths are available for booking NOW. Cost for a small booth is 300RMB, while large booths are 500RMB. We suggest that vendors also donate 10% of their profits to our official JUE Festival charity partner Morning Tears, but of course, this is completely optional.
So, if you are interested in being part of the Warm Up to JUE Market, please contact us as soon as possible at beijingjue@spli-t.com.  The deadline for inquiries is approaching fast, so get in touch now!