April 2014 seems a long time ago, but Wooozy Offline has now been going for a year! To celebrate, we've lined up a double header of chunky dancefloor goodness. As winter turns to summer, we usher in the change of seasons at Lola on the 7th and The Shelter on the 30th. Two very different offerings, one call to arms – don't leave till you're Wooozy.
STRIKE 2
Wooozy Offline: Palmistry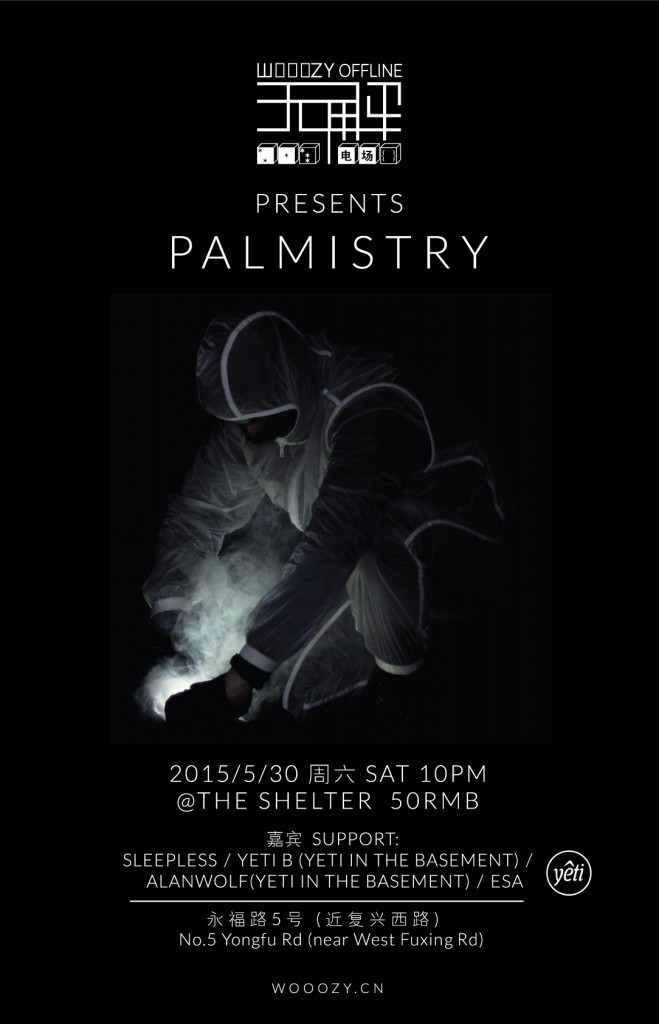 From Bok Bok to Untold, Mumdance to Logos, the freshest dance floor beats of 2014-2015 have been brought straight from London to your Chinese Nongtang door by Wooozy Offline friendlies. We're not gonna stop either –Mixpak Records' producer Palmistry will hit The Shelter on May 30 for a DJ Set with live vocals.
Palmistry is a London-based producer & vocalist (aka Benjy Keating). His dancehall sounds have been well-received by tastemaker labels Mixpak and Presto and with fresh releases and a string of club ready mixes under his belt, Palmistry has steadily risen to become top-of-mind for serious heads.
Keating has a keen eye for aesthetics; the Palmistry project is complimented by his signature self-directed videos. Hyper-granular visuals for Catch and Projecter reflect the precision of his compositional style. His music speaks of a silent simplicity that's made all the more profound when placed against a backdrop of bombastic EDM beats..
On May 30 he'll be joined at The Shelter by Sleepless, Yeti in the Basement Crew and ESA.
Come celebrate our first birthday – see you on the dancefloor!
Show Details
【Shanghai】
Date: Saturday May 30, 2015
Door Time: 22:00
Ticket: 50RMB
Venue: The Shelter
Address: Basement of 5 Yongfu Road, near West Fuxing Xi Road (永福路5号 近复兴西路)
Special Guests: Sleepless/Yeti B (Yeti In The Basement) / Alanwolf (Yeti In The Basement) / ESA
Palmistry – Lil Gem
[vsw id="http://player.youku.com/player.php/sid/XOTQzMDA1NzYw/v.swf" source="youku" width="425″ height="344″ autoplay="no"]
Links
Palmistry
Palmstry Tank Magazine Mix: http://tankmagazine.com/live/tank/palmistry
Palmistry – Protector SE5 : https://www.youtube.com/watch?v=salG4QDeOKY
The Fader – Feature: http://www.thefader.com/2014/01/23/dollars-to-pounds-palmistry-interview-triad-god
About Wooozy:
As an online music hub, Wooozy.cn has been covering the best and the freshest music from all around the world since 2009. Wooozy Offline started in 2014 and is more than a party, a workshop, or an event – it's a bridge connecting China's local electronic music scene with the world.