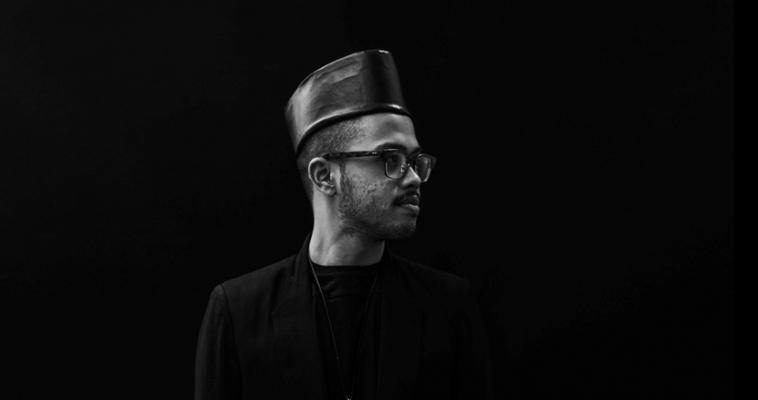 "[Moslem Priest has] a load of talent and a twisted rhythmic sensibility. One of the hardest working producers today." – The Astral Plane
The DJ is dressed meticulously in black – trenchcoat, t-shirt, rick-skirt leggings.
He's wearing a songkok, the traditional headgear of Malaysian Muslims.
He's playing a maelstrom of intricate percussion – a grime and techno hybrid that's hard to describe, but harder not to dance to.
This is Moslem Priest. Club music that doesn't so much challenge stereotypes as shatter them completely. Dark dubs for a dystopic world.
Wooozy Offline is proud to welcome one of club music's rising global talents. Moslem Priest will be playing December 11 at The Shelter in Shanghai.
Moslem Priest is Farhan Yassin bin Mahiaddin, a Malaysian-born producer and DJ based in Kuala Lumpur. His works fuses percussive and industrial elements into Grime and Techno, and his 'Mutant Club Trax' productions have made waves online, being prominently featured in Boiler Room DJ sets.
Moslem Priest has opened for Nights Slugs boss and Wooozy Offline alumni Bok Bok, and has releases on labels such as the UK's Trax Couture and Tuff Wax and Canada's Infinite Machine and its sister label Tessier-Ashpool Recs.
Recently, he's been hard at work with the online club community Classical Trax, and his genre-fluid music is finding takers worldwide – with rising support from Oneman, Scratcha DVA, Rushmore, NAAFI, Desto, Murlo, Air Max '97, Victoria Kim, Akito, Insert, and Tropical Waste.
Back home he has his own collective, 50490, a name taken from the postcode where he and his collaborators Mysteriz and S|Co currently reside. 50490 has been instrumental in pushing grime and experimental club subcultures throughout Malaysia.
Moslem Priest dabbles in art and fashion, in Internet art and electronic music history. This is cerebral club music for a complex world. Experience his shows with an open soul, open mind, and break the mould.
On support duty, we've got the frosty industrial sounds of Illsee, the smoky atmospherics of Ginga, and Wooozy regulars Jackie and Sleepless.   
Show Details
Wooozy Offline Presents: Moslem Priest
Date: Friday, 11 December 2015
Venue: The Shelter
Address: Basement of 5 Yongfu Road, near West Fuxing Xi Road (永福路5号 近复兴西路)
Tickets: 40RMB
Support: Illsee, Ginga, Jackie and Sleepless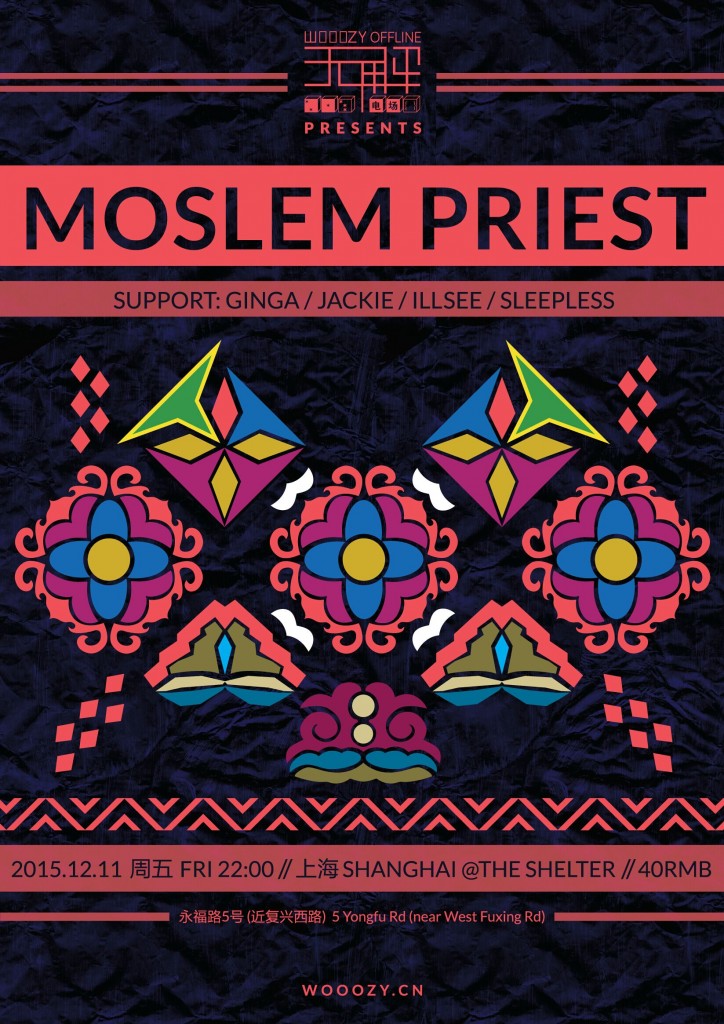 Important Links
Soundcloud Page: https://soundcloud.com/moslempriest  
JUICE magazine Interview and Profile: http://www.juiceonline.com/featured/moslem_priest/  
45-minute mix for Trax Couture: 
http://www.dazeddigital.com/music/article/24045/1/grime-heads-boxed-mark-second-birthday-with-an-explosive-mix
About Wooozy:
As an online music hub, Wooozy.cn has been covering the best and the freshest music from all around the world since 2009. Wooozy Offline started in 2014 and is more than a party, a workshop, or an event – it's a bridge connecting China's local electronic music scene with the world.