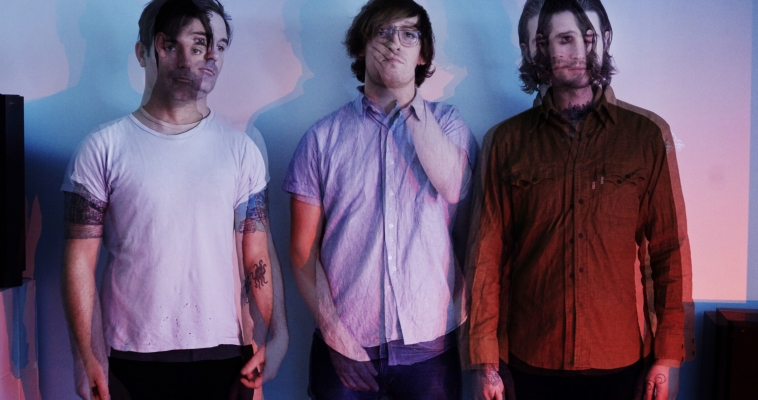 "Bold, unsympathetic and brutally effective." – NME
"These mild-looking Canadians revive the golden age of early Nirvana and '90s grunge"
–Entertainment Weekly
Forget everything you know about noise.
METZ is what happens when a seemingly irresistible force meets an immovable object.  It's heavy, dark, sloppy noise punk. Their sound is a "punch in the gut…followed by a kick to the teeth." [Vice]. It's monstrous, exhilarating. LOUD. It's "one of the best live acts in rock [music] today." [Chicago Tribune].
Split Works is bringing the noise with METZ' first China tour this coming February 2016. They'll be playing two smashup shows –, Shanghai on Feb 19 (Yuyintang), Beijing on Feb 20 (MAO Livehouse). The guitars will be titanic, the drums ill-tempered, the vocals chilling, and the volume on the edge. Did we mention they were loud?
METZ formed in 2007, fueled by a desire to return to everything that's good about loud, ferocious live music; a frantic nod to bands like Nation of Ulysses, Shellac, The Pixies, The Jesus Lizard, and Public Image Ltd. at their most vicious, while carving out some heavy new business. "I look at it like this," METZ frontman Alex Edkins says. "You start a band, just as something to do, because music's what makes you tick, the thing you dream about and think about and that's it. You never think that you'll be able to do it all the time."
METZ, the band's self-titled and formidable debut full-length came out in 2012, was shortlisted for the Polaris Prize, and received much critical acclaim. Both live and on record, METZ articulated with deafening clarity what we've known for some time: The world of good music needed a new power trio, and they were it.
Three years and almost 500 gigs later comes II, the concussive new full-length from a band that has become arguably North America's finest touring rock band. Written and recorded in 2014, II is METZ at their most true to form—as pure an expression of what they do as can currently be committed to tape. Though they incorporated new instruments, (baritone guitar, tape loops, piano, synth, found sounds) and stretched out the arrangements, they still managed to "stay true to what made us tick in the first place: that immediacy," Edkins calls it. "If it punches you in the gut."
And does it ever. From the exhilarating grind of "Spit You Out" to the blunt-force thrills of "Landfill," herein reside 10 songs uncompromising in their ferocity and abrasiveness. While their debut was often "clean and clinical," II is what Edkins describes as a "much heavier" affair, with many of its roughest edges and ugliest tones kept intact.
What we're left with is the sound of an already monstrous band improving in both subtle and terrifying ways. "We take our noise and our feedback very seriously," Edkins says. "The more we do this, the more we realize there's no such thing as right or wrong in music. It comes down to feel. And if it feels good, it works. This time we sorta said, 'This is who we are. We are not going to clean up our sound, we are not going to hire a big producer, we are not going to try to write a radio song."
No radio could handle the ear-splitting, high-octane energy of a METZ gig. But Yuyintang and MAO Livehouses have bravely volunteered, so we'll see you down in the pits on Feb 19 (Shanghai) and 20 (Beijing).
Show Information
【SHANGHAI】
Date: February 19, Friday
Venue: Yuyintang
Address: 851 Kaixuan Road near West Yan'an Road (凯旋路851号,近延安西路口)
Time: 9pm
Tickets: 120 (Door) / 100 (Presale)
* Pre-sales end on 12 noon, Feb. 19th, 2016
Pre-sale link: https://yoopay.cn/event/metzShanghai

【BEIJING】
Date: February 20, Saturday
Venue: MAO Livehouse
Address: 111 Guloudong Dajie, Dongcheng District (东城区鼓楼东大街111号)
Time: 9pm
Tickets: 120 (Door) / 100 (Presale)
Support: The Eat
* Pre-sales end on 12 noon, Feb. 20th, 2016
Pre-sale link:https://yoopay.cn/event/metzBeijing

Links
Split Works Official Website:www.spli-t.com
METZ Official Website: http://www.metzztem.com/
About Split Works:
Split Works has been rocking in the free (ish) world since 2006. Working with inspirational artists from across the globe, the good people at Split Works HQ have been a key contributor to the continued rise of China's music scene.
Split Works has launched five music festivals and promoted over 400 tours to 30 Chinese cities, always striving to stay true to a familiar refrain: the music has to be special, every single time. From Godspeed You! Black Emperor to Sonic Youth, from Thee Oh Sees to Mac Demarco and Shabazz Palaces, from Black Rabbit to JUE and Wooozy to Echo Park and More Music. We love music, we love China and we love you.