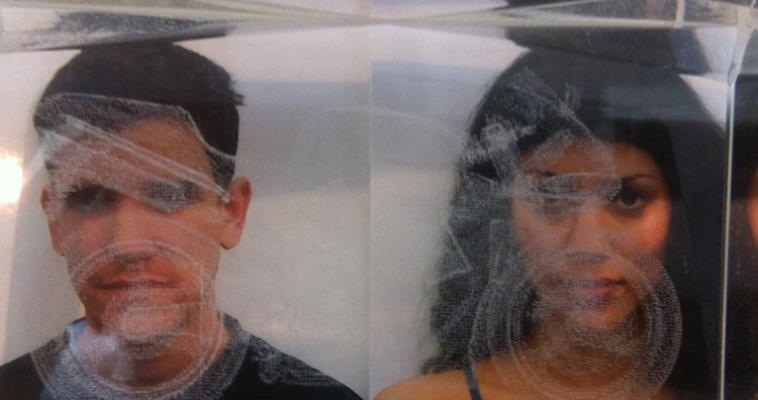 Your favorite Wooozy Offline Series brings the Nguzunguzu-noise this September.  This dynamic L.A. Duo (Asma Maroof and Daniel Pineda) are going to bounce the roof off Shanghai's Shelter on Saturday September 20. Continuing a nascent tradition of next-generation electronic explorations, Wooozy Offline #4 will take its audience deep into the forests of American dance beats. If you are hip to experience "an eerie dose of deep electronics" (ConsequenceofSound) then Shelter on September 20th is where you should be. Vice's Thump UK waxes even more lyrical about Nguzunguzu: "in a fractious club world, few sound as vital, forward-thinking and goddamn fun as Nguzunguzu." As with all Wooozy Offline parties in Shanghai, Wooozy Residents dj sleepless, Deep 19, and Jackie, will be on the decks for your maximum pleasure.
Nguzunguzu mixed MIA's 2011 Vicki Leekx mixtape followed by their own 23-track mixtape entitled The Perfect Lullaby:
"frantic, tribal sounds that drew on the convergence of Brazilian baile rhythms, Chicago house and London dance music to create primal, infectious grooves…straddles the line between smooth and hard, making it a perfect mixtape for driving around L.A. with the sunroof open or messing around in bed with your clothes off."-LA Times
Nguzunguzu released their first EP Warm Pulse in 2012 with their second EP Skycell hot on its heels the next year. They've also recently made beats for artists like Kelela and Le1f.
Wooozy Offline won't stop at Nguzunguzu.
In October we'll be welcoming to China a true pioneer in the form of Untold (aka Jack Dunning). This is the guy who gave James Blake his break when he put out Blake's first release on his Hemlock Recording imprint. In November, we are super stoked to be bringing rising star Lone, whose new album Reality Testing has been receiving rave reviews.  He will bring his full A/V live show to China.
Nguzunguzu Show Information
【SHANGHAI】
Date: 2014.9.20 Saturday
Time: 10pm
Venue: The Shelter
Address: 5 Yongfu Road, near West Fuxing Road (永福路5号,近复兴西路)
Residents: dj sleepless // SSOSO // Jackie
Price: 80 RMB / 50 RMB (◐ Lucky One Hour ◐)
◐ Lucky One Hour ◐
We also want you guys to come down and check out our amazing Wooozy Offline residents – entry to this weekend's party is only 50RMB before 11pm. After 11pm though, it's back to the original 80RMB. So get there early!
ARTIST LINKS
Spin Mag – Dance track of the week
Mix for Kenzo F/W Fashion Show
About Wooozy:
As an online music hub, Wooozy.cn has been covering the best and the freshest music from all around the world since 2009. Wooozy Offline started in 2014 and is more than a party, a workshop, or an event – it's a bridge connecting China's local electronic music scene with the world.
About Wooozy Offline Residents in Shanghai:
dj sleepless: a sleepless set can be defined as indefinable, shifting sleeplessly between genres, but never forgetting the dance floor, keeping things fresh with the odd curveball.
Jackie: Backed by skills honed through years of practice and a whole lotta club time, Jackie always brings it, transforming crowds into a mass of sentient beings whenever he plays.
Deep 19: He's is not your traditional DJ.  His clever use of software means that his sets are never predictable; he creates a unique and varied palette that both leads and reacts to the energy of the club.