"Ambitious, cleverly arranged, dense with possible meaning– and, yes, a little strange" – Pitchfork
All the way from Mississauga, Canada, we are thrilled to present a special Beijing gig for Owen Pallett.
He's a violinist and composer of gorgeous, dizzying songs; soaring violins creating loops that pull listeners into his fantasy world. His take on indie-pop is intricate and layered. Pallett's compositions are universes in miniature, worth exploring time and time again.Case in point: His score for Spike Jonze's Her,nominated for an Oscar in 2014.
Winner of the inaugural Polaris Music Prize, Pallett has a long and illustrious back catalogue under both his birth name and as 'Final Fantasy', his previous moniker. He's worked with Arcade Fire, Mika, The National, Franz Ferdinand and countless others, ranging from forceful krautrock and brutal prog to serene neo-classical compositions.
On stage, Pallett is "moody, majestic, cosmic." Finding "beauty in a blizzard of sound." [The Guardian].Leading the audience into uncharted musical waters and strange new worlds.
Sunday 23 April2017 at Beijing'sYugong Yishan. Expect avant-garde orchestral pop at its finest, delivered with quirky, pointed humour.
Owen Pallett's glittering career has been punctuated with collaborations with the likes of Arcade Fire, The National, Mika, Jim Guthrie, Linkin Park and more.He's also worked with The National Ballet of Canada, The Vancouver CBC Orchestra, and the Toronto Symphony Orchestra on commissions.
Pallett has released four solo albums. 2005's Has A Good Home and 2006's He Poos Clouds, released under the 'Final Fantasy' moniker, were playful and irreverent. But it was 2010's Heartland and 2014's In Conflict that established his name as a virtuoso contemporary artist and composer. His music forthe science fiction hitHer, for which he received an Academy Award nomination,brought his style into mainstream consciousness.
Like that film, Pallett confronts you with the beauty of our own world and makes you believe in the magical existence of others.
April23in Beijing at Yugong Yishan.Guaranteed to prove an enduring highlight of 2017.
Owen Pallett Live in Beijing
Date: Sunday, 23April2017
Time:8:30pm
Price:120 (presale) // 150 (door)
Tickets: https://yoopay.cn/event/OwenPallettBJ
Location: Yugong Yishan 愚公移山
Address: 3-2 Zhangzizhong Lu, Dongcheng district (北京市东城区张自忠路3-2号)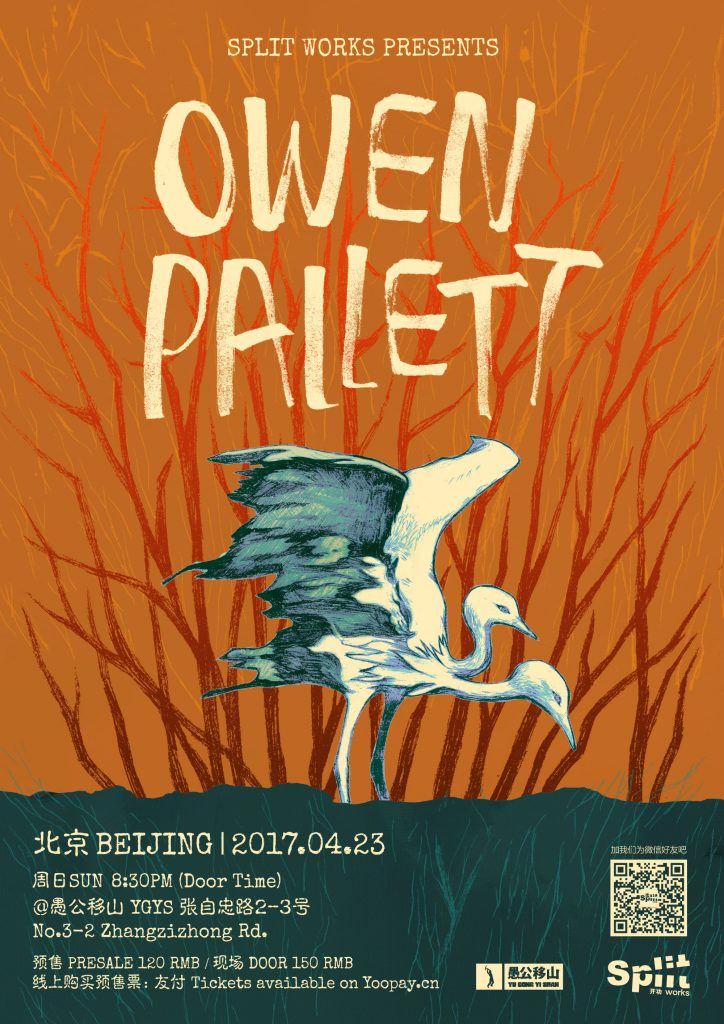 Links
Split Works official website:www.spli-t.com
Owen Pallett official website:www.owenpalletteternal.com/
About Split Works:
Split Works has been rocking in the free (ish) world since 2006. Working with inspirational artists from across the globe, the good people at Split Works HQ have been a key contributor to the continued rise of China's music scene.
Split Works has launched five music festivals and promoted over 400 tours to 30 Chinese cities, always striving to stay true to a familiar refrain: the music has to be special, every single time. From Godspeed You! Black Emperor to Sonic Youth, from Thee Oh Sees to Mac Demarco and Shabazz Palaces, from Black Rabbit to JUE and Wooozy to Echo Park and More Music. We love music, we love China and we love you.