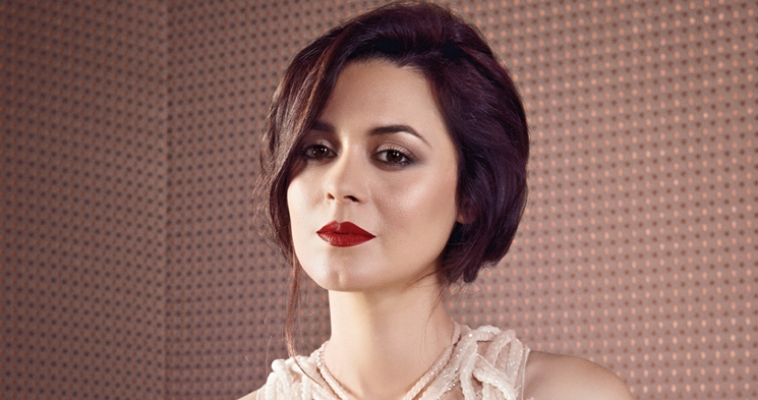 "She's been blazing the female electro-pop trail since 2003."  – The Independent
JUE | Music + Art is excited to welcome back the enigmatic French singer Emilie Simon to Shanghai and Beijing. With her unique mix of electronic, pop, and Bjork-like vocals, Simon has performed at sold-out shows across the world. Now, following on from her short tour in China in 2010, Emilie Simon is back to play for JUE audiences this March.
Surrounded by music from an early age, Emilie Simon won critical plaudits as early as 2003, when she recorded a debut album largely written, composed and produced by herself. The self-titled record, Émilie Simon, won Album of the Year at Victoires de la Musique, France's most prestigious music award ceremony.
Born in Montpellier in Southern France, Emilie grew up bathed in the Mediterranean sun and immersed in the sound of clarinets and electronic melodies.  Wishing to imbue her second album with a more wintry and polar vibe, she began to record sounds that related to coldness. Coincidentally, in the midst of her search for sounds for the album, she was contacted by film producer Luc Jacquet to compose the original soundtrack for his Oscar award-winning documentary film La Marche de l'empereur (March of the Penguins), concerning the annual migration of emperor penguins.
In 2006, Emilie went on to triumph at the Victoires de la Musique ceremony once again, winning the award for the Best Original Film Soundtrack of the year.
In 2009, Emilie started writing songs arranged for accompaniment on piano, rather than a computer. "I even forbade myself to go near a computer for a year and a half," Emilie said, "I wanted to see what I was capable of without my usual comforts around me." The result was a collection of sounds reflecting Emilie's impression of New York City — an urban, black and white musical that became her most recent album, The Big Machine.  On this album, Emilie's experimental inclination involved the clever use of traditional Chinese instruments – together with keyboards – as a vestige of her long stay in the heart of Chinatown.
In 2011, the album Franky Night, (dedicated to her late fiancé) won her many more fans in France as most of the tracks were sung in French, as opposed to English. Her latest album, Mue, hit markets in 2014 and includes tracks like Chris Isaak's "Wicked Games" cover, and other heartfelt songs featuring both English and French lyrics.
Show Details 
【SHANGHAI】
Date: March 19, 2015 – Thursday
Time:8:30pm
Door:180RMB
Presale: 150RMB
Support: Swing Shine
Venue: QSW Cultural Center 1F
Address: No. 179 Yichang Road (near Jiangning Road). 宜昌路179号,近江宁路
Presale link: https://yoopay.cn/event/EmilieSimonSH

【BEIJING】
Date: March 20, 2015 – Friday
Time:8:30pm
Door:180RMB
Presale: 150RMB
Venue: Yugong Yishan
Address: 3-2 Zhangzizhong Lu, Dongcheng District (东城区张自忠路3-2号)
Support: Mademoiselle et son Orchestre
Presale link: https://yoopay.cn/event/EmilieSimonBJ


JUE | Music + Art official website:www.juefestival.com
Emilie Simon Official Website: www.emiliesimon.com 
About JUE | Music + Art:
觉 / JUE – to sense (as in: an assault on all 5 senses)
JUE | Music + Art was founded in 2009 to bring the creative communities of Shanghai & Beijing closer together. Every year since then, promoters Split Works have pooled their resources with those of their favorite friends from across the artistic spectrum to present a multi-venue, multi-disciplinary romp across the middle of March. If you want a snapshot of where China is creatively, you could do worse than spending a week at   JUE | Music + Art.
"JUE sneaks into the city streets and lights the creative torch ablaze. The freshest international artist and locally rooted creative join forces to switch on the creative pulse of the cities. When JUE is happening, the whole city seems alive" – Jetty @ Sina Weibo Music
We look forward to welcoming you…