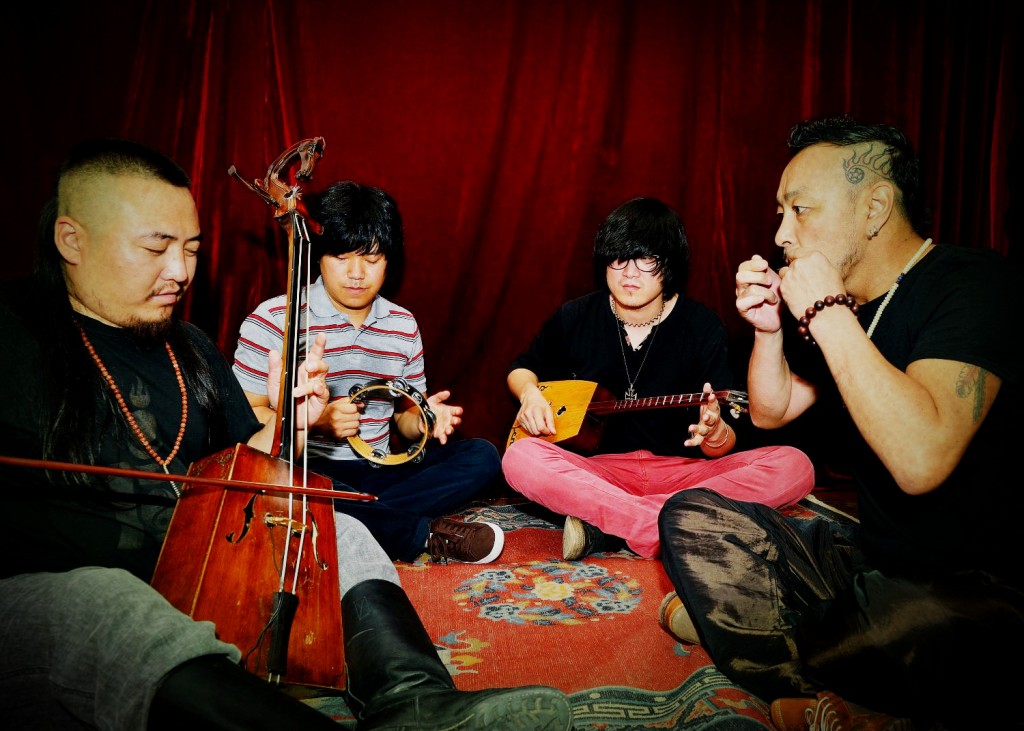 From the plains of innermost Mongolia, GUINNESS® More Music and Split Works bring you Ajinai. Ajinai's music provides a portal into the spirit of the Mongolian people, helping to keep the country's culture alive against a backdrop of unavoidable modernization. Riding on an extraordinary dedication to their inheritance of Mongolian history, culture and music, the members of Ajinai express an uninhibited and bold temperament typical of the Mongolian people.
Each song winds and wavers with a rumbling passion that evokes pictures of galloping horses, set to the rhythm of life in the deep recesses of their distant homelands. The Horse-head fiddle brings a distinctive sound, which carves lines into the music leaving listeners with a strong impression of Mongolia's rich culture.
Since coming together in 2009 the troupe that makes up Ajinai have performed regularly in Beijing and Shanghai, and were received warmly in the 2010 Midi Music Festival. The individual members of the band have also been very active, with front man Hugjiltu playing across Europe, Mexico and Canada as part of Hanggai, who will be joining us in the final installment of Guinness More Music. Each member of Ajinai brings something special to the group, drawing from a long lineage of creative talent. We can't wait to hear their singsong tales of bygone times, of horse riding in the plains, love, life and nature.
SHOW INFORMATION:
Date: December 6th Fri
Doors: 20:30
Show: 21:00
Venue: YYT
Address: 851 Kaixuan Rd., near West Yan'an Rd.
Support: 莫西子诗
Tickets(1 bottle of Guinness Original included): 60RMB(door)/40RMB(student)
About Guinness MORE Music:
GUINNESS®, the world's number one stout with a legacy that spans over 250 years, is proud to launch MORE Music, a series of concerts and festivals to showcase China's growing independent modern folk movement. There is no better pairing for the big, bold flavor of GUINNESS® than the rich lyrics and eclectic sounds of some of the most innovative and experimental music being made in China today.
Globally, GUINNESS® celebrates music through Arthur's Day, an annual celebration to commemorate Arthur Guinness, the father of the brand. Well-loved musicians pair up with up-and-coming artists on international stages from Dublin to Singapore, London to Kuala Lumpur, to provide fans with a remarkable and unforgettable experience. Celebrity musicians from years past include The Black Eyed Peas, The Script, Ed Sheeran, Brandon Flowers and Ellie Goulding.
Today, GUINNESS® is bringing this tradition to China by partnering with independent music promoter, Split Works, to bring music that is Made of More. Against the backdrop of a music scene heavily influenced by American and Japanese popular culture, modern folk music is gaining a following for its authenticity, deeper lyrical content, advanced musicianship, and a synthesis of traditional and historical influences.
This fall, GUINNESS® Made of More presents the new sound of folk music: Liu Dongming, Hao Yun, Ajinai and Hanggai join you to raise a glass, hum a tune, and live the genuine life.
Guinness MORE Music Official Site: www.moremusic.cn
Guinness MORE Music Official Sina Weibo: www.weibo.com/moremusic
LINKS: