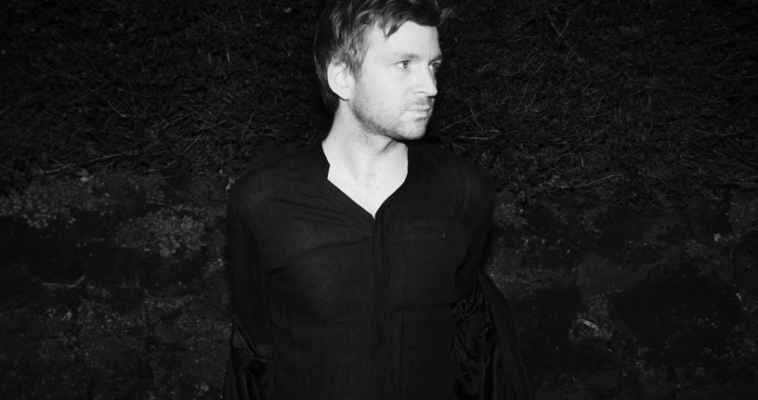 CONTEMPORALE
Shanghai Symphony Orchestra
Curated by Split Works
Presents: ÓLAFUR ARNALDS
"Triumphant. Even at his most reserved, Arnalds is an artist who can exert immense power with the lightest of touches" – BBC Music
Contemporale returns for another year, thanks to the pioneering support and foresight of the Shanghai Symphony Orchestra. Split Works is privileged and overjoyed to be part of a new concept to bring globally renowned contemporary independent artists to symphony halls normally reserved for the largest promoters and orchestras.
Over the 2015-16 season of Contemporale, beginning with Ólafur Arnalds on Wednesday November 4, experience exciting, sparkling sounds that will reverberate around walls usually reserved for string quartets and horn sections.
Born in the suburban Icelandic town of Mosfellsbær, the 25-year old composer has always enjoyed pushing boundaries with both his studio work and his live-shows. Through relentless touring and determination this young artist has steadily gained recognition worldwide since his 2007 debut Eulogy for Evolution. Ólafur's second full-length album …and they have escaped the weight of darkness (2010), continued his mission to lure an indie-generation of pop and rock fans into an emotive world of beguiling electronic chamber music and delicate classical arrangements.
Ólafur's also explores the boundaries between musician and audience. In 2011, he released Living Room Songs, a "live-streamed" album where he invited the audience into the comfort of his Reykjavik apartment, where the songs were recorded live and the whole process filmed. Ólafur is currently touring worldwide following the release of his third album For Now I Am Winter and his music score for the popular and critically acclaimed ITV drama Broadchurch.
Ólafur Arnalds will bring his genius and immense power to Contemporale, the perfect artist to kick off the series this year. The audience will be moved by his timeless and sublime music in the Chamber Hall's intimate setting. Shanghai Symphony Orchestra looks forward to sharing this, the first of six performances this season, as part of Contemporale curated by Split Works.
Show Information
【Shanghai】
Date: November 4, 2015 Wednesday
Time: 8pm*
*Performance will start promptly at 8pm. Please arrive 45 minutes prior to show time.
Location: Shanghai Symphony Orchestra, Concert Hall
Address: 1380 Middle Fuxing Road, Xuhui District, near Baoqing Road (徐汇区复兴中路1380号,近宝庆路)
Price (Sold Out): 180/120/80 RMB
Online Booking: http://www.shsymphony.com/item-index-id-312.html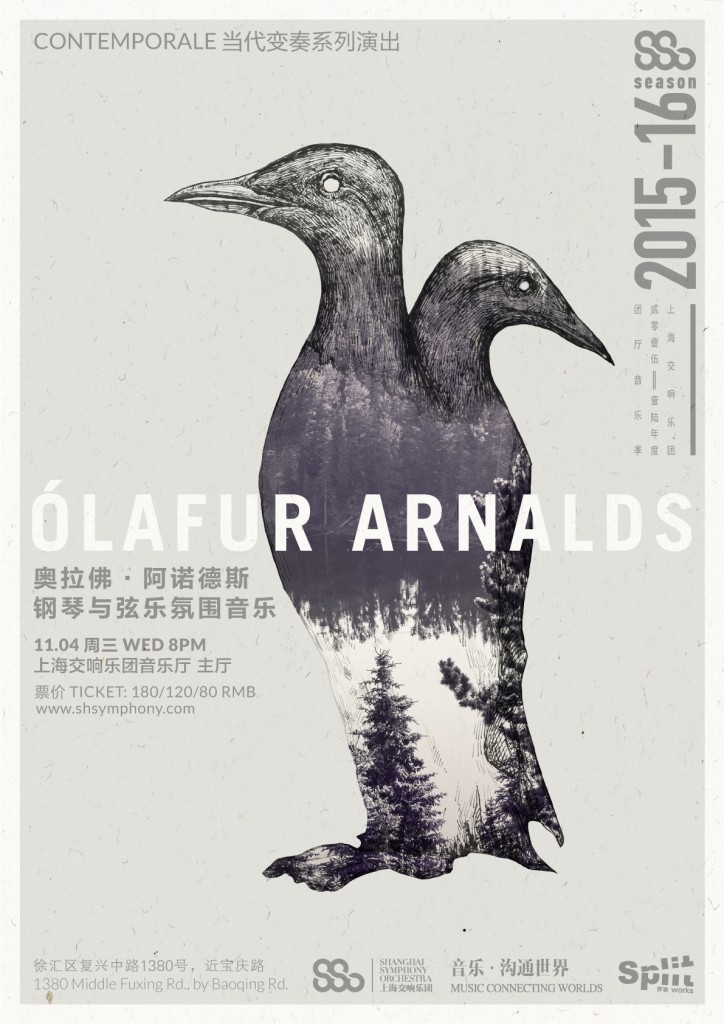 Links
Shanghai Symphony Orchestra official website:www.sh-symphony.com
Split Works official website:www.spli-t.com
Ólafur Arnalds official website: www.olafurarnalds.com
BBC review of Living Room Songs:  http://www.bbc.co.uk/music/reviews/443q
About Contemporale
The Contemporale series began in the autumn of 2014 as a collaboration between the Shanghai Symphony Orchestra and Split Works and hosts exciting contemporary musical acts in a classical music environment, at the Shanghai Symphony Orchestra's new home in downtown Shanghai.
The 2014-15 season saw piano, guitar and strings from the Ukraine (Lubomyr Melnyk), Canada (Moonface) and the US (Bill Callahan).  With fully sold out Chamber Halls across the season, Contemporale has expanded its programme for the 2015-16 season, taking in twice the number of artists and including performances in the 1,200 seat Concert Hall.
About Split Works:
Split Works is a Beijing and Shanghai based concert promotion agency. Since 2006, we've been putting on killer parties and shows throughout Asia, working with brilliant artists from across the globe.  In 2009, we launched JUE | Music + Art and also produce branded campaigns through our sister company, communications agency Splatter. We love China, we love music, we love you.