Among 2017's best." – The Guardian
Cigarettes After Sex holds you in a hell of a spell.
Their cinematic slow-burn pop unspools like the most achingly romantic of movies. Swooning in the spirit of influences like Mazzy Star and Red House Painters, this is that rare band that can create a singular world and mood of its own – a fact not lost on their growing, devoted following.
"Sun sets, we wander through a foreign town / Strangely, there's nobody else around"
And what a mood it is.
Melancholic, androgynous pop noir set in smoke-filled darkness. A delicate, elemental, otherworldly wash of ambience. Music to savour and linger over.
We're hugely excited to bring Cigarettes After Sex over to China for a special Stage Left Concrete & Grass sideshow. Monday August 21 in Beijing (Tango 3F), and Wednesday August 23 in Shanghai (Modern Sky Lab) with support acts TBC. Presale tickets are 180 RMB.
Like their songs, the journey that Cigarettes After Sex took to indie fame was a long, drawn-out slow-burn.
Frontman Greg Gonzalez and co. started the project in 2008, putting out a debut EP in 2012. But it took a "breakthough weekend" in 2015, when a burst of online fame suddenly put the band on the map.
2017 saw their self-titled debut album. A sumptuous realisation of the sound they'd been hinting at,it's receiving critical acclaim and enormous press. The songs are intense and intimate, encoded with confessional lyrics that frequently conjure goosebumps, as if intruding on a private conversation. Between Gonzalez' androgynous voice, the echoing guitar solos, and the subdued pulse of the drums – this debut went above and beyond even the sky-high buzz around the group.
"My favorite thing that people say is that the music helps them, if they have sleep anxiety. It's like music therapy. That's basically the greatest compliment I could ever receive," Gonzalez said in an interview. "Because if I've had really rough times, in the same way, I'll use music for that purpose, to get all the noise out of your head."
It's easy to see why.These are siren songs, leading you puppeteer-like, towards an entrancing, enchanting state of mind. Somewhere between nostalgic and meditative.
Cigarettes After Sex. 21thAugust, Beijing. 23nd August, Shanghai. 
This one is pure 'Grass wish-fulfillment.We can't wait to see you all there.
Concrete & Grass Presents: Cigarettes After Sex
【Beijing】
Date and Time: Mon 21 August – 20:00
Venue: GEWARA – TANGO LIVE 3rd Floor 格瓦拉生活 – 糖果LIVE 三层
3/F Tango, 79 HepingliXijie
东城区和平里西街79号糖果3层
Tickets: 180 RMB (Presale) / 220 RMB (Door)
* Pre-sales end at 12 noon, Aug.21, 2017
Tickets once sold cannot be refunded!

【Shanghai】
Date and Time: Wed 23 August – 20:00
Venue: Modern Sky Lab
3/F, 188 Ruihong Lu, near Tianhong Lu
瑞虹路188号3楼, 近天虹路
Tickets(SOLD OUT): 180 RMB (Presale) / 220 RMB (Door)
Tickets once sold cannot be refunded!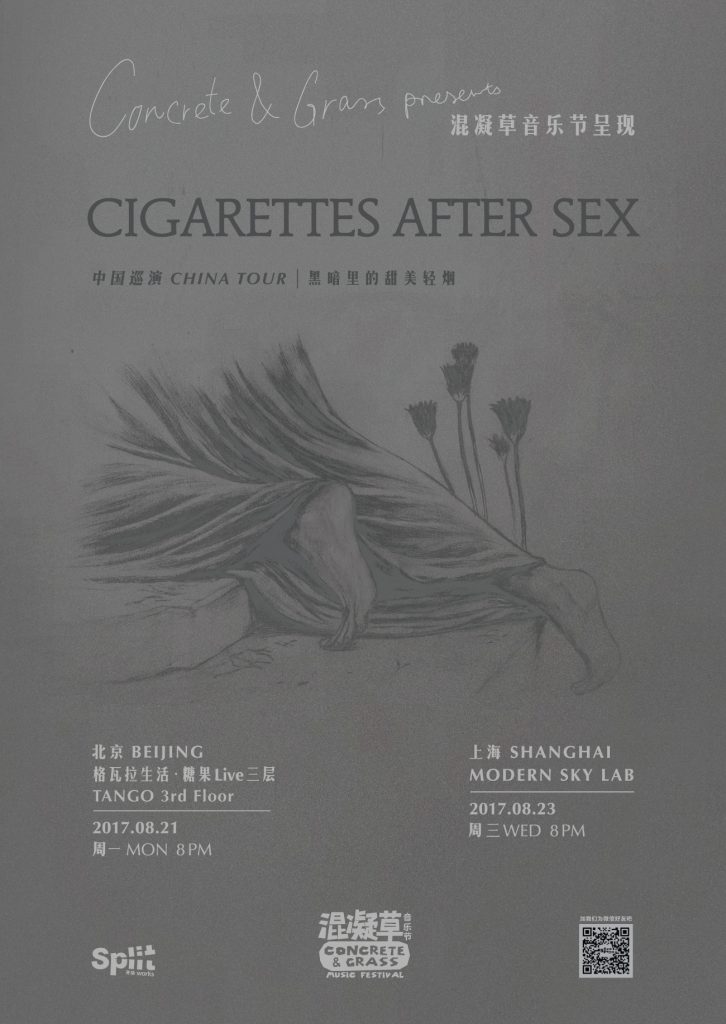 Links
Split Works official website:www.spli-t.com
Cigarettes After Sex Official Website: http://www.cigarettesaftersex.com/
Concrete & Grass official website:http://concreteandgrass.cn/
About Split Works:
Split Works has been rocking in the free (ish) world since 2006. Working with inspirational artists from across the globe, the good people at Split Works HQ have been a key contributor to the continued rise of China's music scene.
Split Works has launched five music festivals and promoted over 400 tours to 30 Chinese cities, always striving to stay true to a familiar refrain: the music has to be special, every single time. From Godspeed You! Black Emperor to Sonic Youth, from Thee Oh Sees to Mac Demarco and Shabazz Palaces, from Black Rabbit to JUE and Wooozy to Concrete & Grass and More Music. We love music, we love China and we love you.