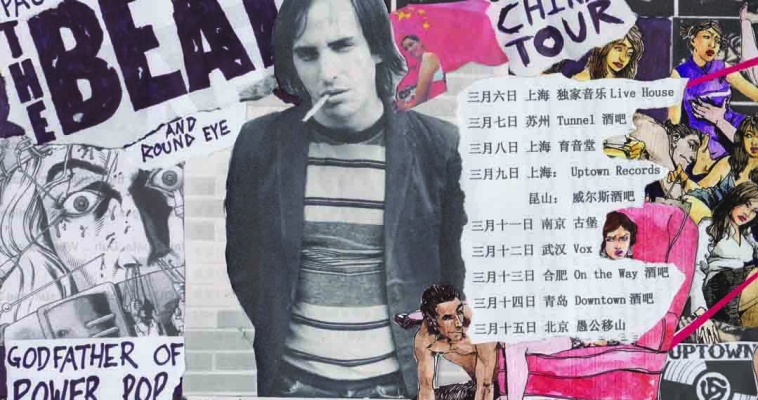 Paul Collins' Beat has an impressive lineage. Originally called The Beat, the band was founded by Paul Collins of The Nerves fame (1974). The Nerves were one of the pioneers of the burgeoning US punk-rock scene, independently releasing their own 4-song EP, which included that classic tune "Hanging on the Telephone" (which later became a hit for Blondie).
After The Nerves disbanded in 1977, Collins moved to LA and formed The Beat with bassist Steve Huff, drummer Mike Ruiz and lead guitarist Larry Whitman. The Beat have toured with The Police, The Jam and Joe Jackson to name a few, and later recorded their debut self-titled album with producer Bruce Botnick (who produced The Doors). In the 90s, The Beat re-formed as Paul Collins' Beat, continuing an amazing musical legacy with a new line-up that features Juancho Lopez (bass), Manolo Cahuchola (guitar) and Christopher Bongers (drums).
They will be joined by special guest Round Eye:
Since their formation in 2012, Round Eye have gone on three China tours, one Asia tour, supported Beijing legends P.K. 14, rock and roll stalwarts M.O.T.O. and Paul Collins, released a critically acclaimed 12" LP Full Circle featuring Black Flag guitarist Greg Ginn, and won the prestigious title of City Weekend's band of the year in a totally un-rigged and reliable internet poll.
Round Eye are currently working on a new album that will feature Stooges/Violent Femmes saxophonist Steve MacKay, indie legend R. Stevie Moore and a host of other collaborators, as well as a 7" single to be released through Beijing based Maybe Mars subsidiary label Genjing Records.
Links:
Paul Collins' Beat
Website: thepaulcollinsbeat.com/
Round Eye:
Facebook: https://www.facebook.com/roundeyeband
SHOW INFORMATION:
【Shanghai】

Date: Saturday March 8th, 2014
Time: 9PM
Venue: Yuyintang
Location: 851 Kaixuan Lu, near Yanan Xi Lu, Changning district
Ticket: RMB40 (student) RMB60 (Bookings) / RMB80 (Door)
*Book your ticket now! Dial (021)52378662 or subcribe to Yuyintang public Wechat account to guarantee your ticket! Bookings will close one day before the event.
Supports:
Daydreamer
http://site.douban.com/daydreamer/
The Psyders
http://site.douban.com/psyders/
DJ BO (spinning records and MCing)
【Beijing】

Date: Saturday March 15th, 2014
Time: 9PM
Venue: Yugong Yishan
Location: 3-2 Zhangzizhong Lu, Dongcheng district
Ticket: RMB60 (presale) 80RMB (door)
Presale will also be available @YGYS bar till 14th Mar
Supports:
Residence A
http://site.douban.com/agg/
Bedstars
DJ Morgan Short (spinning records)
About JUE | Music + Art Festival:
觉 / JUE (pronounced joo-eh) –verb: to sense; to awaken.
JUE | Music + Art is an annual urban festival that embraces the whole of Beijing and Shanghai. Celebrating its 6th year in 2014, JUE is all about showcasing the best of the local creative communities in these two great cities, as well as inviting artists from around the world to share their talent with China. We're all about community, doing everything we can to set an intimate vibe, and to carefully weave every one of our artists and events into a multidisciplinary masterpiece. Dates: 7th – 23rd March.