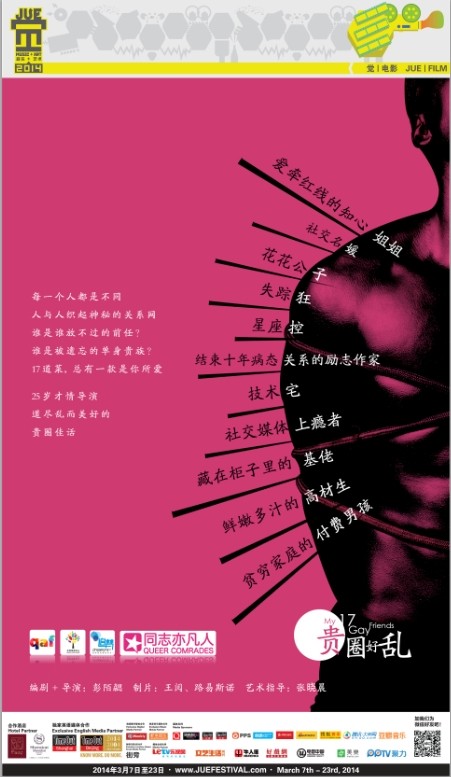 My 17 Gay Friends is Moxie Peng's sixth film. Peng is one of Beijing's most renowned underground filmmakers: his 2012 documentary Micro Search was featured on iQiyi.com and viewed a million times. But My 17 Gay Friends is his first to use Dreamore, a Chinese crowd-funding site that allows anyone to back a project in exchange for rewards set by the creator.
His latest story is an avant-garde short that digs into Beijing's gay scene. As a counterpoint to the typical tropes of gay cinema – which are often gloomy, dark and depressing – Peng aimed to show the optimistic, light-hearted side of gay life. The 20-minute film will offer glimpses into the lives of 17 of Peng's friends, showing their personalities, living situations, and love lives, whilst taking lighthearted jabs at many of the stereotypes and labels that cut across gay society.
INFO
【Beijing】
Date: Friday, March 21st, 2014
Start Time: 21:00
Venue: Funky
Location: 6/F, 8 Gongti Xilu
Tickets: 40RMB
【Shanghai】
Date: Sunday, March 23rd, 2014
Start Time: 14:30
Venue: 390 Bar
Location: 390 Panyu Road
Tickets: 50RMB
THIS EVENT IS PART OF ASIAN CINEMA WEEK In 2014 we warmly welcome back Asian Cinema Week into the JUE | Film program. In 2013 Asian Cinema Week was a bold call to cinematic arms. Including feature films, documentaries and shorts from all over Asia (alongside live music, panels and various other interactive events), the inaugural edition carved out a space where local filmmakers and fans alike could collide, share ideas and develop their works. Asian Cinema Week is an outstanding platform for exposing the best of Asian underground cinema.