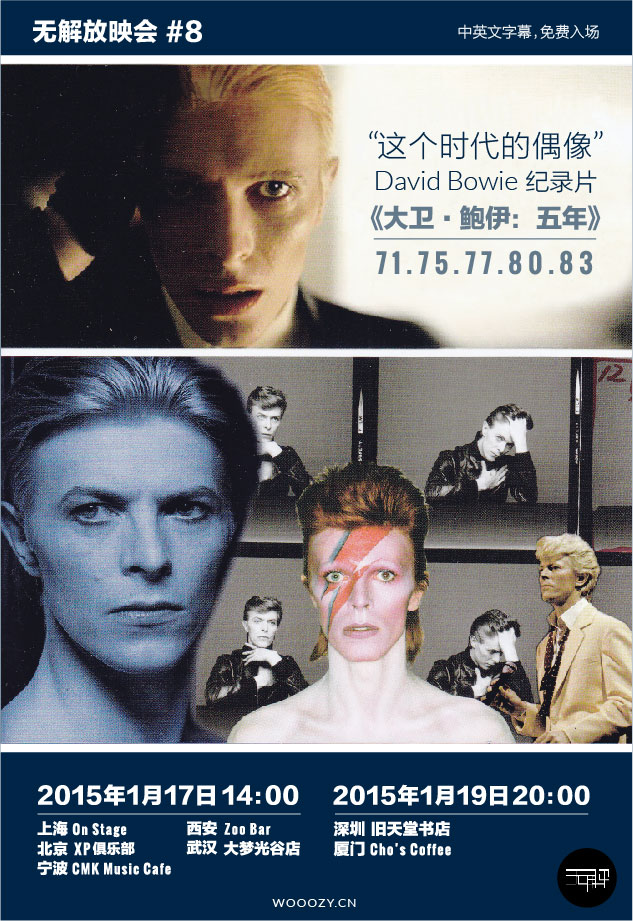 Chinese and English subtitle. 90 mins. Free for entry
Jan 17, 2015, Saturday, 2PM
Shanghai, On Stage
Beijing, XP
Wuhan, Dameng Cafe (Guanggu)
Ningbo, CMK Music Cafe
Xi'An, Zoo Bar
Jan 19, 2015, Monday, 8PM
Shenzhen, Old Heaven Bookstore
Xiamen, Cho's Coffee
【About David Bowie: Five Years】
An intimate portrait of five key years in David Bowie's career. Featuring a wealth of previously unseen archive this film looks at how Bowie continually evolved, from Ziggy Stardust, to the Soul Star of Young Americans, to the 'Thin White Duke'. It explores his regeneration in Berlin with the critically acclaimed album Heroes, his triumph with Scary Monsters and his global success with Let's Dance. With interviews with all his closest collaborators, this film investigates how Bowie has become an 'icon of our times'.
【Wooozy Community Films】
Wooozy Community Films are a new initiative started by Wooozy.cn, with the first screenings happening in Beijing and Shanghai November 2011. The impetus for these events comes from our knowledge of many groundbreaking music documentaries which music fans in Mainland China have found difficult to access. Therefore, the Wooozy Community Films fill that gap: music documentaries, subtitled in Chinese.
Every a few months, we will hold a screening in the cities. Not just movies, the film screenings will also include post-film discussions, cultural salons, appearances by special industry guests and more. We hope that the screenings will foster a sense of community and camaraderie between music fans in each city.
【Related Links】
Wooozy website:http://www.wooozy.cn
Wooozy weibo:http://weibo.com/wooozy