A sensational slow-burn apocalypse of ennui and injustice." –The Guardian
"The best punk [band] you'll hear – never mind that it's not wholly or even really punk rock." – Blurt Magazine

A formidable, vital band. They sound like everything you love and nothing you've heard.
Protomartyr ask the big questions: what is the meaning of life? What does it mean to be human? What is truth?The answers take them down some dark, labyrinthine paths – but at the end is always illumination, and a spark of meaning in a senseless world.
Protomartyr play angular, bleak, intelligent post-punk. Equal parts The Fall, Mission of Burma and Gang of Four. There's poetry in their lyrics, and shards of insight in their songs.
Protomartyr'smusic offers a small light in the darkness, while never denying that we are all just standing in the dark. They're important, abrasive and spectacular. We're hugely excited to bring them to China for the first time. June 15 in Beijing (Yue Space) and June 16 in Shanghai (The OG Yuyintang). 120 RMB presale with Deadly Cradle Death and RUBUR on support.
Protomartyr are a Detroit post-punk quartet, formed in 2000 with noisy and abrasive beginnings as a burgeoning, grimy livehouse band.
Guitarist Ahee's rhythm lines crackle and spit electricity. Singer Casey's voice shifts naturally between dead-eyed croon and fevered bark. Drummer Alex Leonard and bassist Scott Davidson are sharp and propulsive, a rhythm section that's as agile as it is adventurous.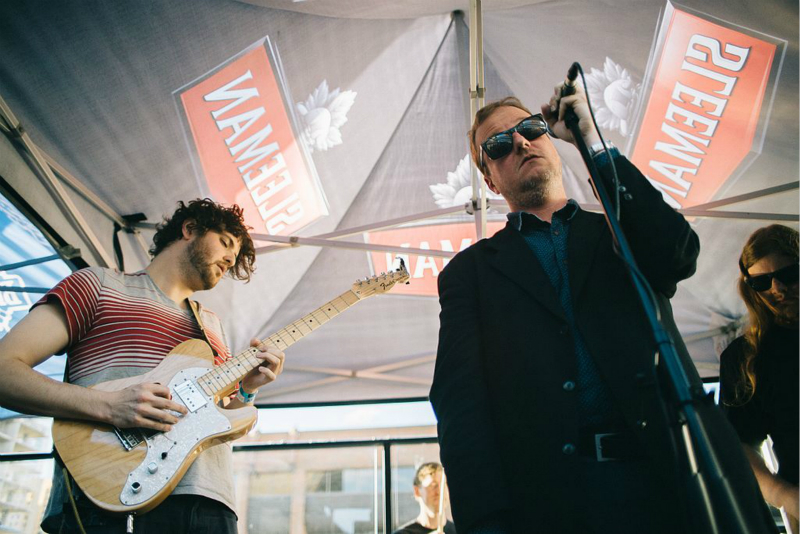 They built their name in the old-fashioned DIY way – the first pressings of their debut All Passion No Technique sold out as their reputation grew regionally, on the back of riveting live performances. 2014's sophomore album Under Colour of Official Right, and 2015's The Agent Intellect, cemented an international fanbase, and Protomartyr began to headline large festivals and embark on ambitious global tours.
They then signed to powerful British indie label Domino, and their first album on the label, 2017's Relatives in Descent, was released to widepsread acclaim. "Fierce and unforgettable," NPR Music wrote in their review.
"No one captures existential dread quite like Protomartyr," said Stereogum. And here we are, in an era rife with existential dread to be captured.
We're excited to bring Protomartyr over to the mainland for two crackling shows. Join us for some thoughtful, thrilling sojourns into the dark side.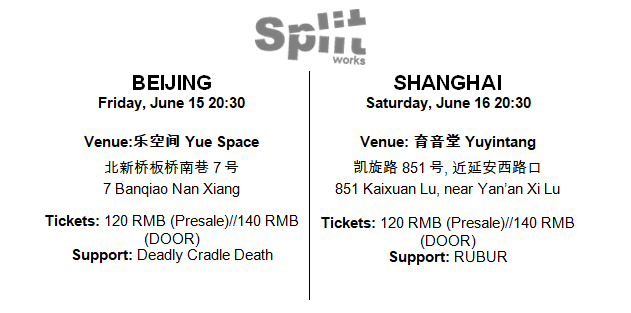 NOTICE:  Tickets once sold cannot be refunded!
Links:
Split Works official website:www.spli-t.com
Protomartyr Official Website: www.protomartyrband.com/
Bandcamp: https://protomartyr.bandcamp.com/
About Split Works:
Split Works has been rocking in the free (ish) world since 2006. Working with inspirational artists from across the globe, the good people at Split Works HQ have been a key contributor to the continued rise of China's music scene.Split Works has launched five music festivals and promoted over 400 tours to 30 Chinese cities, always striving to stay true to a familiar refrain: the music has to be special, every single time. From Godspeed You! Black Emperor to Sonic Youth, from Thee Oh Sees to Mac Demarco and Cloud Nothings, from Black Rabbit to JUE and Wooozy to Concrete & Grass. We love music, we love China and we love you.