Sensual, sensational nocturnal sonics.
After a joyous China debut last year, HONNE are back for a three-city China tour! HONNE are the soundtrack to our digital intimacies, our urban love lives in the 21st century. Their smooth electronic-soul a widescreen take on modern heartbreak and timeless heartache.
'Warm on a Cold Night.'Good Together'. 'Day One'. Their smash-hit singles have won them a massive global following, and their debut album was a captivating record that flirted with funk and shone in its quieter moments. They've just released an irresistibly infectious sophomore album, and theirs is a blissful, swooning live show perfected over the last half-decade. Shanghai, Chengdu and Beijing this time, and we can't wait to share it all with you.
Thursday the 14th of March at Modernsky LAB Shanghai, Saturday the 16th of March at Yue Space Chengdu (with BMW ReachNow) and Monday the 18th of March at Tango 3f Beijing. 
HONNE are singer Andy and multi-instrumentalist James, who first bonded over their shared upbringing in South-West England; followed by the more evocative, US West Coast grooves of their record collections, and a mutual fascination with Japan. During a midnight re-watching of 'Lost in Translation,' it became apparent that this sense of a partner at a loose end – of wandering through a strange environment and struggling to convey what you mean – was just as relevant to their lives off-screen.
When James found the word 'Honne' later on (本音, a Japanese phrase meaning 'true feelings'), the boys knew it was theirs. The first song HONNE ever finished, 'Warm On A Cold Night', also served as the title for their stunning debut album. And, between the millions of stream and sell-out shows since then, the soulful duo have carved out an instantly-identifiable sound all of their own.
For their next move, they focused on themselves. Placing a microscope to their own lives – the jet-setting highs and lows of being in a band, the relationships they tried to hold up back home – HONNE's second album is a touching, personal record with its own universal appeal. Love Me / Love Me Notcemented their reputation as one of music's most spellbinding propositions. Every peak, HONNE sing, means a challenge is round the corner; and equally: whenever life throws everything at once, better times are ahead.
This is one of those.Warm on 3cool spring nights.
Split Works Presents: HONNE 2019 China Tour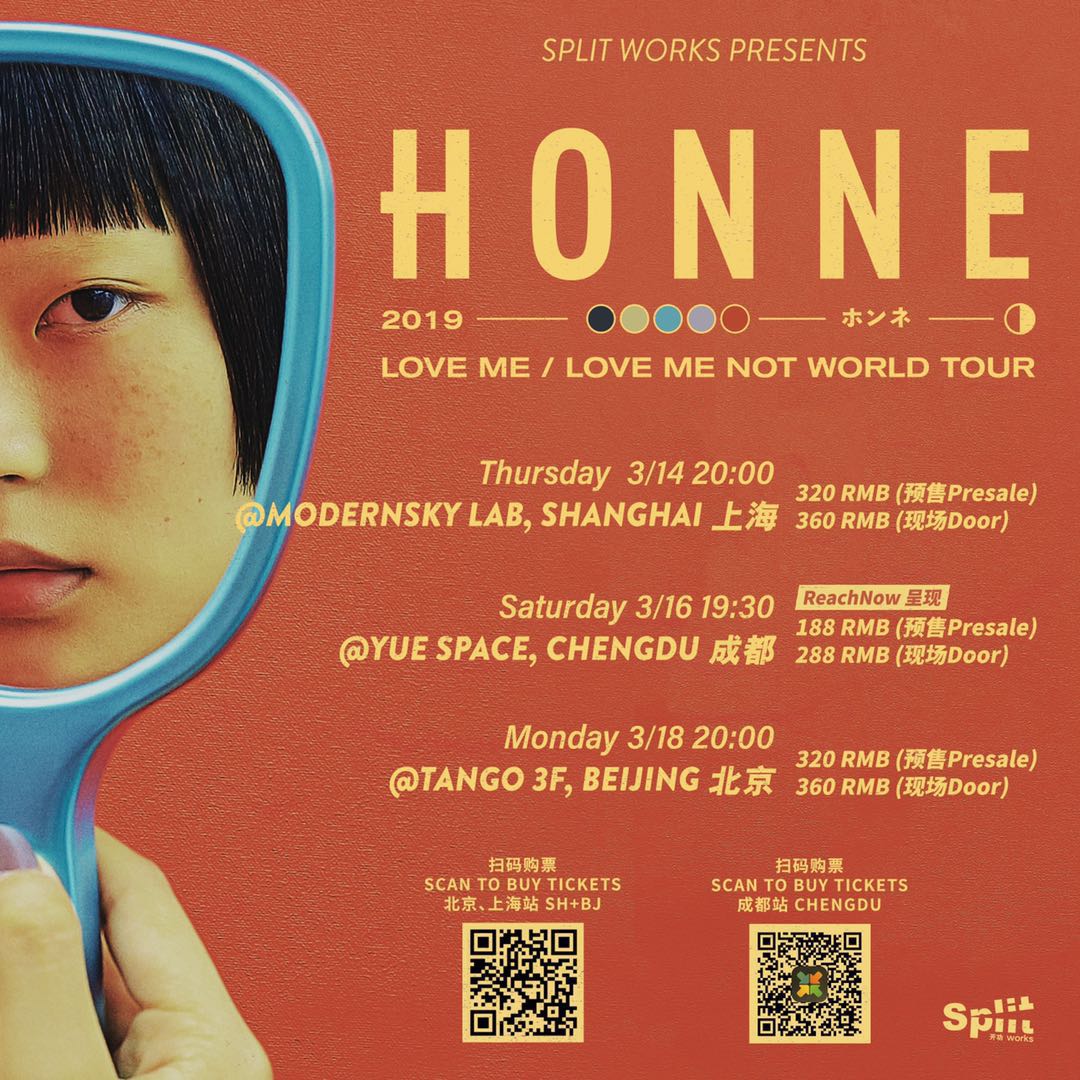 【SHANGHAI】
Date and Time: Thursday, 14 March, 8pm (DOOR)
Venue: Modernsky LAB
Address: 3/F, 188 Ruihong Lu, near Tianhong Lu
瑞虹路188号3楼, 近天虹路
Tickets: 320 RMB (Presale) / 360 RMB (Door)
Pres-sale link: https://yoopay.cn/event/2019HONNEchinatour

【CHENGDU】Presented by BMW ReachNow
Date and Time: Saturday, 16 March, 7:30pm
Venue: Yue Space Chengdu
Address: FanMate Creative Area, 666 Dong Hong Lu (东洪路666号)
Special Guests: Angry Navel
Tickets: 188 RMB (SHOWSTART exclusive) / 288 RMB (Door)
Pre-sale link: https://www.showstart.com/event/77381
【BEIJING】
Date and Time: Monday, 18 March, 8pm (DOOR)
Venue: Tango Live 3rd Floor
Address: 3/F, 79 HepingliXijie, South Gate of Ditan Park
东城区和平里西街79号
Tickets: 320 RMB (Presale) / 360 RMB (Door)
Pre-sale Link: https://yoopay.cn/event/2019HONNEchinatour
NOTICE:  Tickets once sold cannot be refunded!

Links:
BMW Reachnow Official website: www.reachnow.cn
Split Works official website:www.spli-t.com
HONNE Official Website: www.hellohonne.com/
About ReachNow:
ReachNow is BMW quality and service meets start-up ingenuity. It's a premium ride-hailing service, now available in Chengdu, built around a sleek, easy-to-use app. Get a ride in a premium BMW vehicle, sit back, relax and let our highly trained ReachNow drivers take you to the places that matter.
Launched in December 2018 on a mission to reinvent how people in busy, urban communities get to the people and places they love, ReachNow now serves Chengdu, not only providing a premium mobility experience but also providing its members with access to exclusive events and premium experiences.
About Split Works:
Split Works has been rocking in the free (ish) world since 2006. Working with inspirational artists from across the globe, the good people at Split Works HQ have been a key contributor to the continued rise of China's music scene. Split Works has launched five music festivals and promoted over 400 tours to 30 Chinese cities, always striving to stay true to a familiar refrain: the music has to be special, every single time. From Godspeed You! Black Emperor to Sonic Youth, from Thee Oh Sees to Mac Demarco and Cloud Nothings, from Black Rabbit to JUE and Wooozy to Concrete & Grass. We love music, we love China and we love you.