ReachNow for Music that Matters
HONNE Live in Chengdu
Sensual, sensational nocturnal sonics.
After a joyous hip-hop party with Rae Sremmurd, ReachNow is bringing some late-night romance to Chengdu. HONNE are the soundtrack to our digital intimacies, our urban love lives in the 21st century. Their smooth electronic-soul a widescreen take on modern heartbreak and timeless heartache.
'Warm on a Cold Night.' Good Together'. 'Day One'. Their smash-hit singles have won them a massive global following, and their debut album was a captivating record that flirted with funk and shone in its quieter moments. They've just released an irresistibly infectious sophomore album, and theirs is a blissful, swooning live show perfected over the last half-decade. HONNE are making their Chengdu debut with ReachNow, and we can't wait to share it all with you.
HONNE are singer Andy and multi-instrumentalist James, who first bonded over their shared upbringing in South-West England; followed by the more evocative, US West Coast grooves of their record collections, and a mutual fascination with Japan. During a midnight re-watching of 'Lost in Translation,' it became apparent that this sense of a partner at a loose end – of wandering through a strange environment and struggling to convey what you mean – was just as relevant to their lives off-screen.
When James found the word 'Honne' later on (本音, a Japanese phrase meaning 'true feelings'), the boys knew it was theirs. The first song HONNE ever finished, 'Warm On A Cold Night', also served as the title for their stunning debut album. And, between the millions of stream and sell-out shows since then, the soulful duo have carved out an instantly-identifiable sound all of their own.
For their next move, they focused on themselves. Placing a microscope to their own lives – the jet-setting highs and lows of being in a band, the relationships they tried to hold up back home – HONNE's second album is a touching, personal record with its own universal appeal. Love Me / Love Me Notcemented their reputation as one of music's most spellbinding propositions. Every peak, HONNE sing, means a challenge is round the corner; and equally: whenever life throws everything at once, better times are ahead.
This is one of those.Warm on a cool spring night. HONNE, first time in Chengdu, presented by ReachNow.
+ Special Guests
Angry Navel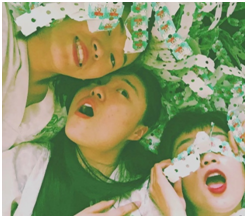 Angry Navel are a mostly calm Chengdu trio who play groovy, sensual beat driven jams punctuated with warm electronica. One of our favourite new bands on the scene, and the perfect warm-up for HONNE's sensational nocturnes.
ReachNow Presents: HONNE Live in Chengdu
成都乐空间 Yue Space Chengdu
Saturday, 16 March 2019
DOOR: 7:30pm
Venue: Aflame Art Center
FanMate Creative Area
666 Dong Hong Lu (东洪路666号)
Address: 666 Dong Hong Lu
Tickets: Door 288 / Pre-sale 188
Presale Link: https://www.showstart.com/event/77381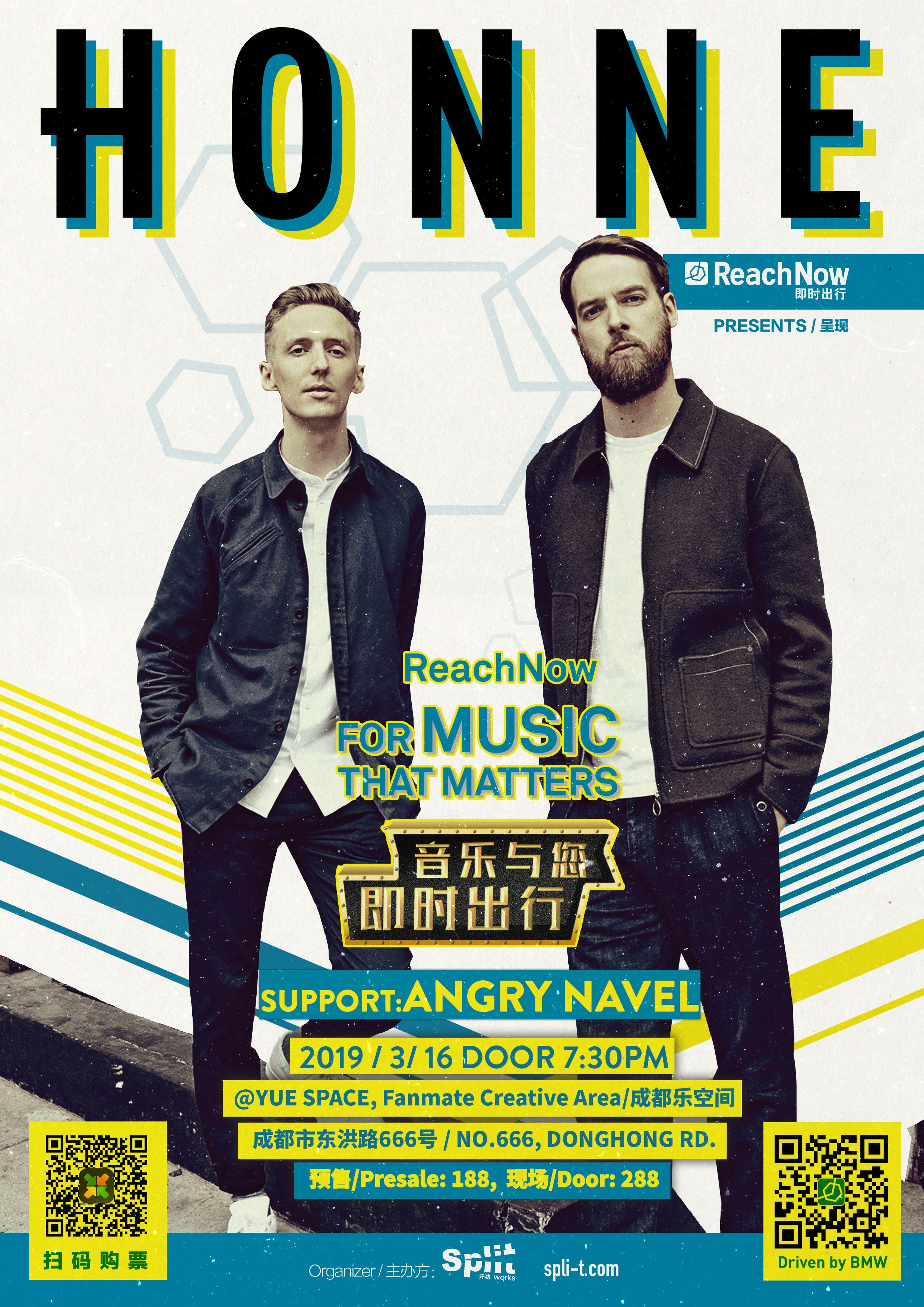 Links
BMW Reachnow Official website: www.reachnow.cn
Honne Official website: www.hellohonne.com
About ReachNow:
ReachNow is BMW quality and service meets start-up ingenuity. It's a premium ride-hailing service, now available in Chengdu, built around a sleek, easy-to-use app. Get a ride in a premium BMW vehicle, sit back, relax and let our highly trained ReachNow drivers take you to the places that matter.
Launched in December 2018 on a mission to reinvent how people in busy, urban communities get to the people and places they love, ReachNow now serves Chengdu, not only providing a premium mobility experience but also providing its members with access to exclusive events and premium experiences.