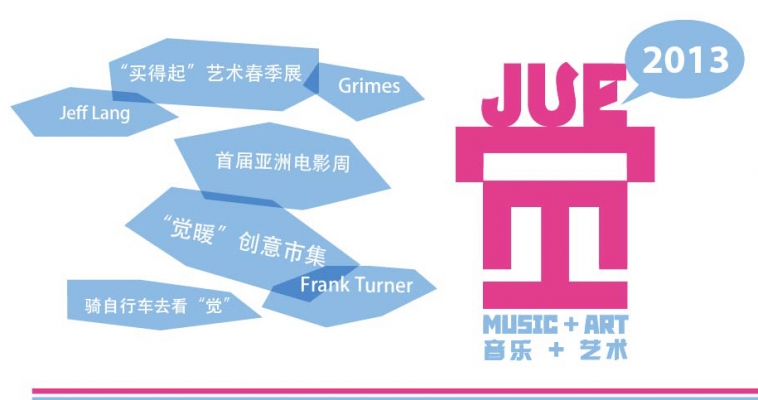 Enough talk. Let's see the artists!
In 2012, JUE | Music + Art wowed audiences with the heartfelt performance of Death Cab for Cutie, the meteorically rising star of Qu Wanting and the musical poetry of Summer Lei. For 2013, we bring you the captivating electro-pop synesthesia of Grimes, folk-punk heartthrob and Olympics opening ceremony star Frank Turner, up-and-coming Swedish pop sprite Amanda Mair, stunning bluesman Jeff Lang, and old-school Chinese indie rock darlings Sound Fragment. And this is only the beginning – stay tuned for more announcements in the new year. We've got some big names waiting in the wings…
From the multi-disciplinary, multi-genre Warm Up to JUE Market to curating our own group exhibition, JUE put on our most ambitious art programme ever in 2012. Obviously, we're going to blow last year out of the water in 2013. Feeling competitive and creative? Enter our signature JUE NEXT GEN Photography Competition. Need a little art in your life but don't want to shell out thousands of RMB? Then the Affordable Art China Preview Weekend & Courtyard Party is where you need to be. The Warm Up to JUE market will be back this year, with even more vendors, musicians, food and family activities. Working with Electric Shadows, we will be putting on the inaugural Asian Cinema Week during JUE 2013. Are plays your thing? We can't wait to see the brilliant production from Shanghai Repertory Theatre. Want to get in shape, help the environment and win great prizes? Our green initiative Bike to JUE returns in both Beijing and Shanghai for 2013. For even more awesome art events, check out our brand-spanking-new JUE 2013 website or find us on all the social media.
————————————————————————————————————————————————-
Media Inquiries:
Liling Mo (Momo)
E-mail: mll@spli-t.com
Tel: 021-64450500-19