"The musician who'll be soundtracking 2016." – VICE
Rapid-fire reggaeton, armor-piercing. Bass levels set to "fearsome".
Kamixlo is "London's best DJ right now, no question" (Dazed Digital), a leading member of London's influential 'Bala Club', the collective throwing some of the city's most sought-after parties.
He'll be bringing his anarchic dance jams to Shanghai (The Shelter, June 8) and Beijing (Modernsky Lab, June 9) for two riotous reggaeton parties. It's music to wrestle your demons to.
On support duty, we've got the smooth, versatile grooves of Howell, Ginga, Kilo Vee and Sleepless in Shanghai, and the trap/hip-hop stylings of Bloodz Boi, Pussy Stack and Dokedo in Beijing.
The Brixton-based producer with Chilean roots is known for his brutal DJ sets, combining a gleeful disregard for genre with noise-punk blasts and punishing bass. His Bala Club parties, conceived as an inclusive and diverse alternative to "claustrophobic", overly macho mainstream club nights, are at the forefront of London's underground club scene. Thrilling, Latin American-inspired stomps built on notions of freedom, expressiveness and curiosity.
They've rightfully earned him a cult following, one that has caught the attention of tastemakers PAN and Visionist's newly launched imprint Codes, on which he launched his debut EP Demonico on October 2015. Demonico contains Paleta, the "tune of the year" for 2015 (MixMag). 'Paleta' explodes every rule in club music – shattering them into a million pieces, dropkicking them to submission and blasting them collectively till they reassemble as an unstoppable nugget of a club track.
Kamixlo's DJ sets are 90-minutes of that intensity. In November 2015, he was named among Vice's 'Musical Class of 2016' – one of 9 artists expected to define the sound of the coming year.
Shanghai on June 8, and Beijing on June 9. Expect a demented mix of reggaeton, bachata and cumbia given an utterly inimitable modern twist.
Show Details
Wooozy Offline Presents: Kamixlo
[Shanghai]
Date: Wednesday, 8 June
Time: 22:00
Venue: The Shelter
Address: Basement of 5 Yongfu Road, near West Fuxing Xi Road (永福路5号 近复兴西路)
Tickets: 60 RMB
Support: Howell, Ginga, Kilo Vee, Sleepless
[Beijing]
Date: Thursday, 9 June
Time: 22:00
Venue: Modernsky Lab (Party Room)
Address:  Galaxy SOHO, Chaoyangmen, B1/F, Bldg. D, Rm. 5-108 (东城区朝阳门银河SOHO D座B1层5-108)
Admission with Drink Coupon: 60RMB (1 Bottle of Vedett)
Support: Bloodz Boi, PUZZY, Dokedo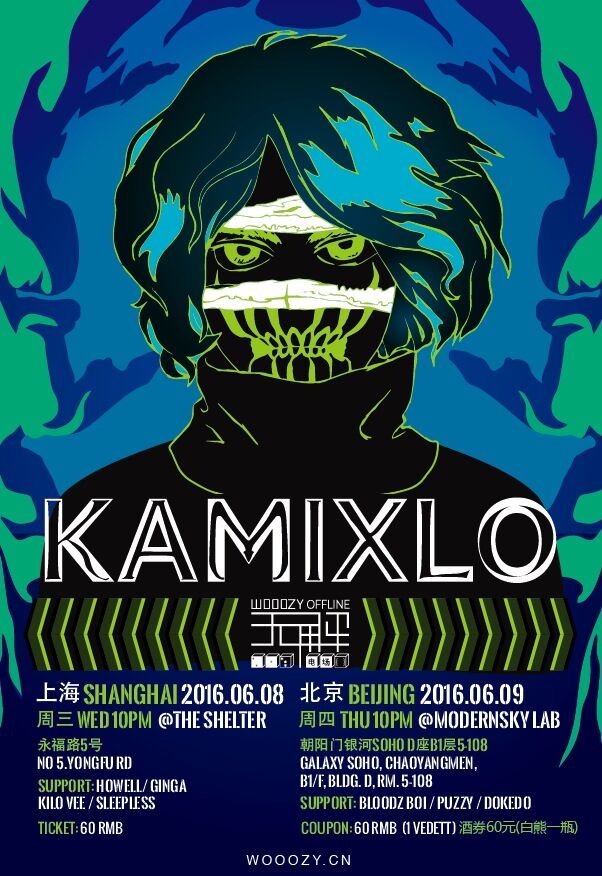 Links
Kamixlo on Soundcloud: https://soundcloud.com/kamixlo
The Demonico EP: https://soundcloud.com/thump/sets/kamixlo-demonico-ep
'10 Things You Need to Know about Kamixlo', Vice:
https://i-d.vice.com/en_gb/article/class-of-2016-10-things-you-need-to-know-about-kamixlo
A 40-minute "demented" mix for Dazed:
http://www.dazeddigital.com/music/article/28515/1/listen-to-kamixlo-s-demented-nu-metal-club-mix
About Wooozy:
As an online music hub, Wooozy.cn has been covering the best and the freshest music from all around the world since 2009. Wooozy Offline started in 2014 and is more than a party, a workshop, or an event – it's a bridge connecting China's local electronic music scene with the world.