"Effortless soulful grooves…smoky, eyes-closed goodness." – Juno Plus
"Henry Wu is a name you should know." – Clash Music
Eclectic electric. Smooth as spring.
It's the Year of the Monkey and the Wooozy clan are kicking off this year's monkey business with a potpourri of soul, jazz, breakbeat and silky melodic house from the mind of rising South London star Henry Wu.
Winter will be behind us, and we're going for some rich, dreamy spring vibes. He'll be playing April 1 at Dada, Beijing and April 2 at the Shelter in Shanghai.
Expect head-nodding, soul-drenched, blissed-out grooves stacked together with artful basslines and graceful house rhythms.
Henry Wu has been rightly labelled as one of the most exciting emerging producers this year. He's part of the jam-hot 22a collective based in London, which Clash Music called "one of the labels that defined 2015", putting out "dexterous, subtly intriguing music."
Refusing to be categorized into any genre (but with a penchant for soul and jazz), Wu breaks all the rules when it comes to production and musicianship. 2015 saw his sound being championed by the likes of Gilles Peterson, LeFtO, Jimpster, Detroit Swindle, Osunlade, IG Culture and Toddla T to name a few. The latest addition to the infamous Co-Op family, Wu is undoubtedly carrying the torch for soul music coming out of the UK.
Henry has also made serious dents in club-land within a very short space of time- from his sellout London residency to key club and festival shows in Germany, Holland, Scandinavia, Belgium, France and beyond. He's also gearing up for extensive Australian, New Zealand and Asia tours in early 2016.
Drawing from different ends of the musical spectrum, his diversity on record is also apparent in his DJ sets, where he deftly speeds up and down to deliver his sound knowledge of funk and jazz, to more contemporary house stylings. Also an experienced musician, Wu's productions have an indescribable live element, a rawness which can't be emulated.
On support duty, we've got Wooozy regulars Knopha and Sleepless, as well as Daily Vinyl co-founder ollo-MAM in Shanghai, and soul/jazz archivist Watermelon, J.R.G, Zhiqi and Darcy in Beijing.
Show Details
Wooozy Offline Presents: Henry Wu
[Beijing]
Date: Friday, 1 April 2016
Venue: Dada
Address: Unit 101, Bldg B, 206 Gulou DongDajie (鼓楼东大街206号B栋101室)
Tickets: 60 RMB
Support: Watermelon, J.R.G, Zhiqi, Darcy
[Shanghai]
Date: Saturday, 2 April 2016
Venue: The Shelter
Address: Basement of 5 Yongfu Road, near West Fuxing Xi Road (永福路5号 近复兴西路)
Tickets: 60 RMB
Support: Knopha, ollo-MAM, Sleepless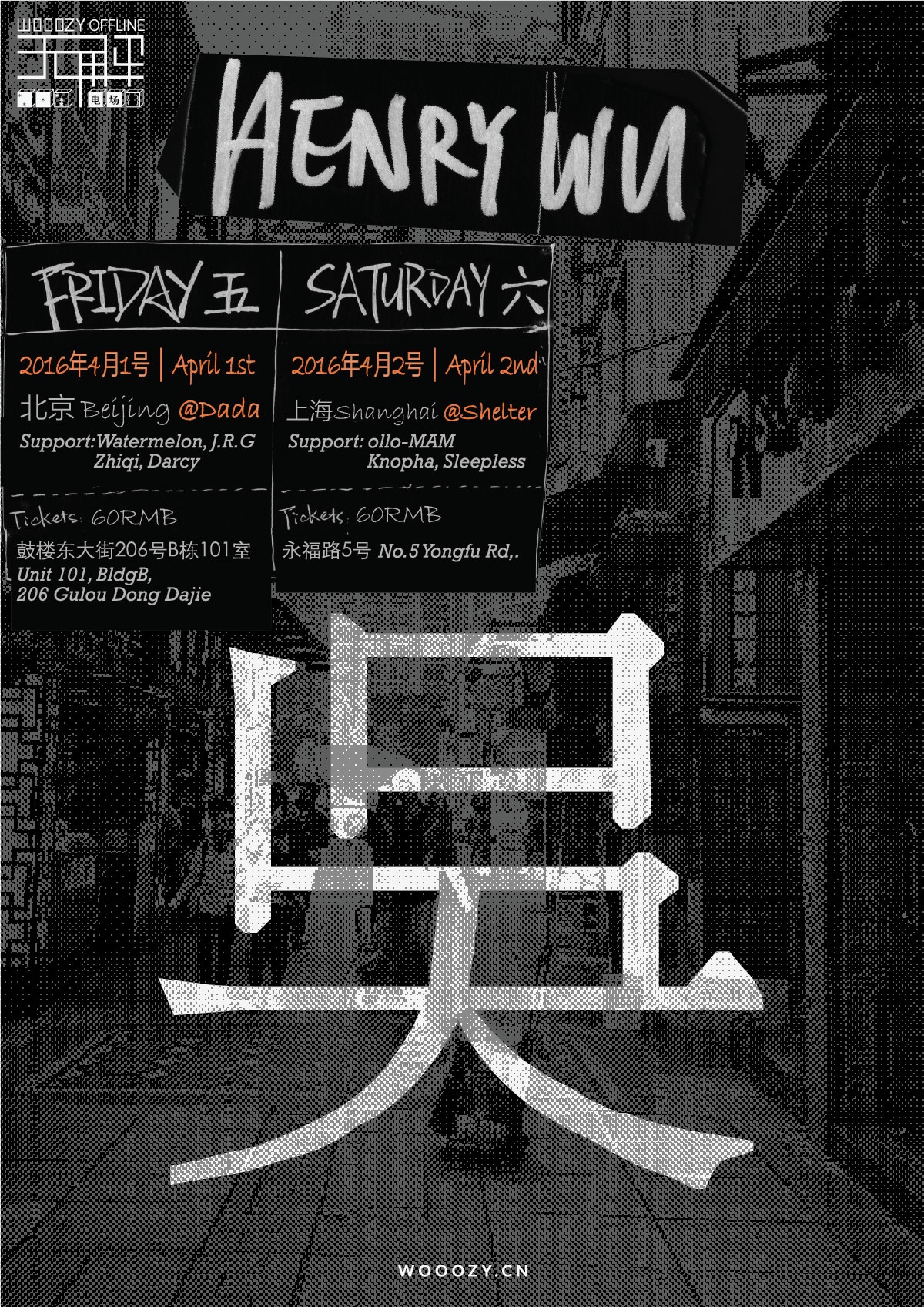 Important Links
Henry Wu on Soundcloud: https://soundcloud.com/wuesli
His most recent release: https://eglorecords.bandcamp.com/album/wu15-ep
Henry Wu on Boiler Room TV: https://boilerroom.tv/henry-wu-a-day-in-the-life/
A 20-minute mix for Clash Music: http://www.clashmusic.com/features/clash-dj-mix-henry-wu 
About Wooozy:
As an online music hub, Wooozy.cn has been covering the best and the freshest music from all around the world since 2009. Wooozy Offline started in 2014 and is more than a party, a workshop, or an event – it's a bridge connecting China's local electronic music scene with the world.