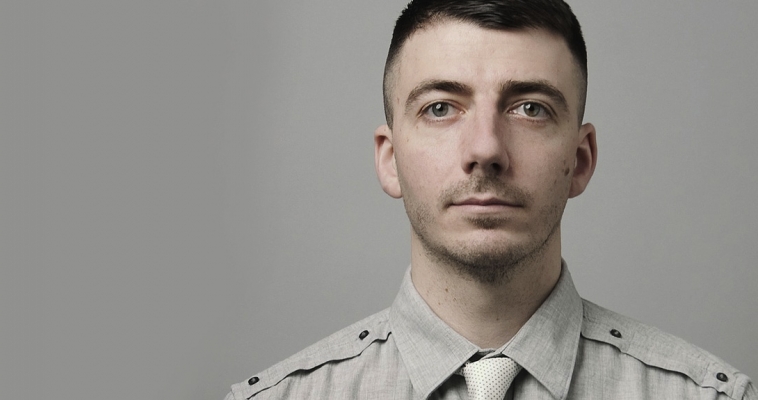 "Dunning deserves to be commended for successfully pushing his sound in a fresh direction." – Pitchfork
After the jam-packed music festival season in October, take a step away from the advertisements, the brands, the in-your-face throngs of festival goers, and get back to your roots with Wooozy Offline.
From London's apocalyptical world of dubstep, techno & industrial beats, Jack Dunning as Untold takes crowds to the dark side of clubbing with some of the heaviest sonics to ever rattle China's cage. If you're keen on The XX, José James, Ke$ha, Boys Noize, and Moderat, then you might just like Untold, as he's worked with them all and many more. Untold will throw down his beats with help from ShadowPlay crew at Beijing Post Mountain on October 17th. He'll be backed by Wooozy Offline residents and special guest Tzu Sing at Shanghai's Shelter on October 18th.
Jack Dunning's production work as Untold has reinvigorated the climate of dance floors around the globe. First releasing music on Hessle Audio, where his 'Kingdom' single housed two slices of unsettlingly brilliant atmospheric bass weight, the North-Londoner has gone on to release numerous scene-stealing EPs as well as form two labels: Pennyroyal and Hemlock Recordings. He now stands proudly as a tastemaker in his own right. Tracks like his freewheeling 'Anaconda,' also released on Hessle Audio, and 'Stop What You're Doing' still possess as much impact today as they did the day they were premiered; harbouring the power to stop a dance floor dead in inquisitiveness, they are two glowing examples of Untold's monstrously weighted approach to club music. Supple yet rough, and relentlessly inventive.
This consistent want to test himself and push forward into unknown territories continues with his A&R philosophy. Since its inception Hemlock became a home to work by Mount Kimbie, Fantastic Mr Fox, CosminTRG, Ramadanman and a certain producer called James Blake. Not content to rest on this legacy Dunning created a new imprint 'Pennyroyal' in 2013, a home for "rough and ready" techno that has already seen stand out releases from J Tijn and Boner M.
Brought up a junglist, it was a trip to Third Base in Brixton that inspired Dunning to start producing music again, something he admits he previously let slip after a music degree drained his creativity. Since then he's released a steady tirade of impeccable productions. Appearing on labels such as Soul Jazz, Scuba's Hotflush and Hessle Audio, Dunning soon began to drift from dubstep and started applying his unique approach to Techno. Through releases on R&S and Clone's Basement Series this newfound love of techno culminated in his most comprehensive release to date – a three-part EP on Hemlock named "Change in a Dynamic Environment". The release gained critical acclaim and left no doubt that Dunning can turn his hand to any variant – something he's continuing to explore on his new Pennyroyal label.
After a further experiment into techno on Modeselektor's 50 Weapons label, in early 2014 Dunning finally released his debut album on his own Hemlock Recordings entitled 'Black Light Spiral.' Drawing on his past experiences in Jungle and Hardcore, his ground breaking work in bass music and his more recent forays into 4×4, the album marks a seminal point in the career of Untold – delivering on his mission to break new ground with each step. March on: Wooozy Offline presents Untold.
Wooozy Offline: Untold Show Information
【SHANGHAI】
Date: 2014.10.18 Saturday
Time: 10pm
Venue: The Shelter
Address: 5 Yongfu Road, near West Fuxing Road (永福路5号,近复兴西路)
Support: Tzu Sing / Jackie / dj sleepless / microlab
Price: 60RMB
【BEIJING】
ShadowPlay x Wooozy Presents: Untold
Date: 2014.10.17 Friday
Time: 10pm
Venue: Post Mountain
Address: #1 Xiangheyuan Lu Dangdai MOMA, Building T8 Dongcheng District
北京东城区东直门外香河园路1号 当代MOMA园区T8楼北(百老汇电影中心北侧)
Price: 60RMB (In Advance) / 80RMB (At The Door)
Support Djs: Shackup (Swim)、Donkey Tonk (Syndicate)、Pei(ByeBye Disco)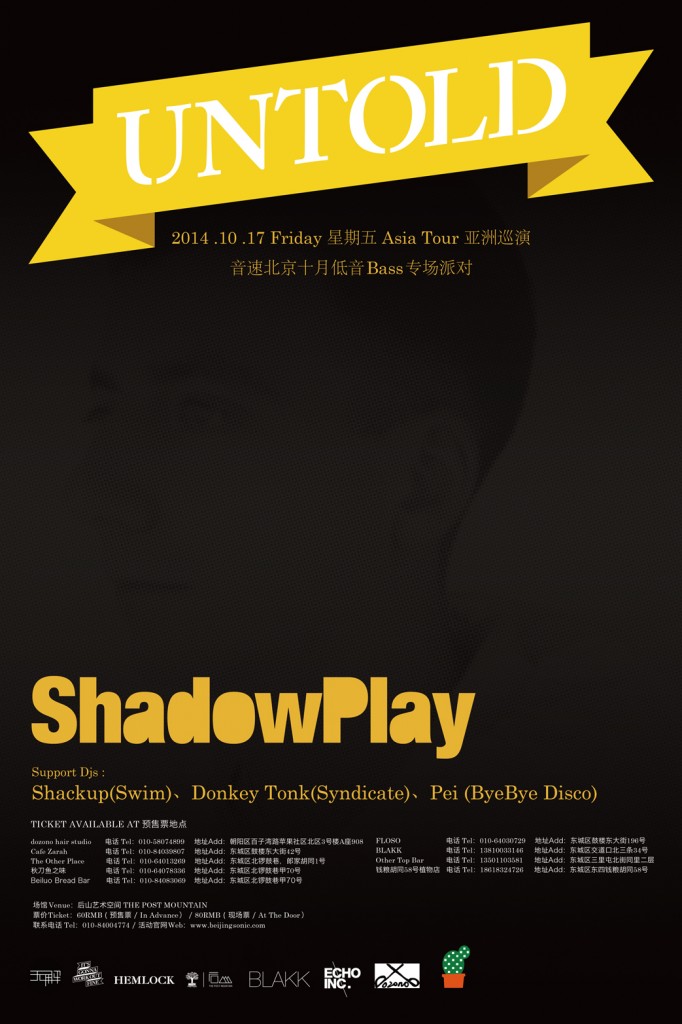 ARTIST LINKS
Untold Official Website: www.untold-official.com
About Wooozy:
As an online music hub, Wooozy.cn has been covering the best and the freshest music from all around the world since 2009. Wooozy Offline started in 2014 and is more than a party, a workshop, or an event – it's a bridge connecting China's local electronic music scene with the world.
About Shanghai Wooozy Offline Special Guest:
Tzu Sing: Deep and dark Tzu Sing spins underground Techno/House influenced by his Malaysian roots and stints in places like Taiwan, Chicago, and Shanghai. In 2013, he gained recognition by collaborating with underground record label Clan Destine Records and is slated for a release with tastemaker kings L.I.E.S. later this year.
About Shanghai Wooozy Offline Residents:
dj sleepless: a sleepless set can be defined as indefinable, shifting sleeplessly between genres, but never forgetting the dance floor, keeping things fresh with the odd curveball.
Jackie: Backed by skills honed through years of practice and a whole lotta club time, Jackie always brings it, transforming crowds into a mass of sentient beings whenever he plays.
microlab: With constant exposures of high quality electronic music in Tokyo, HIRO quickly found a home in the realm of House and Techno. He has since grown a strong attraction to the deeper, hypnotic side of techno with inspiration directly stemmed from the illustrious set by Donato Dozzy in 2008 at the Labyrinth Festival in Japan.