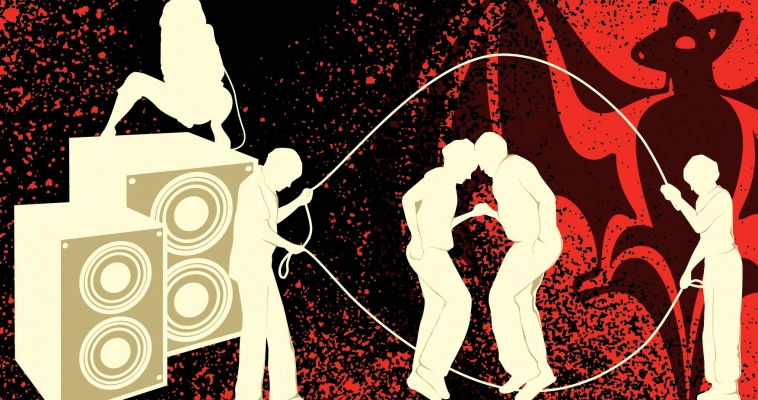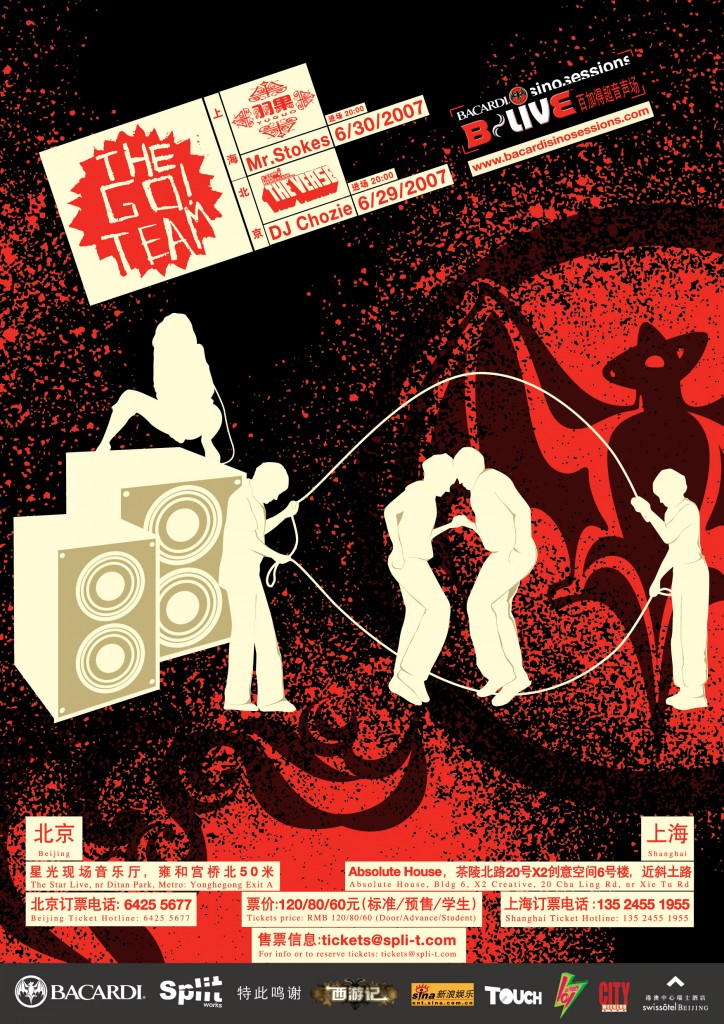 Bacardi Sino Sessions returns for number four with another special band.  This time we are joined by the Go! Team, who spent last summer playing to the best crowds in the world at Glastonbury, Coachella and Lollapalooza. They kick off this summer in China!  Roll up China. Don't let the side down…!!
Helped by our ever-generous sponsor, Bacardi, we've upped the entertainment ante yet again.  For the second event we had 4 acts, the third hosts a staggering 5, while #4 features 3 acts and counting…
Lots of places put together two band bills, but where else can you see the best of Chinese bands supporting established international acts like Maximo Park and Infadels? Only the Bacardi Sino Sessions brings these musicians together, and so far the results have been a revelation.
For Bacardi Sino Session # 4 there's only so much jumping up and down we can do to express our joy at bringing The Go! Team, a band whose live show has been described as a cross between Sonic Youth's noise (and China knows all about that now!) and The Jackson 5's all-round cheeky uplifting beats. There'll be rapping, double drumming, a good bit of hugging and we hope to see some skipping. Imagine the most exhilarating block party you've ever been to and then multiply by 100.  You might even remember their tune The Power is On which a well known sports brand sampled last year in China, listen to the track at www.bacardisinosessions.com to remind yourselves …
We're also extremely happy to invite back Flying Fruit to our Shanghai bill after the finals of the Yamaha live band competition stopped them from supporting Maximo Park last December. At the end of June we'll finally get to see them take the Absolute House stage with the legends that are the Go! Team. Flying Fruit have had another busy year, having just played the main stage at Midi and now their own headline gig at The Star Live on 8th May. Their new album "Paradise Lost" is due out this May.
In Beijing, the local support band is the groovingly re-formed 12 member roots/funk band The Verse, recently described by music critic radio personality You Dai "as a band which plays black roots music, they are unique to China! And their energy makes them even more special. The Verse reminds me of the band from the film The Commitments."
Our Shanghai DJ, who debuts at event # 3, Mr Stokes, is already lined up for # 4. Originally from New York City and Boston, he's now a Shanghai institution after 2 years on the scene here. When he's not banging out beats in his home studio or battling the city's best scratch DJs, Stokes represents Hip Hop, Dancehall, Funk and Electro to the fullest with weekly residencies at several Shanghai nightclubs.
For Beijing's afterparty we'll keep the party going with superstar DJ Chozie! Voted Asia's most popular DJ by Channel V, Australia (2000), Chozie was the first DJ to release a solo dance album and music video in China. On any given night, Australasia's Ambassador of Groove can be heard dropping big tunes like 'Superstylin' from Groove Armada, 'September' from Earth Wind and Fire and Alchemy's remix of the 80's classic 'Do You Love (Run Away, Turn Away). It's all there – dub, disco and classic anthems from the 80s but drenched in Chozie's trademark funky breaks style. Get ready to move…and move move and groove!
The Go! Team
Tickets 120/80/60 Standard/Advance/Student (inc. 1 Bacardi cocktail)
Beijing, 6/29/2007, The Star Live

Shanghai, 6/30/2007, Absolute House