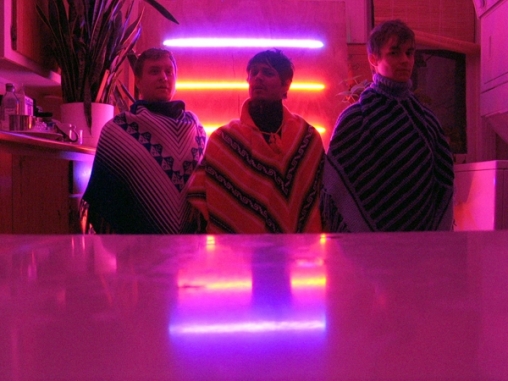 "These guys got style…. you get this new and intricate musical entity that can blow minds worldwide… It's only a matter of time before they take a bite out of rock n' roll as we know it" – Consequenceofsound.net
Straight from the hipster heaven of Montreal Canada, Split Works gives you We Are Wolves. Just after the Mid Autumn's full moon, these wolves will be ravaging through China on a four city tour from September 10th to 16th. Although We Are Wolves have played over 500 concerts worldwide, this will be their debut tour in China. Expect waves of psychedelic euphoria to wash over audiences in a fit of fury to get the floor spazzing out to the howls of We Are Wolves.
Since their beginnings with the American label Fat Possum in 2005, We Are Wolves earned serious stripes playing along side the likes of Gorillaz, Bloc Party, and The (International) Noise Conspiracy. The now mythic trio, presents an honest and uncatchable sound; a bit like celestial lightning hitting a sacred mountaintop. Heavily influenced by visual arts, they paint a post-punk landscape, scattered with analog trees. Their primitive approach remains true to their animal of predilection: untamable.
After a switch to Montreal based Dare to Care Records, May 2007 brought We Are Wolves' single "Fight and Kiss". They then successively released their second and third full-length albums Total Magique (2007) and Invisible Violence (2009). Both critically acclaimed albums were followed closely by press such as NY Times, CMJ Report and Spin Magazine. After more than 100 concerts across Canada and the United States, We Are Wolves offered its devotees a fourth sacrifice on the altar of rock: La Mort Pop Club, released in early 2013. The album channels indescribable electric fields of post-punk adrenaline.
This September, Split Works is releasing the wolves on China. Release your inner hipster nature and check out We Are Wolves as they prowl around the Middle Kingdom.
WE ARE WOLVES China Tour Information
【WUHAN, HUBEI】
Date: September 10, Wednesday
Venue: VOX LIVEHOUSE
Address: No.118 Lumo Road, Hongshan District
Time: 9pm
Ticket: 50RMB/door 40RMB/student
【HEFEI, ANHUI】
Date: September 11, Thursday
Venue: ON THE WAY BAR
Address: 2/F, Jinxing Centre, University Town, Jingkai District
Time: 8pm
Ticket: 50RMB/door 40RMB/student
【NANJING, JIANGSU】
Date: September 12, Friday
Venue: ZEBRA BAR
Address: No.16 Hunan Road, Gulou District
Time: 8pm
Ticket: 50RMB/door 40RMB/student
【BEIJING (We are Wolves + THEESatisfaction)】
Date: September 16, Tuesday
Venue: DDC (DUSK DAWN CLUB)
Address: No.14 Shanlao Hutong, Dongcheng District
Time: 9pm
Ticket: 80RMB/door & presale (first come first serve)
Presale link: https://yoopay.cn/event/WeAreWolves
Links
Split Works official website:www.spli-t.com
We Are Wolves bandcamp: wearewolves.bandcamp.com
We Are Wolves Official Website: www.wearewolves.net
Dare to Care Official Website: www.daretocarerecords.com/en/artists/wearewolves
About Split Works:
Split Works is a Beijing and Shanghai based concert promotion agency. Since 2006, we've been putting on killer parties and shows throughout Asia, working with brilliant artists from across the globe.  In 2009, we launched JUE | Music + Art and also produce branded campaigns through our sister company, communications agency Splatter. We love China, we love music, we love you.