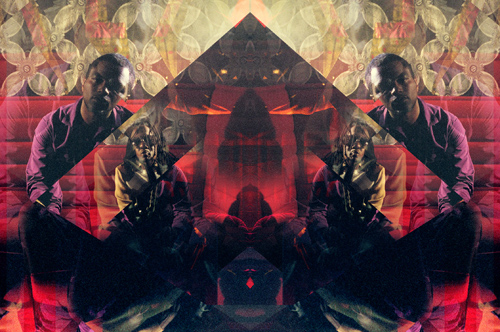 Shabazz Palaces is the name of the mysterious hip-hop duo comprised of Ishmael 'Butterfly' Butler (of Digable Planets) and Tendai Maraire, the son of African music legend Dumisani Maraire. Starting in 2009, Shabazz Palaces entered into the hip-hop lexicon with an air of carefully cultivated mystery: two EPs emerged credited solely to "Palaceer Lazaro"; there was a website but absolutely no photographs, credits or other clues to these new MCs' identities. Eventually revealing themselves and signing to renowned Seattle indie label Sub Pop, Shabazz Palaces create some of the most exploratory hip-hop out there now, which is best expressed on their 2011 debut Black Up.
In 2009's anonymously-released EPs Of Light and Shabazz Palaces, Butler sketches an unlikely vision of Seattle that is an alternately glittering and gritty urban noir. Over complex beats and instrumentations from Maraire, Butler raps about everything from the politically conscious to what he had for breakfast. Regardless of lyrical content, the tracks sound just as good on vinyl in a darkened room as they do blasting off a rooftop in summer. While the two extended plays built up the duo's allure, Black Up is Shabazz Palaces' equivalent of a coming out party. With guest appearances by fellow "Afro-eccentric" duo and frequent tour mates THEEsatisfaction, it's a breath of fresh air that preserves the elaborate rhymes and structures that characterize the best work of the group.
[vsw id="http://player.youku.com/player.php/sid/XMjkwNTgyODcy/v.swf" source="youku" width="425″ height="344″ autoplay="no"]
Winners of the Genius Awards from respected alternative weekly The Stranger and near-universal acclaim from the independent music press; Split Works is honored to welcome Shabazz Palaces to China.
Shabazz Palaces China Tour 2013
Shanghai // Friday,  June 28,  9PM // Yuyintang // No. 851 Kaixuan Rd., nr. Yan'an Rd. (W) // Support: Gooooose // Tickets: 70 RMB (Door) / 50 RMB (Student)
Beijing // Saturday,  June 29,  10PM // The Bar at Migas // 6/F, Nali Patio, No. 81 Sanlitun Lu // Support: Chronmaster、Bite-Size Buddha and more TBA // Tickets: 50 RMB (Door)
Links: www.shabazzpalaces.com