"Lamchop's music can be comforting, moving, pretty and mystifying, all at once" – PopMatters
The world's most wonderfully strange band.
Their baseball-capped irreverence is the stuff of legend – their delicate acoustic country sound filled with weird lyrics and weirder arrangements. "A genre of one, [belonging] to no movement, no category, no trend" (Rolling Stone)
The music of Lambchop's Kurt Wagner appears calm on the surface, but it is as precise as clockwork underneath, complex moving parts adding up to a gentle whole. Seeing them live is like catching up with an old friend. Music to warm the heart, and befuddle the mind.
They're playing Beijing's Yugong Yishan on June 17, before playing the last in our Contemporale series, co-presented with the Shanghai Symphony Orchestra, in Shanghai on June 19.
It's been nearly two decades since Lambchop released its first album, at the time pronouncing themselves Nashville's most "twisted" country band. Provocative it may have been, but the description made sense: at the heart of all that ruckus was a band at once defying and embracing the musical legacy of its hometown.
Their watershed fifth album, Nixon, became a bonafide cult classic, and was recently reissued by Merge Records. Nixon was a fork in Lambchop's storied road – the height of their experimentation with lush chamber pop.
Since then, Lambchop has evolved into an accomplished ensemble, adding palpable depth and substance to singer-songwriter-guitarist Kurt Wagner's songs.  The band sounds as commanding as ever on its 11th album, Mr. M, a collection of meditations on love and loss and the detritus of everyday existence. One of their "finest, most cohesive, and easiest straight-through listens yet." (Consequence of Sound)
Lambchop may not sound in any conventional way like a country band (even the steel guitar, once prominent, is long gone from the band's lineup), and yet the essential spirit of country music—the sound of someone just trying to make sense of life's little ups and downs—remains present in its music.
Beijing on Friday, June 17. Expect languid, ironic songs that are meditative and lovelorn. A quiet trip that will leave everyone — band and audience — levitating a few inches off the ground.
Lambchop Beijing Show Information
Date: June 17, Friday
Venue: Yugong Yishan
Address: 3-2 Zhangzizhong Lu, Dongcheng district (北京市东城区张自忠路3-2号)
Doors: 9 pm
Support: december3am
Tickets: 120 (Presale) // 150 (Door)
Pre-sale tickets will only be able to be purchased directly at the venue (open daily from 5.30pm)
Address: 3-2 Zhangzizhong Lu, Dongcheng District
Contact: 010 – 64042711
* Pre-sales end on 12 mid-night, June.16th, 2016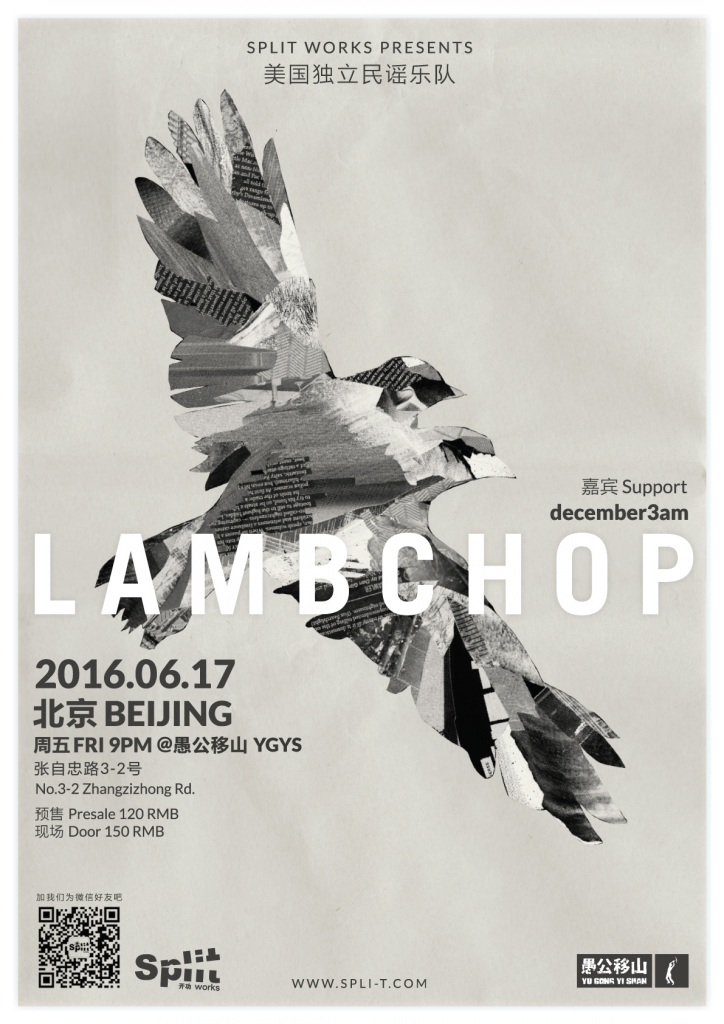 Links
Split Works Official Website:www.spli-t.com
Destroyer Official Website: Lambchop Official Website: http://www.lambchop.net/
About Split Works:
Split Works has been rocking in the free (ish) world since 2006. Working with inspirational artists from across the globe, the good people at Split Works HQ have been a key contributor to the continued rise of China's music scene.
Split Works has launched five music festivals and promoted over 400 tours to 30 Chinese cities, always striving to stay true to a familiar refrain: the music has to be special, every single time. From Godspeed You! Black Emperor to Sonic Youth, from Thee Oh Sees to Mac Demarco and Shabazz Palaces, from Black Rabbit to JUE and Wooozy to Echo Park and More Music. We love music, we love China and we love you.