Stunning gossamer pop songs from a deft and emotive songwriter." – Rolling Stone
"She's just got something about her that's really special." –Slowdive vocalist Rachel Goswell
"Long may she keep at this music thing." -Pitchfork
Space is the Place.
Michelle Zauner of Japanese Breakfast creates "soft sounds from another planet." Life on Earth, seen from above. Burbling synths, extra-terrestrial ambience and tales of robot love punctuate her songs – the cosmos a place of escape from mourning and loss.
Her songs levitate with a powerful message: "don't cling to the past. Don't descend. Look up, and fly higher."
Her sound is subtle and sensual. Danceable and dreamlike, somewhere between LCD Soundsystem and Lykke Li. Soft Sounds from Another Planet is one of Split Works' albums of the year, and we're delighted to present Japanese Breakfast live in China for the first time.
Saturday, December 2 in Beijing, at Yue Space (a afternoon "brunch" show, 1:30pm start!). Sunday, December 3 in Shanghai at Yuyintang. Presale tickets are 100 a pop.
Japanese Breakquest was just that: an retro-tinged role-playing game, released free online, with lo-fi bleepy-bloopy version of songs from her sophomore album.
There's a joyous, carefree heart to her music that belies the grief and loss that informs it. Her debut album, Psychopomp, was an elegy for her mother, who passed away of cancer in 2014. On it, Zauner romanticizes need, knowing precisely how futile it can be, as she howls on the record's final song, to "cling to your sleeves 'til they're like lacerated sails."
The 2017 follow up, Soft Sounds from Another Planet, was a work of self-reflection that looked out at the cosmos in search of healing, finding inspiration in science fiction, outer space, and the Mars One Project. It led to a series of sold-out show around the world with the legendary shoegaze band Slowdive.
On stage, it's all deeply alluring, featuring spoken-word intros, autotuned 80s pop bliss, and even a sulty saxophone solo. Sat, December 2 in Beijing. Sun, December 3 in Shanghai.
Split Works Presents: JAPANESE BREAKFAST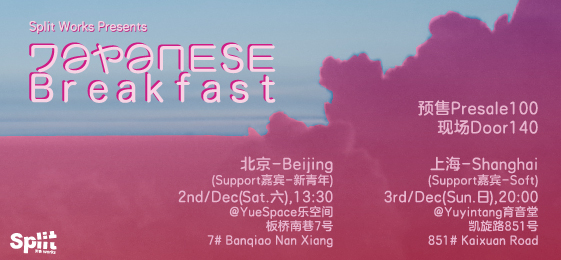 【Beijing】Brunch Show:1:30pm start
Date and Time: Saturday, 2 December 2017 – 1:30pm
Venue: Yue Space
Address: 7 Banqiao Nan Xiang 北新桥板桥南巷7号
Tickets: 100 RMB (Presale) / 140 RMB (Door)
* Pre-sales end at 10am, Dec.2nd, 2017
Tickets once sold cannot be refunded!
【Shanghai】
Date and Time: Sunday 3 December 2017 – 20:00
Venue: Yuyintang
Address: 851 Kaixuan Lu, near Yan'an Xi Lu  凯旋路851号, 近延安西路口
Tickets: 100 RMB (Presale) / 140 RMB (Door)
* Pre-sales end at 12 noon, Dec.3rd, 2017
Tickets once sold cannot be refunded!

Links
Split Works official website:www.spli-t.com
Japanese Breakfastofficial website: http://japanesebreakfast.rocks
About Split Works:
Split Works has been rocking in the free (ish) world since 2006. Working with inspirational artists from across the globe, the good people at Split Works HQ have been a key contributor to the continued rise of China's music scene.
Split Works has launched five music festivals and promoted over 400 tours to 30 Chinese cities, always striving to stay true to a familiar refrain: the music has to be special, every single time. From Godspeed You! Black Emperor to Sonic Youth, from Thee Oh Sees to Mac Demarco and Shabazz Palaces, from Black Rabbit to JUE and Wooozy to Concrete & Grass and More Music. We love music, we love China and we love you.