"Beautiful, thrilling and exhausting. The Godspeed ethos of wordlessly eliciting universal truths remains as devastatingly effective as ever." – The Guardian
"Sheer beauty…when [Godspeed] play, the rest of the world goes away." – Pitchfork
One of the finest live spectacles in modern music.
A Godspeed You! Black Emperor performance is orchestral, prophetic, historic, bone-shaking, tear-inducing, thought provoking.
In March 2016, Split Works presents the long-awaited second coming of the legendary post-rock titans. Their appearances are "a triumph of sound and vision," (Louder Than War) filled with "music that can make you glad to be alive" (Stereogum).
They'll be imagining dystopias first in Shanghai (QSW Q.Hall, March 12) and then in Beijing (Hit FM Live, March 14) over two unforgettable performances.
Just ask the folks who were there the first time around, back in 2013.
Godspeed You! Black Emperor began with Efrim, Mauro and Moya in the early 90s, playing a handful of shows and recording a self-released cassette as a trio before deciding to transform the group into a large band. Recruiting numerous Montreal musicians through 1995-1996, GY!BE mounted sense-rattling wall-of-sound performances, featuring as many as 14 musicians and several 16mm film projectors, before recording their debut vinyl-only Constellation album in 1997.
They transformed a warehouse space into the Hotel2Tango, a DIY hive of activity with band rehearsal rooms, silkscreen and wood shops, and weekend shows that took place under the radar. The group settled into a permanent nine-member line-up by late 1998, with Aidan and Bruce on drums, Thierry and Mauro on basses, Efrim, Dave and Roger on guitars, and Norsola and Sophie on cello and violin respectively.
The band toured and recorded incessantly from 1998-2002 and gained a reputation for mesmerizing live shows marked by orchestral dynamics, epic rock power and haunting, beautiful film loops. After four records, GYBE announced an indefinite hiatus in 2003; which lasted until December 2010, when the band returned to curate and performs at All Tomorrow's Parties in the UK, followed by extensive international touring. October 2012 saw the release of Allelujah! Don't Bend! Ascend!, their first recorded work in a decade, to widespread critical acclaim. After headlining numerous international festivals and playing across the globe, GYBE slowly and steadily began work on a new album through late 2013 and 2014. In 2015, Asunder, Sweet And Other Distress emerged with a mighty slab of superlative sonics, shot through with all the band's inimitable signposts and touchstones: huge unison riffage, savage noise/drone, oscillating overtones, guitar vs. string counterpoint, inexorable crescendos and scorched-earth transitions. The album topped a number of year-end lists, hailed as an "incredible work [that] finds them again evading the confines of formula" (Spin).
This spring, Godspeed You! Black Emperor return for their second China tour. There's no band quite like them out there, and you won't see anything quite like this. Stand by for epiphanies.
Godspeed You! Black Emperor China Tour Information 
[Shanghai]
Date: March 12, Saturday
Venue: QSW Culture Center Q.Hall
Address: 179 Yichang Road, near Jiangning Lu (普陀区宜昌路179号,靠近江宁路)
Doors: 8:30pm
Tickets: 280 RMB (presale)/ 360 RMB(door)
Presale Link: https://yoopay.cn/event/GYBE2016SH

[Beijing]
Date: March 14, Monday
Venue: HIT FM Live 糖果
Address: 3/F, Tango, 79 Hepingli Xijie, Dongcheng District (东城区和平里西街79号 糖果3层)
Doors: 8:30pm
Tickets:  280 RMB (presale)/ 360 RMB(door)

Presale Link: https://yoopay.cn/event/GYBE2016BJ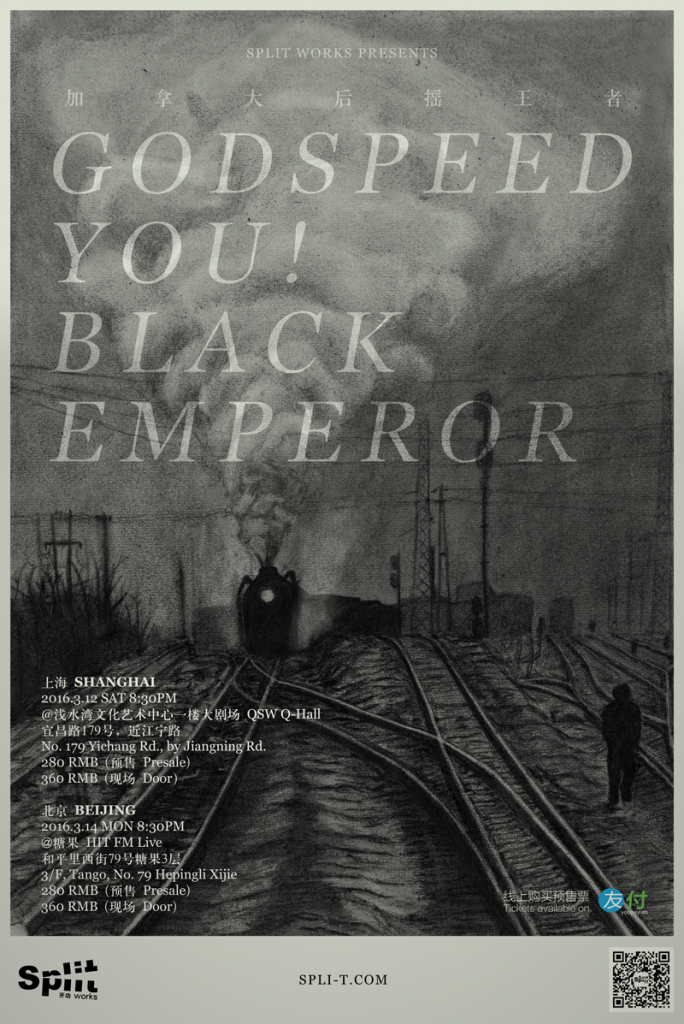 Links
Split Works Official Website:www.spli-t.com
GY!BE Official Website: http://brainwashed.com/godspeed/
About Split Works:
Split Works has been rocking in the free (ish) world since 2006. Working with inspirational artists from across the globe, the good people at Split Works HQ have been a key contributor to the continued rise of China's music scene.
Split Works has launched five music festivals and promoted over 400 tours to 30 Chinese cities, always striving to stay true to a familiar refrain: the music has to be special, every single time. From Godspeed You! Black Emperor to Sonic Youth, from Thee Oh Sees to Mac Demarco and Shabazz Palaces, from Black Rabbit to JUE and Wooozy to Echo Park and More Music. We love music, we love China and we love you.